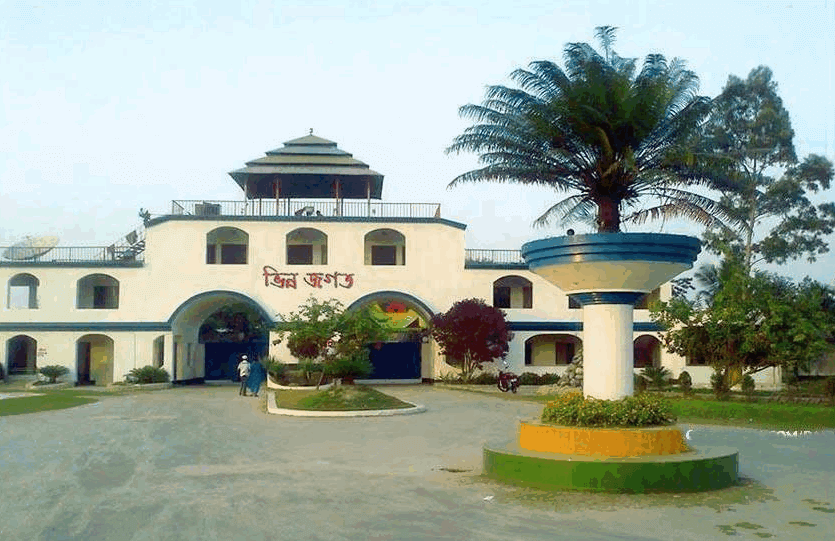 Built privately on about 100 acres of land, Vinnajagat Recreation Center is located 11 km from Rangpur city. All the time different species of birds are vocal in the noise. Various species of birds can be seen in their trees. In the evening they return to their nests. Thousands of local and foreign trees are being decorated in different worlds. Here visitors can wander all day in the shade of trees. As soon as you cross the main gate of the different world, you will see an iron bridge surrounded by a huge lake on three sides.

Once the bridge is crossed, it is as if another world is inside a different world. Here are the wonders of the modern world and the country's first planetarium. Includes Robot Skrill Zone, Space Journey, Water Wave, Sea Paradise, Strange Cave, Boat Trip, Shapla Square, Sculpture of Birshreshtha, and Language Soldiers, Walk Way, 3D Movie, Fly Helicopter, Merry Go Round, Lake Drive, Swimming Pool Fishing arrangements.
At the same time, there is a picnic arrangement for at least 500 individual groups. There are at least 8/900 car parking facilities inside only. There are 6 cottages. There is a three-star model Dream Palace. The water body here has the facility of navigating. There are statues of kangaroos, elephants, horses, and other animals for children. There are various kinds of ornamental trees planted in a planned manner around the water bodies of different worlds. Every day, a lot of people from different parts of the country come here to buses, microbuses, motorcycles, rickshaws, autorickshaws, and other vehicles.
Ticket price: Entry fee – 30Tk. Ticket price for 20 popular rides – 360 Tk
How to get there
There are several luxury AC and non-AC buses from Mohakhali, Kalyanpur, Mohammadpur, and Gabtali in Dhaka to Rangpur. The fare of these buses is between Tk. 500 to Tk. 1000. It will take 6 to 8 hours to reach Rangpur from Dhaka. There is a car service to go directly to a different world from Rangpur. From there you can go to different worlds in 15 to 20 minutes by taking a battery-powered easy bike for 100 to 150 Tk.
Where to stay
The park has its own 23 cottages. VIP Tk 2,000, general Tk 1,000 – Tk 1,500 per day rent. Cottage for a picnic can be booked in advance. Besides, there are residential hotels in Rangpur city.
Contact: 01713038493 Advance bookings for corporate communications for 01734107471, 01719420612 01856491276
Rangpur office, 01856491280, 01856491275
Uttara office 8802-8953348-49,
Dhaka, 01713038492, 01713038495
Banani office 02-8833869-71,
Dhaka, 01912134062, 01713038493
E-mail diamond_rangpur @ yahoo. com
Website: www.vinnyajagat.com
Read More: Sena proyash Binodon Park