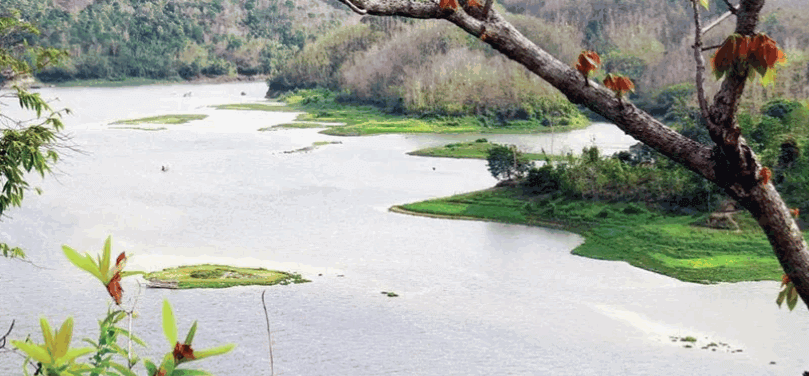 The beauty of Rangamati will remain incomplete if Rangrang does not reach the top of the hill. The enchanting Karnafuli flows in the lap of the hill. It is located in Barkal and Jurachhari Upazilas near Karnafuli. All the beauty around will come in front of the eyes if you can climb to the colorful peak! At first, it may seem that you can easily climb this hilltop. But the way to get up is quite steep. It will take about twenty minutes of trekking to get to the top of the colorful hill. Army camp at the foot of Rangrang hill, and police at the top.
There is a T&T tower on the hill. Police members have to be here for their security. So many people now call it T&T hill. Tourists who come to Rangamati hardly hear the name of Rangrang hill. The boatmen finished their turn by turning the Subalang waterfall. Even many tourists cannot visit Subalang Bazaar due to a lack of information. But it is a hill very close to the Subalang spring. And you have to climb the Rongrang hill past the Subalang army camp.
Rangamati travel is unique anytime you go. But if you want to see the real beauty, choose the rainy season and its aftermath.
The way to Rangrang
To reach Rangamati by any bus from Kalabagan, Kamalapur, and Fakirapul in Dhaka to Rangamati. Then reserve the boat. Boat rent is 1,500 to 2,000 Tk. When paying rent, the package also includes Shuvlong Bazaar and Rangrang or T&T Hills along with Shuvlong Fountain.
Where to stay
There are several hotels in the old bus stand and reserve market area in Rangamati. But before you go to the hotel, if you consider a little, such as whether the hotel is next to Kaptai Lake? Then you can enjoy the beautiful environment and air of the lake from the hotel. There are many government and private hotels and guest houses in Rangamati.
Moreover, some more boarding is available to stay. The cost of boarding is a bit low but not very convenient to stay. Below are the descriptions of some of the hotels:
(1) Tourist Holiday Complex
12 air-conditioned rooms.
Rent of each: 1725 Taka
There are 7 none air-conditioned rooms Rent of each: 805 Taka
Contact / Phone: 0351-63126 (Office)
(2) Hotel Sufia
26 air-conditioned rooms.
Rent of each: Tk. 900 (single), 1250 (dual)
35 None air-conditioned rooms. rent 600 Tk
(3) Hotel Green Castle
7 air-conditioned rooms Rent of each: Tk  From 1150 to 1600 Tk
There are 16  None air-conditioned rooms.
Rent of each of them: From 750 to 1500 Tk
Contact / Phone: 0351-61214, 81200, 01726-511532, 01715-459146
There are also several other notables. Such as: Hotel Judge, Hotel Al Moba, Hotel Mountain View, Hotel Dignity, Hotel Safia, Hotel Dreamland etc.
Read More: Hill Taj Resort