Under the supervision of Rangamati District Police, Polwel Park and Cottage have been built right next to Kaptai Lake next to DC Bungalow Road, which has become one of the best entertainment centers in Rangamati with a touch of creativity. The varied landscape, fancy architecture, and aesthetic seating give the park a different dimension. Polwell Park has become a hotbed of visitors every day to spend time in the natural environment and to entertain themselves.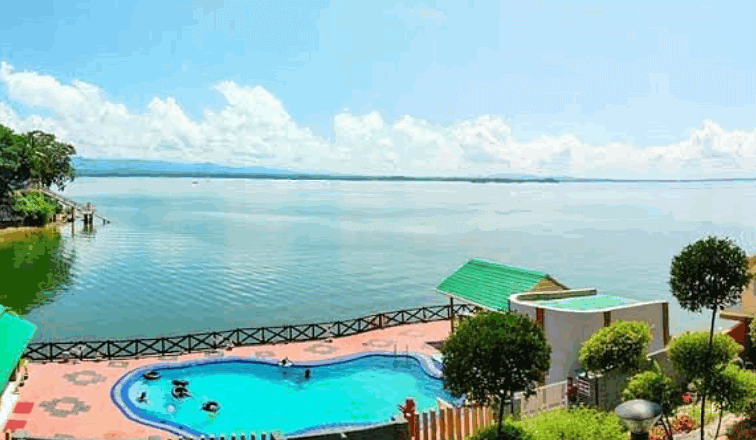 The entrance of the park has been made in the form of a mask. Next to the entrance is another different mask shaped ticket counter. Entrance fee, 30 rupees per person. Tickets are not required for children under five. The park is open until 8 p.m.
After entering the park, you will see an exhibition and sales center run by Rangamati Hill District Police Women's Welfare Association (Punak). There are various types of souvenirs, tribal hand-knitted clothes, etc. available here. If you want to take mountain memories for loved ones along with entertainment, you can spend some time here. Then there is the Kids Zone for children's entertainment. There are various rides in the park to entertain the children. Tickets cost 30 to 40 TK per ride. Kids can enjoy the rides here for much longer than the ticket price.
A Dhemkighar-style installation has been set up at the other end of the Kids Zone to highlight the tradition of rural Bengal, which is intertwined with Bengali life. This sculpture of Dhan Bhan in the dhemki of village women is reminiscent of rural life. The architectural style of this sculpture is so masterful, at first glance you might think you are seeing a real scene.
There are some benches set up to sit on the side of the road as you move forward from the Kids Zone. Sitting here, you can see the beautiful view of Kaptai Lake. As far as the eye can see, the boundaries of the lake's deep water merge into the distant sky. The mountains seem to be the boundary between the sky and the blue of the lake. Right behind it is a female sculpture holding a pitcher. A fountain has been made in the flowing water of their pitcher. When the daylight goes out, the fountain becomes more enchanting with artificial light.
A little further from here is the Chatpati and Fuchkar shops. Seating to get chairs and tables across a lot of open space. Lovers of Fuchka and Chatpati can see the beauty of Kaptai Lake and spend the afternoon here after eating Fuchka. A little further down the stairs to the front is the Polwell Cafeteria. Ice cream and coffee with delicious food can be found here. Fishing pier in front of the cafeteria.
A fishing pier is a pillar or platform that extends from the coast to a lake/river/sea where the water depth is much higher. In fact, ships and big boats cannot go ashore because of shallow water. So the water is always deep, fishing piers are made at such a distance from the coast. So that ships and boats can easily get there and anchor. Standing here, the view of Kaptai Lake can be enjoyed quite well.
A love point has been set up at the very end of Polwell Park. The park also includes Polwell Park Cottage and a swimming pool. There are boats around the lake, jet skiing, kayaking. There are beach chairs across the lake. You can relax here in the last afternoon to enjoy the evening view of the lake and the mountains. In addition to all the other spots in Rangamati, anyone can visit this spot if they want.
A place to spend all day. There are so many wonderful scenes here that can't be found anywhere else. And this park is in the heart of Rangamati. Auto rickshaws can be taken away very easily.
What Is There In Polwell Park
Let's see the activities of Polwel Park inside.
Swimming Pool (Rs. 200 per person)
Polwell Cottage
Jet Skiing
Paddle Boat Kayak At the entrance of the park.
At the entrance of the park is a haunted hill cave village.
Traditional dhemki art of Bengal.
Various types of ride jugs. Fountains.
Mountain artificial fountains.
Crocodile bridge.
Hillview point.
Lakeview point.
Love lock point.
Fishing pier.
Funway and cafeteria are rich in delicious food.
Address And Contact Location:
DC Bungalow Road, Rangamati Sadar
Phone Number – 01837-335595, 09613-500-900
Website – https://www.polwelpark.com
E-mail – [email protected]
Facebook – https://www.facebook.com/PolwelParkRmtOfficialPage/
How To Go Polwel Park
Location of numerous bus counters from Fakirapul junction in Dhaka or Rangamati from Saidabad. All buses leave Dhaka between 8.00 am and 9.00 am and between 8.30 pm and 11.00 pm. Rent: Dhaka-Rangamati: AC 900 TK (Shyamoli), BRTC AC 600 TK, all non-AC buses – 720 TK.
Rangamati From Chittagong
You have to go to the Rangamati bus terminal in the Oxygen area of ​​Chittagong. In half an hour from here, you will find a hill and local bus services. Paharika bus fare is 110 rupees and the local bus fare is 85 rupees. The hill bus takes two and a half hours and the local bus takes three and a half hours. Buses are available from 8 am to 8 pm. Also for those who want to travel comfortably, there are luxurious services.
Alam, Unique, Hanif, and BRTC. The fare of these bus services is 100-120 TK. It will take 2.30-3 hours. You can also go to Rangamati in your own car or rented micro, car, cab. The distance from Rangamati Reserve Market to DC Bungalow or Polwell Park is 1 km. CNG fare is 50 TK. CNG fare from Banarupa to the park is 100 TK, distance is about 3 km.
Where Will Stay In Traveling Time
In addition to touring Polwell Park, there are several cottages to stay. There are several cottages and swimming pools right next to the lake. These cottages have one of the most beautiful views of Rangamati.
The rent of Honeymoon Cottage has been fixed at TK 6,000, Family Cottage at TK 6,000, and VIP Cottage at TK 10,000 per night. There is a 40% discount on cottages for officers and their families from inspectors working in the police force. There is also a 20% discount for government officials and their families.
Cheap hotels include Madhumita, Beach, Shapla, Dignity, Samata, notably. These rent up to a maximum of 300 TK. Besides, tourism has its own motel. Rent from 1200 to 2500 TK. There are small cottages. The night rent of the cottages is 3000-5000 TK. Rest houses, guest houses, and bungalows of various government departments are rented subject to payment of fixed price and permission.
Visit Also:
Frequently Asked Question-Related With Polwel Park:
polwel park rangamati photos
polwel resort rangamati cost
polwel resort rangamati contact number
polwel resort rangamati booking
polwel bangladesh
polwel cottage rangamati booking
bon kutir cottage rangamati price
polwel dormitory