Ghughutia Paddo Bill is a bordering village of the Moniyanda union in Akhaura Upazila of Brahmanbaria. On the other side is Madhabpur village of Amtali police station in West Tripura, India. In the middle of these two villages of Bangladesh and India is the location of this huge Ghagutia Poddo Beel which is about 35 km away from Brahmanbaria town. However, a large part of the bill fell in the village of Ghagutia in Bangladesh. This lotus flower is useful in the worship of Goddess Durga by Hindus.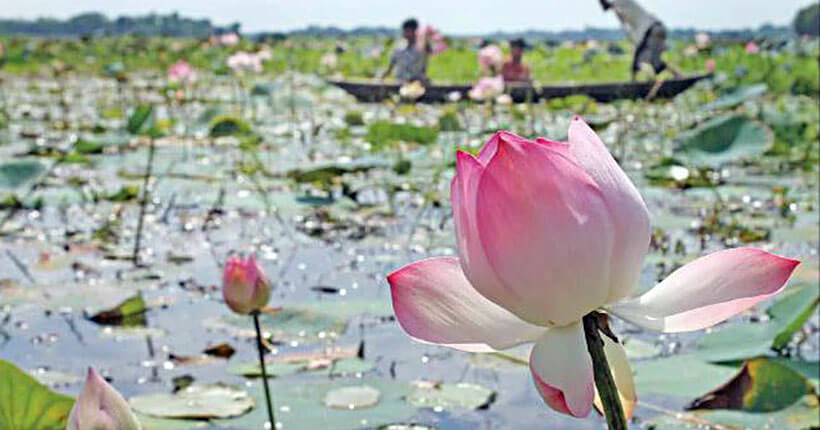 That is why in the month of Ashwin, people of Bangladesh and India collect a large number of lotus flowers from this bill. These lotuses are also sold in the local market of India. After seeing another small Padma Bill before Ghagutia Padma Bill, it is known to the locals as Minarkot Padma Bill. The Padma Bill is located just behind the Ghagutia BGB checkpost.
Nature lovers come here every year to pull the lotus flower bill. During various pujas including Durga Puja, especially people from India come and take lotus flowers from the bill.
When To Go Ghughutia Paddo Bill
Every year from Ashar to Kartik, 120 acres of vast Ghagutia beel is in full bloom. As the water receded from the beel, the lotus gradually disappeared from the beel. Boro paddy is cultivated here for the rest of the time.
How to Go Paddo Bill At Brahmanbaria
By train from Dhaka to Akhaura Railway Station. The fare is 75 to 250 Tk depending on the train and class. If you reserve a CNG-powered autorickshaw at the station, you can reach Bill Ghagutia at 250 to 300 Tk. It is better to take an autorickshaw reserve. Because autorickshaws are not regularly available in the Ghagutia area.
Where To Stay At Traveling Time
There are several residential hotels to stay in in Akhaura.
Nine Star Residential Hotel & Restaurant, Akhaura. Sarakbazar, Akhaura
Rangdhanu Residential Hotel Akhaura, Brahmanbaria
Hotel Dipti Rest House (Residential) Mr. Md. Mamun Mia Sarak Bazar Akhaura, Brahmanbaria. 01715-248514
Hotel Sabuj Rest House (Residential) Mr. Bimal Das Road Bazar Akhaura, Brahmanbaria. 01927-3964
Hotel Bhai Bhai Rest House (Residential) Mr. Ali Akkas Akhaura Railway Station, Brahmanbaria. 01739-561921
Hotel Banani Rest House, (Residential) Mr. Golam Kibria Road Bazar, Akhaura, Brahmanbaria. 07522-56159
Hotel Tower Plaza (Residential) Mr. Alfaz Uddin Road Bazar, Adjacent to Railway Station, Akhaura Brahmanbaria. 01914-69575
More Traveling Place:
Frequently Asked Question:
Brahmanbaria famous person
Brahmanbaria famous food
Brahmanbaria famous for
Brahmanbaria ward list
Brahmanbaria map
Brahmanbaria rivers
How did brahmanbaria get its name
Gokarna Nawab Bari Complex.
Dhoronti Haor.
Hatir Pool.
Faruki Park.
Arifail Mosque.
Haripur Zamindar Bari.
Kollapathar Shahid Graveyard.
Vadughar Shahi Mosque.