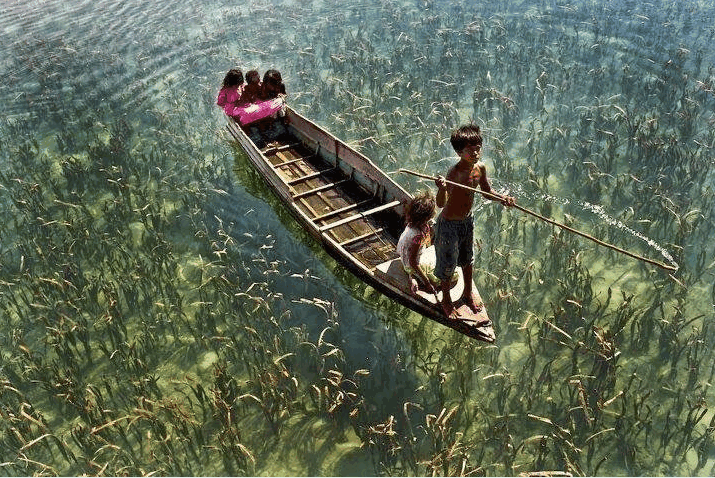 Hakaluki Haor is one of the largest freshwater wetlands in Bangladesh. Hakaluki Haor is bounded on the west by Bhatera Hills and on the east by Patharia Madhab Hills. It is spread over 5 Upazilas of Sylhet and Moulvibazar districts. Hakaluki Haor, consisting of 238 small and large beels and 10 small and large rivers, becomes an area of ​​about 20,000 hectares during the monsoon season. During the monsoon season, the haor looks like a floating sea. Adigantu is a wide body of water.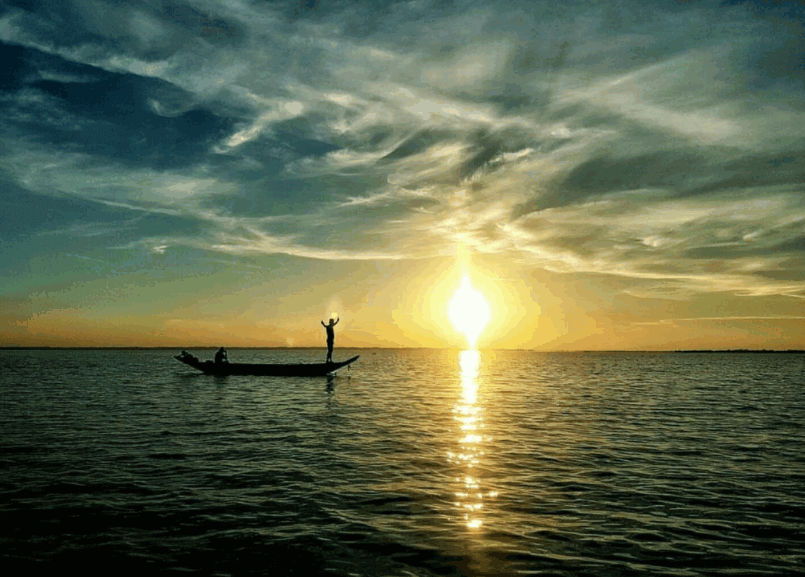 Hakaluki Haor Traveling Guide
In the water sometimes two-one-year-old hijl, tamal tree. However, in the winter, this haor is a lush green desert, a paddy field somewhere, and a total of about 238 beels in the lowlands. Hakaluki is famous for haor fish. Hakaluki Haor is a protected wetland in Bangladesh. About 25 species of ducks and aquatic birds migrate from Siberia in northern Asia during the winter.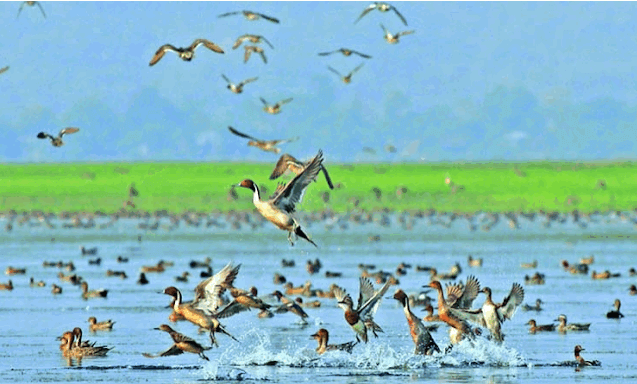 In addition, about 100 species of local birds are seen here throughout the year. These pastures and beels in the Dhu-Dhu desert give a thrill to the livelihood of the people and the chirping adventures of the migratory birds. Migratory ducks in Hakaluki Haor include Chakhachakhi, Rajsarali, Garadmatha Rajhans, Dhalabele Hans, Gadwal, Eurasian Sithihans, Tikihans, Patihans, Marganjars, etc.
Indigenous species include Purple Kalem, Panmursi, Patikut, Dahuk, Eurasian Chicken Chaga, Lanza Chaga, Rangachaga, Jalapipi, Mayurleja PP, Pati Jiria, Hattiti, Bhubanchil, Shankhchil, Chhota Dagur, Birds like a buck, snail shell, etc. are among them. Many species of fish are found in Hakaluki Haor. Fish like Chital, Ayr, Baush, Pabda, Magur, Shing, Kai, etc. are here.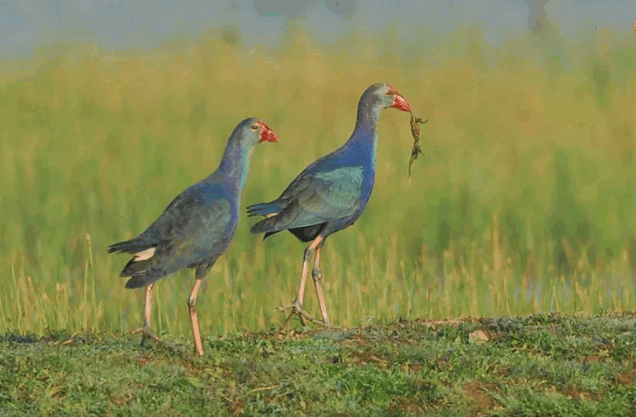 Among the almost extinct aquatic plants, there is a considerable amount of puti, hingajur, hawa, etc. in the Makna Haor region. Besides, aquatic plants like a water lily, water lily, lotus, etc. are also found here in hopeful rate.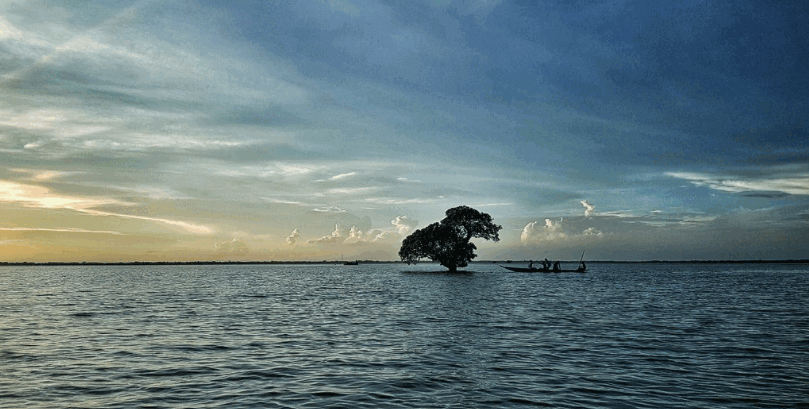 The Best Time To visit Hakaluki Haor
The best time to visit Hakaluki Haor is between November and mid-February. At this time, a large number of guest birds are talking around here. Aquatic plants, this is the best season for fish lovers.
Where to stay
The haor area is excellent for two to four tourists staying in the two-storey huts of the bill tenants. However, the permission of the bill owner must be taken. It is best to leave the tent in the bill area and spend the night. Staying in a tent at night, bird watching will captivate any adventure favorite tourist.
 Where To Eat
Ration-water ration brought with if you give a little money to the working people of the haor area, they will serve it with fresh fish broth curry of their choice or they can easily share delicious food with them. Cow-buffalo milk is also available very cheaply in Bathan here. If you want, you can go to the market and get on the boat. Tea, snacks, biscuits, bread, pure water, soft drinks, etc. should be taken with you while boarding the boat.
The Way To Go Hakaluki Haor
Leave 3 trains daily from Kamalapur and Cantonment railway stations in the capital Dhaka to Sylhet. 120 to 700 Tk depending on the type of train fare. And it will take 7-8 hours. If you go by train, it is best to go by Upban Express at 9:30 pm. The cost of the train journey from Dhaka to Kulaura is 130 to 450 Tk depending on the class. Take a look at the train schedule here (Bangladesh Railway / Train Time Schedule).
If you want to go by bus, there are many buses. Among them Shyamoli, Ruposhi Bangla, Hanif, Sohag, Ena, Unique, are notable. There are also multiple buses with different names, which serve passengers at relatively low fares. You will get these buses from dawn till 1 am. It will take 4 to 5 hours to go by bus. Non AC 300/350 Tk. AC up to 900 Tk. AC Bus Neptune (Phone: 7101951, 9123092), Shyamoli Paribahan (Phone: 7101725) fares are 350 Tk and 300 Tk respectively.
From Kulaura you can go directly to Haor by autorickshaw. Autorickshaw fare from Kulaura town is 100 to 150 Tk and rickshaw fare is 60 to 100 Tk. Or you can get off at Kulaura by autorickshaw or take a bus to Baralekha. If you go to Baralekha, you will find more Madhabkunda waterfalls.
Autorickshaw rent will be 50 Tk per person. After reaching Baralekha, Hakaluki Haor area is 11 km away from the city. Where there are tourist centers. There are also a Watch Tower and other facilities. From this place, you can rent a boat and go around the whole haor. If you want to go directly by train, you can go to Hakaluki by autorickshaw from Kulaura station or Maizgaon station of Fenchuganj.
Another Way To Reach Hakaluki Haor
The Upban Express leaves for Sylhet at 9.50 pm. You have to get off at Maizgaon station. This is the station just before Sylhet. After descending to Maizgaon, you can reach Fenchuganj Bazar by taking a road surrounded by trees for about 1 km. It would be nice to walk in the morning. If you wait a bit, you will get a battery-powered autorickshaw.
Fenchuganj market in 10 minutes. As soon as you go down to the market, you will sit at Al Mumin Restaurant. It has two beautiful toilets on the 2nd and 3rd floors. Wash your hands and have breakfast and come to the boat dock in front. From here, get on the boat for the rest of the day. If it is a large group (10/15 people) give a big six trawler. Rent can be 3-4 thousand rupees per day (of course you have to pay).
Buy some food and water because you will not find Haor and no shops. This time Kushiyara got on the boat, crossed the river, and walked around Howrah. It would take about 40 minutes for Kushiyara to do it.
Things To Take With You:
For winter tents, good big backpacks, raincoats, winter jackets, towels, mud-water rubber boots, binoculars for bird watching, cameras, batteries with video cameras, memory cards, dry Food, tea, sugar rations for a day or two, first aid kits, etc.
Nearby Attractions Are:
Madhabkund Natural Fountain, Gagantila and surrounding forests, Hail Haor, Tea and Rubber Gardens and Culture and Lifestyle of Workers Lauyachhara and Satchhari National Parks and Rema-Kalenga Wildlife Sanctuary, Khasia and Manipuri Culture and Life And wildlife.
Read More:
Frequently Asked Question:
Hakaluki haor summary
Hakaluki haor summary hsc
Hakaluki haor meaning in bengali
Hakaluki haor paragraph
Hakaluki haor flow chart
Hakaluki haor map
Hakaluki haor tour
Hakaluki haor question