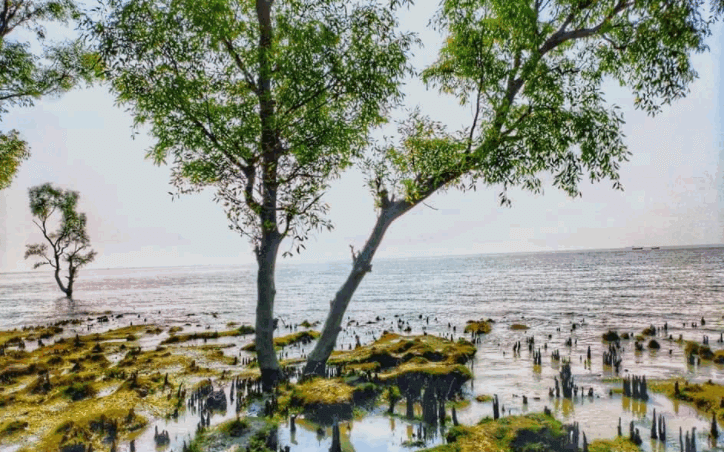 Guliakhali Sea Beach is located in Sitakunda Upazila of Chittagong district. To the locals, this beach is known as Muradpur Beach. The distance from Sitakunda Bazar to Guliyakhali Sea Beach is only 5 km. Nature has spared no effort to decorate the impeccably beautiful Guliyakhali Sea Beach.
The seawater on the horizon on one side and the Keora forest on the other side have made this beach unique. The roots of the Keora tree can be seen around the canal that flows through the Keora forest, this forest has gone far into the sea. An environment like swamp forest and mangrove forest can be found here.
The wide carpet of the green carpet has made Guliyakhali beach different. The open expanse of green grass by the sea is sure to catch your eye. In this field of green grass beside the beach, a curved ditch has naturally arisen. These drains fill up with water at high tide.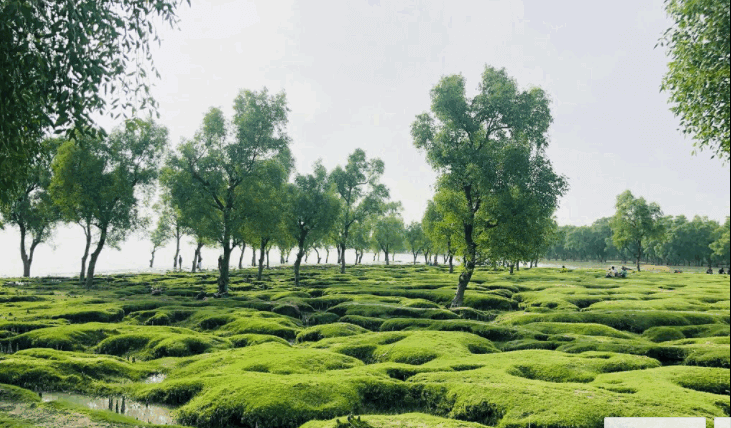 This view of the green grass all around and the water in the small ditch in it will fascinate anyone. On this little known beach you will find a secluded environment with few people. Even if there are not so many waves or roars of the sea, the secluded beach of this secluded environment will catch you in a different way.
If you want you can go around the sea in a fisherman's boat. In this case, you have to bargain to fix the boat. There are many beautiful fields, if you take football you will get the feeling of turf. You can also go around the sea by fishing boat, you can go around for only 2000 Tk. If you want to camp, you can stay in a tent.
The Way To Go To Guliyakhali Beach
Take any bus from Dhaka to Chittagong to Sitakunda. The fare of AC and non AC buses is 420-10000 Tk. If necessary, ask the bus supervisor to drop Sitakunda in advance. You can come to Sitakunda from Dhaka by Sitakunda Mail train with a fare of 120 Tk per person. You can go to Feni by intercity train from Dhaka, the fare is 285-600 Tk depending on the class.
You can go to Sitakunda on the local bus from Feni. Local buses from Feni to Sitakunda will cost 50 to 60 Tk. Chittagong's Alangkar Mor, Ekke Khan Mor, Kadamtali to Sitakunda bus, and Mexi are available. You can come to Sitakunda Bazaar from the place of your choice.
You can take CNG / auto directly from the bottom of the Sitakunda bus stand bridge to Guliyakhali Beach Dam. Reserve rent will be 150-300 Tk. Bargain. You can take the CNG driver's number in advance to return to Sitakunda. Or you can reserve with coming and going. CNG / Auto is not available when returning in the evening.
Where to Stay At Traveling Time (Chittagong)
There is no provision for accommodation and food at Guliyakhali Sea Beach. There is only one small shop on Sea-Beach so if necessary take food with you from Sitakunda Bazaar. If you want to stay, you can stay at Simon and Saudia hotels in Sitakunda market.
You will get a room in Simon for 300 to 800 Tk and to get a room in Saudi you will have to pay 600 to 1800 Tk. You can call 01991-787979, 01816-518119 to make a booking. If you want to stay somewhere better, you have to go to Chittagong.
Read More:
Frequently Asked Question About Sea Beach:
Guliakhali sea beach photo
Guliakhali sea beach distance from my location
Dhaka to guliakhali sea beach
Guliakhali sea beach Wikipedia
Guliakhali sea beach location
Guliakhali sea beach tour package
Banshkhali sea beach
Kuakata sea beach