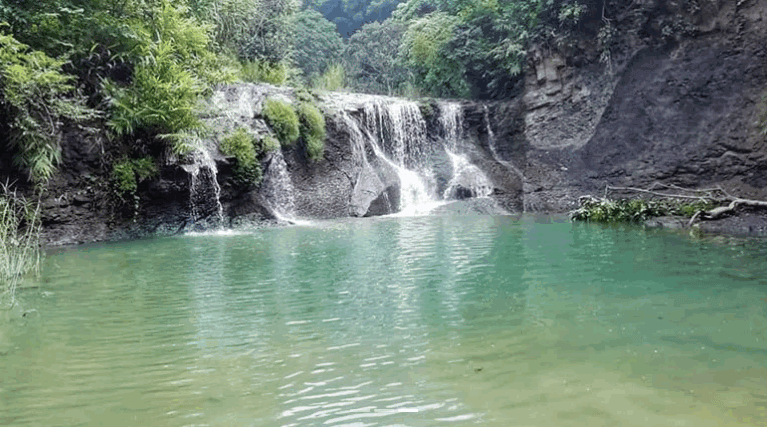 Jhorjhori Trail is one of the few adventurous and beautiful trails in the Sitakunda Mirsarai Range. When you reach the fountain after walking for about an hour and a half along the cool cool waterfall surrounded by green hills, believe me, all your fatigue will fly away like a gas balloon. A number of cascades and waterfalls will fascinate you even more as you climb up the hill by the side of the gushing fountain, especially the stairs to heaven or the impossibly beautiful cascade which is carved step by step like a staircase. At the end of this trail is the Murti fountain. The trail to the gorge is not a very difficult one, I have seen many women and child travelers go there. Now is the best time to go to the fountain and this time the water flow in the fountain is quite good.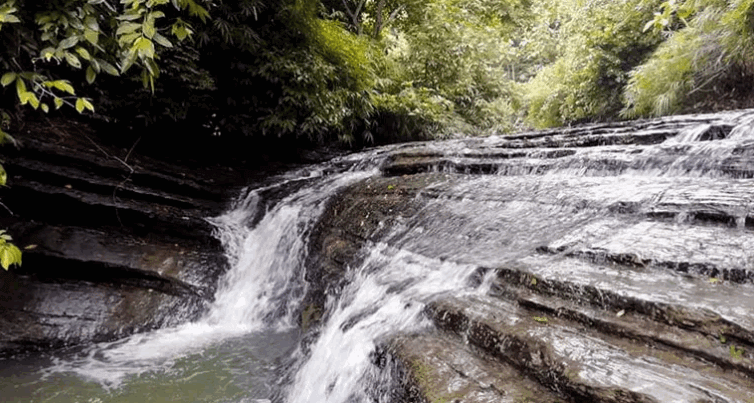 For those who love to eat leech bites, those who love to walk through the high and low rocks of Jhiri Path, those who love to climb high steep hills and tree roots, the ideal place is the rugged trails and sculptures of Sitakunda in Chittagong. There is a strange beauty hidden in every corner of the trail that is impossible to understand without seeing it with your own eyes. Location – Panthishila, Sitakunda, Chittagong.
How to get there
From Dhaka, you have to go to Chittagong by bus/train/air first. From there to Sitakunda. From Sitakunda by bus or Laguna, it will take 10 minutes to Panthishila Bazar. Go to the market and take a local person as a guide. It is better to have a guide in this direction. It will also have the facility to change clothes including keeping bags in his house. The guide will cost 300-400 Tk.
After going some distance you will get the railway line. After 5-7 minutes walk along the left-hand side of the railway line you will find a dirt road. After about 20 minutes along that road, you will see Jhiri Path. After a while, you have to climb the mountain. The way up the hill is a bit like the god hill. This path is a little scary. After 30 minutes of walking, you will get the first shower and after 20 minutes you will get the second shower. Which looks like a staircase. To get to this road, you have to cross a slippery rocky path full of leeches and snakes. After walking for about an hour and a half through the wild impassable dark path, you will come across a statue in the shape of a human being, which is located under the water of the fountain. You have to go up through the water of the fountain and you will see the biggest fountain on this trail. It will take 5.30-6 hours to complete the trail. If you go on a neat trail, you can buy food from the market and order lunch.
Where to stay
There are various quality hotels in Chittagong. Below are the names and addresses of some budget hotels. These are all standard but low budget hotels.
Hotel Paramount, Station Road, Chittagong: Just opposite the new train station. In our opinion, this is the best hotel on a budget. Nice location, wide corridor (not even a five-star hotel with such a large corridor). The rooms are good too. Rent for non AC single 600 Tk, double 1300 Tk, AC 1400 Tk, and 1800 Tk. For booking: 031-26561, 0171-324654
Hotel Asian SR, Station Road, Chittagong: This is also a very nice hotel. Tidy, clean hotel. Rent: Non AC: Tk.1000, Non AC Single. AC: Rs. For booking – 01711-69555
Hotel Safina, Enayet Bazar, Chittagong: Medium quality hotel with a family atmosphere. There is a beautiful restaurant on the roof. If you sit there at night, you will not want to come. Rent: Starting from 600Tk. AC 1300 Tk. For booking -031-0614004.
Hotel Naba Inn, Road 5, Plot-60, OR Nizam Road, Chittagong. A little more rented hotel. However, it is ideal for those who want to stay in Nasirabad / and Nizam Road area. Rent: 2500/3000 Tk. For booking – 01755584362
Hotel Landmark, 3062 Sheikh Mujib Road, Agrabad, Chittagong: Good hotel to stay in Agrabad. Rent – 2300/3400 Tk. For booking: 0172-0141995, 01731-8998
Food arrangements
There is no good food shop in the area of ​​Jharjhari Trail. If you want, you can talk to the guide and arrange lunch at his house. You can keep chicken with chicken, aluvarta, kachushak, dal-bhat. If it is a team of 7-8 people, per person can wear it for 100-120 Tk.
Caution
Take plenty of water and light food. Such as biscuits, date bread, etc. Because there is a serious possibility of dehydration.
Leech infestation is very high so be careful. Check the feet after a while.
You can put antiseptic cream or salt with it and you can take off your socks for extra caution.
Use sturdy and gripped shoes or trekking shoes.
The trail is quite slippery in some places, especially on slippery roads as you go over the waterfalls.
As you cross the long gorge, take a bash in your hand that will help you balance.
Those who do not know how to swim must wear a life jacket for safety reasons.
Definitely take a guide. There are many inaccessible hills and waterfalls inside so there is a possibility of a wrong path.
The locals will get a guide if they want to be very sociable.
Read More: Shaheb Bibi Mosque