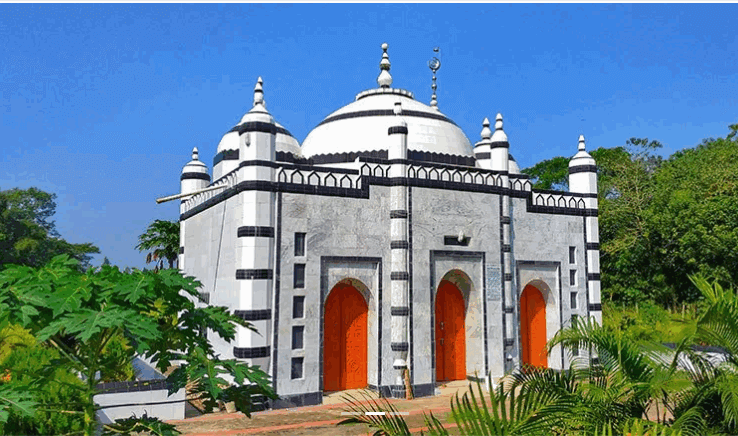 The 500-year-old Shah Bibi Mosque is located in the Raozan Upazila of Chittagong. The location of this mosque is Hari Mia Chowdhury's house in the 9th ward of Raozan Upazila. This architecture was built about 500 years ago in limestone masonry by foreign artisans during the Mughal period.
It has 6 pillars, 3 doors, 2 windows, and 1 dome. A mosque gate 4 feet high has been constructed to enter it. It is known that Saheb Bibi, the wife of Zamindar Amir Mohammad Chowdhury and the mother of the famous Malka Banu of Chittagong, is the founder of this mosque.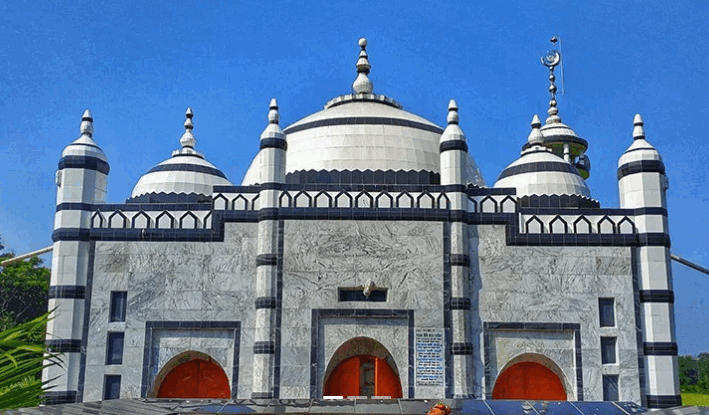 Next to the mosque is the cemetery with the flower garden where the founder of this mosque, the late Mr. Bibi, is lying. Also, next to it is Saheb Bibi Dighi which is also called Shahi Pukur. This mosque is built on a 30th-century site including a cemetery. It is a traditional spectacular mosque, and many devotees from far and wide come here to offer prayers. Tourists also flock here to witness this time-honored mosque.
According to local sources, about 2 years ago, Motowalli Ilyas Mia Chow. Under its supervision, it was renovated using tiles to change its appearance and enhance its artistic beauty through artwork. There is another traditional mosque called the Maisya Bibi Mosque on the south side of Saheb Bibi Dighi.
How To Go Saheb Bibi Masjid
You have to take a bus from Muradpur in Chittagong to Raozan and get off at Jalilnagar in Raozan. You can go to this mosque by local CNG from Jalilnagar via Harish Khan Para Road.
If you want to from Dhaka then you first go to Chittagong city by Dhaka To Chittagong Bus or Bangladesh Railway. You can also take an air flight with Biman Bangladesh.
Where To Stay In Visiting Time
There are various quality hotels in Chittagong. Below are the names and addresses of some budget hotels. These are all standard but low-budget hotels.
1. Hotel Paramount, Station Road, Chittagong: Just opposite the new train station. In our opinion, this is the best hotel on a budget. Nice location, wide corridor (not even a five-star hotel with such a large corridor). The rooms are good too. Rent for non-AC single 600 Tk, double 1300 Tk, AC 1400 Tk, and 1800 Tk. For booking: 031-26561, 0171-324654
2. Hotel Asian SR, Station Road, Chittagong: This is also a very beautiful hotel. Tidy, clean hotel. Rent: Non AC: Tk1000, Non AC Single. AC: Tk For booking – 01711-69555.
3. Hotel Safina, Enayet Bazar, Chittagong: A medium quality hotel with a family atmosphere. There is a beautiful restaurant on the roof. If you sit there at night, you will not want to come. Rent: Starting from 600 Tk. AC 1300 Tk. For booking -031-0614004.
4. Hotel Naba Inn, Road 5, Plot-60, OR Nizam Road, Chittagong. A little more rented hotel. However, it is ideal for those who want to stay in Nasirabad / O and Nizam Road area. Rent: 2500/3000 TK. For booking – 01755 574362.
5. Hotel Landmark, 3072 Sheikh Mujib Road, Agrabad, Chittagong: Good hotel to stay in Agrabad. Rent – 2300/3400 Tk. For booking: 0172-0141995, 01731-6998.
Check More To Read: