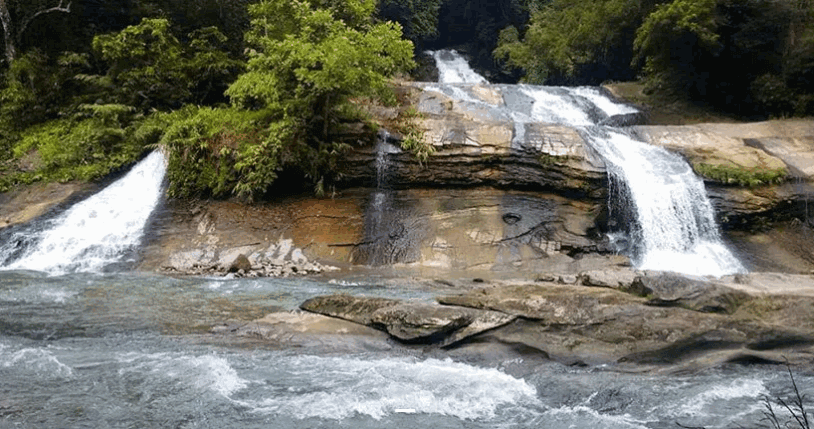 Palong Khiyang is located in Alikadam Upazila of Bandarban district. However, due to inaccessibility, too many tourists could not reach there. You have to go to the Palang Khyang waterfall on the rocky road of Tainkhal, sometimes by climbing high hills. However, the natural appearance of the Twain Canal on the way to the waterfall is also the center of attraction for tourists. Murung, Tripura, marched houses of the Marmas, shady quiet rural paths, small jhiri-fountains, the familiar bird's cocoon- all these are like a dreamland in the mortal world! Urban colorful townships are no more valuable than this. Before going to see the appearance of Palang Khyang, one has to cross a long path on the rocky Tainkhal. This path is very nice, like a fairy kingdom. Tainkhal is a tributary of Kharsrota Matamuhuri.
Wildflower fairs are held throughout the year in the dense forest meadows on both sides of the canal. On either side of the canal there are small waterfalls. You can hear the chirping of birds of different colors on the branches of the trees. But beyond all words, Palang Khyang Jharna is announcing its existence in the gurgling sound of three streams of water. Any tourist is fascinated by the natural beauty of this wild spring.
How To Get There
Route-1: Alikadam> Panbazar> Amtali river ghat. Dochhari Bazaar by Tainkhal by boat. Then walk through Tainkhal to Thankuin Jharna> Hajram Para> Palangkhiang Jharna. Route-2: Then 13 km of Alikadam-Thanchi road. From there walk to Doshri Bazaar> Thankuain Jharna> Hazram Para> Palangkhiang Jharna. It takes 3-4 hours to walk from Haziram Para to this spring.
Read More: Baklai Jharna