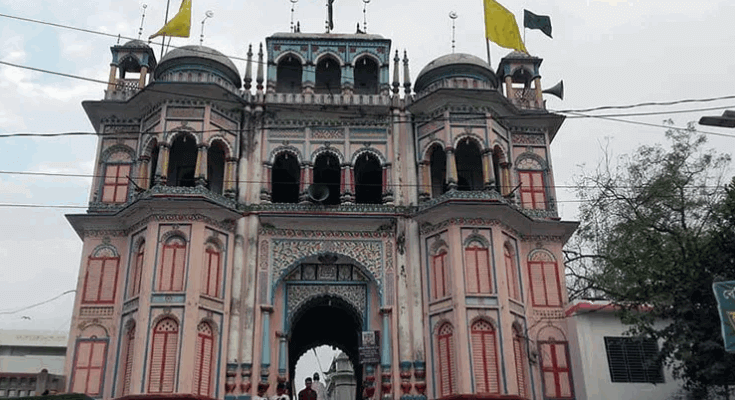 Kadam Rasul Dargah is located in Nabiganj on the east bank of the Shitalakshya river on the opposite side of Narayanganj city. There is a wonderful thing in this wonderful Dargah. It is said that there is a stone with the imprint of Kadam Mubarak of the Prophet Muhammad (peace be upon him). That is why Dargah has been named Kadam Rasul Dargah. Here you will see a huge high entrance. This beautiful high-rise structure with beautiful carvings will look like a beautiful mosque or dargah. In fact, it is an entrance. After crossing the entrance, you will see a mosque on the north side and a graveyard on the south side. Between these two is a small white stone one-domed tomb. Here is the stone with the imprint of the footsteps of the Prophet Muhammad (peace be upon him). It is a large clog-shaped black stone.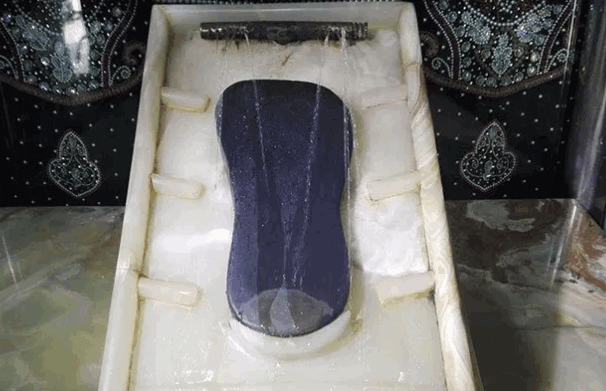 It used to be shown all the time but now it only comes out of the glass box on certain days. According to popular belief, this is the imprint of the footsteps of the Prophet Muhammad (peace be upon him). Of course, there is much disagreement as to whether this is really the imprint of the footsteps of the Prophet Muhammad (peace be upon him). Here the stone is dipped in water mixed with rose water, and visitors are allowed to drink it in a glass. Inside the cemetery are huge wooden rose trees. It is said that the Prophet Muhammad (peace be upon him) left his footprints on several stones when he ascended Bora on the night of Meraj. The most famous of these stones is in Jerusalem. There are also some rocks in Istanbul, Cairo, and Damascus. We also have two stones in Bangladesh, one in Chittagong and the other in Nabiganj Kadam Rasul Dargah.
Mirza Nathan was the first to mention this stone of Nabiganj in his famous book "Bahir-Sthanai Ghayebi" written in the 18th century. Masum Khan Kabuli, the Afghan army chief who declared rebellion against Emperor Akbar in 1570, bought the stone with the footprints of the Prophet Muhammad (peace be upon him) from an Arab merchant. Much later, Ghulam Nabi, the zamindar of Dhaka, built a single-domed dargah on a high place in Nabiganj in 17-18 and placed the sacred stone there. Later, the main gate of Kadam Rasul Dargah was built in 1814 by Golam Muhammad, son of Golam Nabi.
How to get there
From anywhere in Dhaka you have to go first to Gulistan, Jatrabari, or Kamalapur. You can go to Narayanganj from Gulistan or Jatrabari by AC or non-AC bus. BRTC, ASEAN, Bandhan, Utsav, Setu, Ananda, etc. transport buses. The rent will be between 30 to 35 Tk. And you can go by train from Kamalapur. Rent 10 Tk. You can reach Narayanganj, 22 km away from Dhaka, in less than an hour. Rickshaws will be hired from Narayanganj bus or train station at 15 to 20 Tk at Hajiganj / Nabiganj Gudara Ghat. Take the boat across the winter solstice to the east. From here you can walk to Kadamarasul Dargah in a few minutes by walking or by rickshaw for 5 Tk. You can also go to Madanpur by bus from Dhaka. Share CNG or Easy Bike from Madanpur will be dropped off in front of Kadam Rasul Dargah at once.
Where to stay
You can visit Kadam Rasul Dargah in one day from Dhaka. In that case, you don't have to worry about staying the night. However, for those who will go from far away, there is a good arrangement to stay in Narayanganj Sadar but there is no arrangement to stay in the Dargah area.
Other places of interest are Sonargaon
Folk Art Museum, Panam Nagar, Sonargaon Taj Mahal, Zinda Park, Loknath Brahmachari's Ashram in Bardi, Murapara Zamindar Bari, Subarna Gram Park Resort, Bandarpara Mosque, Sonakanda Fort, Hajiganj Fort, Goalparjampar Mori Etc.
Read More: Mayadip