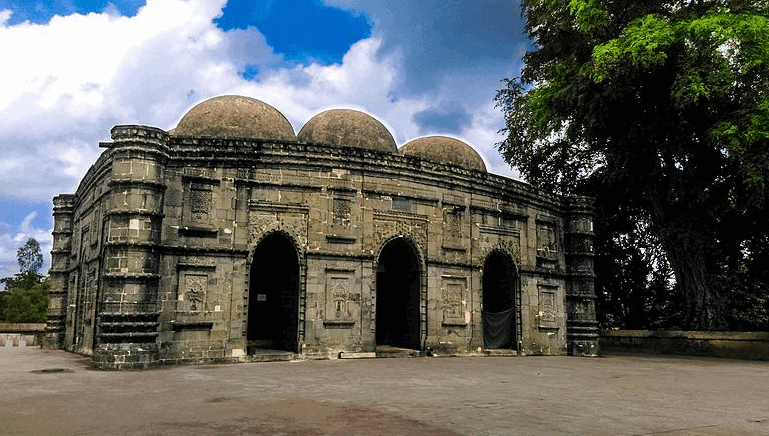 The Kusumba Mosque is a mosque built more than four hundred and fifty years ago with a five taka note. The mosque is an ancient mosque in Kusumba village of Manda police station in the Naogaon district. On the west bank of the Kusumba Dighi, there is a gray mosque made of stone. The plaque at the entrance of the mosque shows the date of construction of the mosque as 96 AH (1554-1560 AD). The mosque was built by a man named Sulaiman during the reign of Ghiyasuddin Bahadur Shah, the last ruler of the Shura dynasty during the Afghan rule. According to Wikipedia, the mosque is 56 feet long and 42 feet wide. There are 6 round domes in two rows. The mosque has herb designs on it.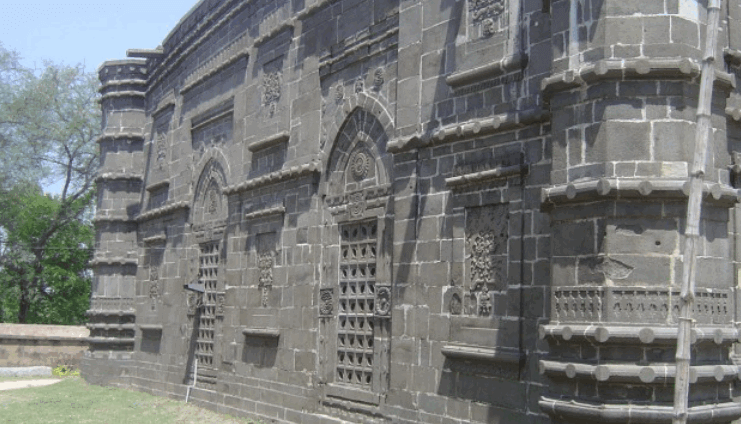 There was a guard post at the main gate of the walled mosque. The mosque has a brick masonry, a slightly curved cornice, and an adjoining rectangular tower – all of which reflect the Bengali architectural style of the mosque. Although the main masonry of the mosque is brick, its entire walls and inner arches are covered with stone.
The pillars, foundations, floors and walls of the mosque are made of stone. The mosque is rectangular and has three bays and two isles. There are three entrances at the east end and one at the north-south. The central mihrab of the mosque is separate from the west wall. There are two mihrabs on the south-east side of the west wall and along the middle entrance which are parallel to the floor. The mihrab is placed on a high altar at the bay in the north-west corner. There are 3 mihrabs in total, all of which are made of black stone. In front of the mosque, there is a huge reservoir with an area of ​​25.63 acres. The mihrab is engraved with designs of vines and herbs.
Location
Kusumba Mosque is located at a village named Kusumba in Kusumba Union No. 7 under Manda Upazila of Naogaon district, 3 miles south-east of the Upazila headquarters on the side of Naogaon-Rajshahi highway.
How to get there
There are several buses plying from Dhaka to Naogaon, most notably SR Travels' AC and non-AC buses which ply regularly to Naogaon. It will take 40 minutes by bus on Naogaon-Rajshahi highway.
Where to stay
You have to move to Naogaon city. When you return to Naogaon, you will find many good residential hotels. Some of the hotels to stay in Naogaon are Hotel Faryal on Santahar Road (0741-6275), Hotel Abkash on Santahar Road (0741-62356), Hotel Raj (0841-62492), Hotel Kazi Nurunnabi Market, Hotel Jamuna: 2: Hotel Agamni (0741-63351) at the corner of Mukti, Hotel Sarani (0741-6175) at the old bus stand and Motel Chisti.
Read More: Balihar Rajbari