Lake View Island has been set up in an abandoned camp surrounded by small hills on the banks of Kaptai Lake under the supervision of the Army. Besides, the tourist area has been made with an area of ​​more than four acres of two tillers. Beautiful cottages have been built here.
When you take a boat out on the water of the lake, you will see LAKE VIEW ISLAND written in large English letters on the hill tiller. As you climb the stairs made of bricks and concrete from the water to the top of the hill, you will see cottages surrounded by green trees. Named 'Resort Karnafuli'. Arrangements have been made to see the beauty of the lake in a glass house surrounded by glass at the beginning of the resort.
Lake View Island Resort At Kaptai (Rangamati)
There is only peace if you lie down on the sofa. It is nice to see small boats and mountain ranges running across the lake. You can stay in any air-conditioned or ordinary cottage. As soon as you cross the cottage, you will see a huge wooden barge floating in the water.
This barge has been built in the style of the painter Sultan's 'barge'.Named 'Nilkauri'. This bluebird is not a small bird. It is actually an elite barge boat of 50 feet. It cost about 12 lakh rupees to make. It has two double beds made of cane, with an adjoining toilet. It has accommodation for six people. There is a cooler machine in the bedroom. You can sit on a set of sofas on the verandah or on the roof and drink tea in a relaxed manner.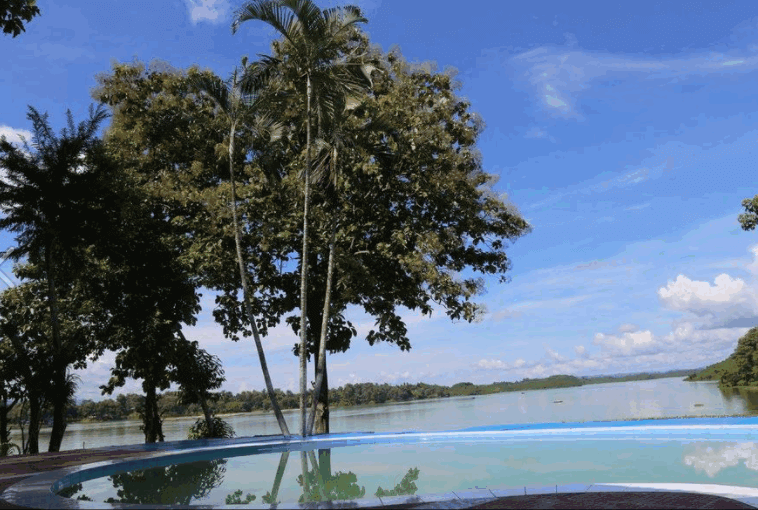 In addition to Lake View Island, there is a cottage called 'Hilltop Resort' on the hill adjacent to the historic dam of Kaptai Lake. You can stay there too. The sluice gate of Kaptai Dam, Kaptai Dam, and the water level of the lake can be seen through the windows of the hilltop. If you wish, you can dive into the swimming pool next to the resort. Kids Corner has been created for children on two hills called Yellow and Orange Zone.
There is a machanghar (treehouse) on the tree. Hanging bridges have been built to go from one Machang to another Machang. There are adventure parks for children and teenagers.
Advance Booking System Of Lake View Island
Social media Facebook has an official page called 'Lake View Island'. Booking can be done by contacting the mobile phone number on that page. However, 25 percent of the rent has to be deposited in advance as specified by the bank. Contact Number – 0179322172/0179322173 / 01746-191421
Cost For Stay In Kaptai Island
The rent of a picnic spot for 50 people on Lake View Island is 15 thousand Tk on public holidays and 10 thousand rupees on other days. If there are more than 50 people, the cost will be 225 Tk per person. Apart from this, each chair costs 10 Tk, each table costs 15 Tk. The music system can be rented for five thousand Tk.
Each food packet will cost 200 Tk. The daily rent of 'Nilkauri' made of wood is 10 thousand Tk. At this time there is an opportunity to visit Kaptai Lake for free for one hour. Apart from this, if anyone wants to take extra cruises, he has to spend an extra Tk 3,000 per hour.
There are also arrangements to spend the night in tents instead of cottages. In this case, if there are two people in one tent, one day's rent will be 1000 Tk. If you wish, you can catch fish in the lake with a fishing rod. In that case, the daily rent is 500 Tk. Room Rent Each air-conditioned room at Lake View Resort costs Tk 4,000. General room 2000 Tk. Hill Top Resort Each air-conditioned room costs Tk 3,200.
A corporate with a capacity of 25 people is a minimum of 10 thousand Taka. There are swimming pool facilities. There is a 50 percent discount for seven-year-olds. There is a 25 percent discount for serving army members and a 20 percent discount for retired army members.
How To Go The Lake View Resort Rangamati
If you want to go to Kaptai, 56 km away from Chittagong, you have to take a bus from the Bahaddarhat bus terminal. It will take two hours to two and a quarter hours. You can go by CNG auto-rickshaw, own car, microbus, or Kaptai line bus. To get to Lakeview Island Resort, you have to get off in front of the protected area of ​​Kaptai Dam. From there it will take 10 minutes to take a CNG-powered autorickshaw to Hilltop Resort.
Read More:
Frequently Asked Questions:
Lake view island kaptai
Lake view resort
Lake view hotel
Lake shore resort
Aronnak holiday resort
Lake view restaurant
Lake view resort rangamati
Army resort in kaptai