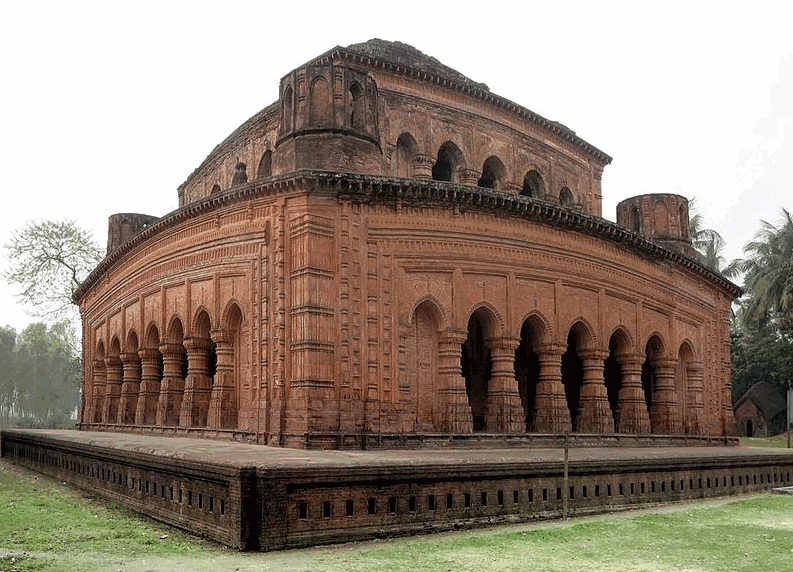 Hatikumrul Navaratna Mondir, a medieval archeological site in Sirajganj. This Navaratna temple adorned with 9 peaks rich in terracotta plaques is remarkable antiquity of the Sirajganj district. You too may get lost in the Middle Ages for a while along the path of history. It was probably built in 174 in imitation of the Kantnagar temple at Dinajpur by Naib Dewan Ramanath Bhaduri of Murshidabad, a resident of Hatikumrul village. There is another ornately decorated Shiva temple 50 meters away from the Navaratna temple and another temple for worship. Navaratna Mandir is the name given to this 9-pinched temple inlaid with terracotta, herbs, fruits, and images of gods and goddesses. The area of ​​this square temple is 15.4 meters. That is the thick walls of Itsurki masonry all around.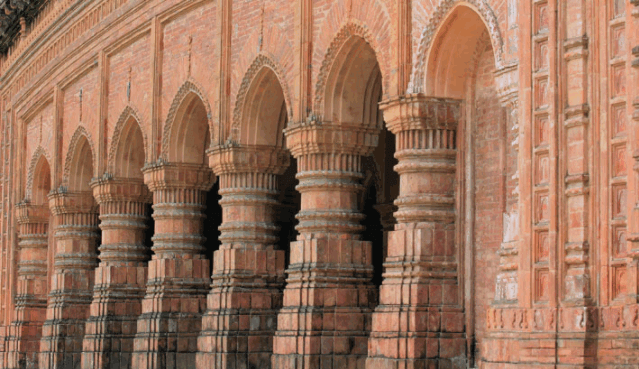 Above the main pillar of the temple is a terracotta plaque. Inlaid with flowers, fruits, leaves, and statues of gods and goddesses, the plaque is full of medieval art. The touch of medieval art is evident not only on the slabs but also on the thin brick masonry walls. The main spire of the three-storey temple is nine. The entrance to the temple is on the east side, and the stairs are on the north side of the chamber. From the inside, the roof of the main building is covered with a round dome. There is another room of the same shape just above the central room or worship room of the temple and there is a verandah around this room. It is relatively small in size and has another dome-shaped roof at the top. There is a pond next to the temple. There are various rumors surrounding this pond. Some say, 'There is a dormitory of gods and goddesses here.'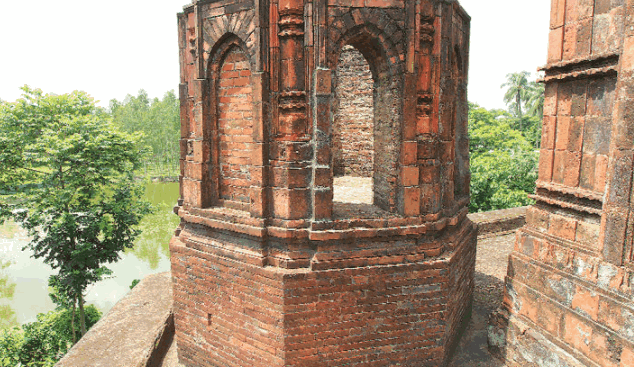 The way to go
Cross the Bangabandhu Bridge on the road from Dhaka to the intersection of Sirajganj Road on the Western Link Road. From there to Sirajganj road. Hatikumrul 2 km north by rickshaw or van. Then you have to go to Methopath. Hatikumrul Navaratna temple is just one kilometer away.
Where to stay
The best quality hotels to stay in in Sirajganj are: Hotel Al Hamra in the city's Independence Square, (01745629264, 0751-64411) AC One Bed Room 500 Taka, AC Two-Bed Room 700 Taka, Non-AC One Bed Room 450, No- AC two-bedroom up to 250 Tk. Sheikh Mujib Road Hotel Anik (01721719235, 0751-62442) AC one bedroom 450 Tk, AC two-bedroom 700 Tk, non-AC one-bedroom 150, non-AC two-bedroom only 250 Tk.
Read More: China Barrage