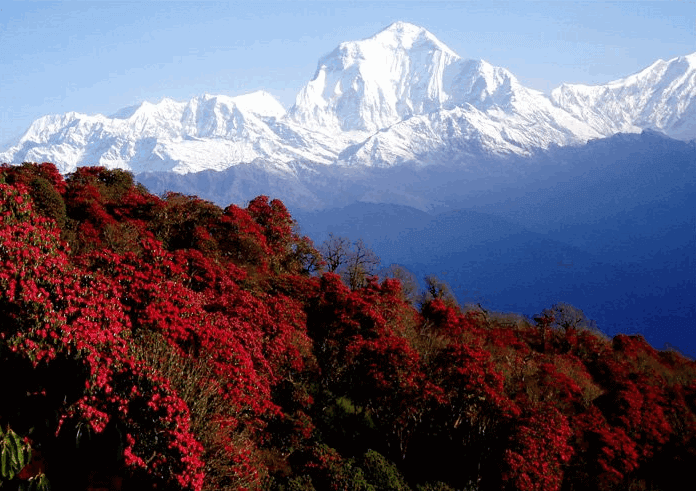 Pun Hill is a hilltop near Gorepani with a height of 3210 meters. There is no pair of Pun Hill Trek to enjoy the amazing beauty of the Annapurna range in the Himalayas of Nepal. If the sky is clear, 12 peaks of the Annapurna and Dhablagiri range can be seen from Pun Hill. This is a relatively easy trek. During the five-day trek, you will be mesmerized by the many snow-capped peaks, all of which will enchant you.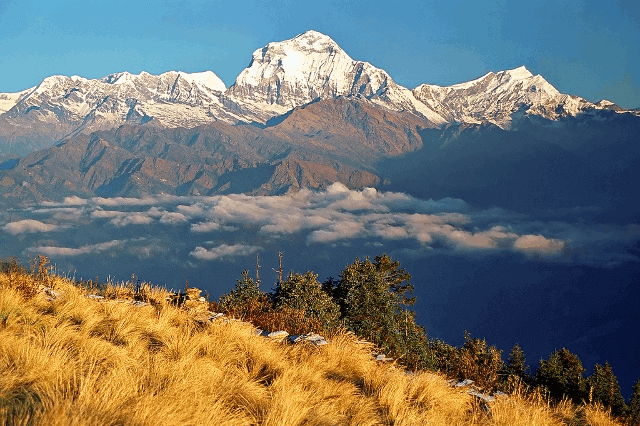 A remarkable view of the Dhawalgiri Range is available from Punhil. Even if it is difficult, if you go to Pokhara, you should at least go on this trek with time. Many cannot go to Everest Base Camp Trek or Annapurna Base Camp Trek due to lack of time or physical ability. In that case, the re-hill trek can be completed in five or four days.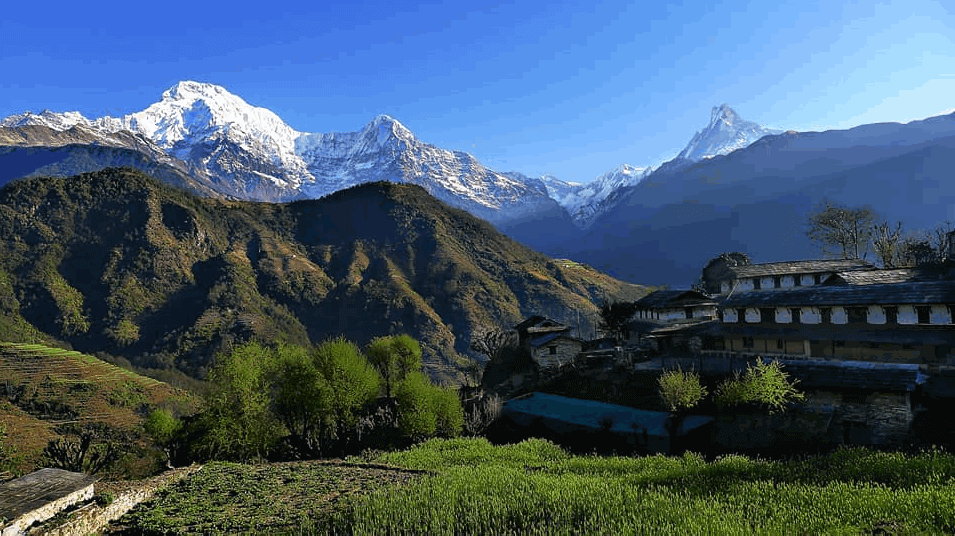 Trek Summary
Height: 3210 m
Trip Duration: 5 days
Trekbasecamp: Ghandruksera
Time: April to June and September to December.
The trek can be done in two ways, starting from Pokhara and reaching the Annapurna Protected Area, clockwise or counterclockwise. Most of the trek starts towards the clock. However, if you do the trek in a counterclockwise direction, the first two days are less difficult. And from the very beginning, all the wonderful scenes make you forget the pain of walking or climbing a mountain.
You can stay in Ghandru on the first night, in Tadapani on the second night, in Ghorepani on the third night. On the fourth day, before the sun rises, you can get up again and enjoy the sunrise on all the wonderful mountain peaks of the Annapurna and Dhablagiri ranges. If the sky is clear and the clouds are low, you can see Himachali, Annapurna South, Annapurna-1 (tenth highest peak in the world, 8,091 m), Nilgiri, Tukuche, Dhablagiri-1 (seventh highest peak in the world, 8,167 m). – All the peaks can be seen clearly.
Required Permits
In addition to the trekkers' TIMS card, an entry permit is required for the re-heel trek. These two cards can be easily picked up from the Pokhara Tourist Center or the people of any agency or hotel can do it for a small fee.
nnapurna Conservation Area (ACAP) Permit Fee: 2000 Nepali Rupees for foreigners, 200 rupees for SAARC members.
TIMS Permit Fee: 1000 Nepali Rupees
Possible Tour Plan
The time needed: 5 days.
1.From Ghandruk to Pokhara 
From Pokhara, you have to take a taxi to Baglung bus station. From here you have to take a bus to Ghandruk. 5-hour journey. Ghandruk, located at an altitude of 1950 meters, has to have trekked for 2 hours from the place where the bus will drop off. Overnight at Ghandruk's cottage.
2.Tadapani from Ghandruk
After breakfast in the morning, trekking started for the purpose of tadapani at an altitude of 2680 meters from Ghandruk. This 6 km trek will take 3.5 to 4 hours. Overnight in Tadapani.
3.Tadapani to Ghorepani 
After breakfast from Tadapani, start trekking for Ghorepani at an altitude of 2850 m. It will take 5-6 hours. Spending the night in the whirlpool.
4.From Ghorepani to Ulleri
Has to get up very early in the morning and trek for 1 hour to go to Pun Hill, to see the sunrise. Later the peaks are covered with clouds. So it is better to go in the morning. After that, after backing up and having breakfast, we started trekking for the purpose of Ulleri. This time just gets down. Overnight at Ulleri.
5.From Ulleri to Pokhara
started descending from Ulleri again. You have to go down about 3500 stairs. After that, you can reach the village of Hill. You will get a Pokhara jeep from Hill.
Anyone can take a jeep from Pokhara to Nayapul and start the trek to Ghandruk. In that case, it will take 5-6 hours. On the way back, anyone can come directly to Tikhedunga from Pun Hill if they want. In this case, it will take 4-5 hours. The next morning after a 3-hour trek from Tikhedunga you can come to Nayapul and take a jeep to Pokhara. In that case, it will take 1.5 to 2 hours from Nayapul to Pokhara.
Read More: Ilam Girl Of Himalai