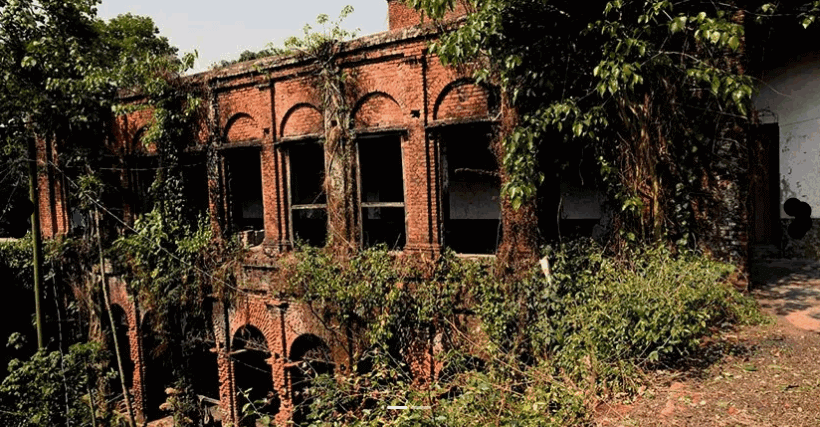 Sadasadi Zamindar Palace is an ancient house located in Sadasadi village of Gopaldi municipality in Araihazar upazila of Narayanganj district. About 7/8 km east of Araihazar Upazila, the Sadasadi Zamindar Bari is established on about 60% of the land, the original name of which is Gopaldi Jomidar Bari, which was built in 1323 BS. It is known from history that at one time there were three zamindars in Gopaldi – Sardar, Teli, and Bhoona.
Sodasodi Zamindar Bari Narayanganj
Shri Prasanna Kumar Sardar was the largest zamindar in the area. Anyone will be fascinated by the artistic craftsmanship inside the huge two-storey building of Sardar's house. Although many crafts have been ruined by the scratch of time. The house does not have that previous beauty.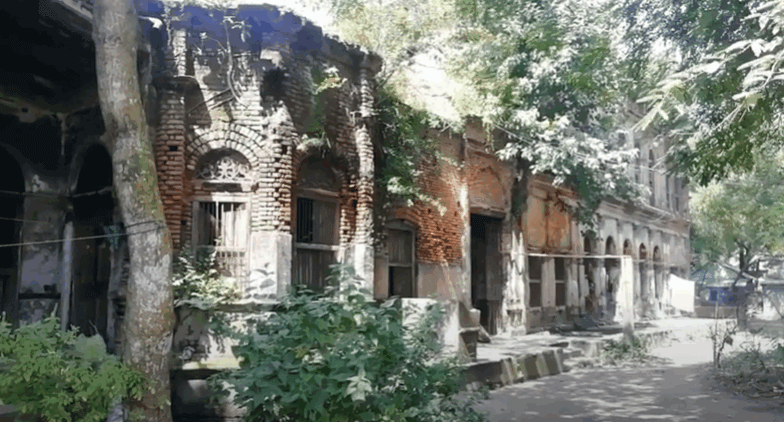 However, it is possible to bring back the previous form with a little reform. Lovely veranda at the front of the building. Each pillar of the verandah is inlaid with the artwork. Beautiful yard in front. Pond ghat to the north of Sardar's house. Ghats paved around a huge pond. The main two ghats on the south side. Men used to bathe in one ghat and girls in the other. The stairs of the pond are still intact.
In addition to the 101 rooms in the vast Sadasadi zamindar house, there are 4 huge buildings inlaid around the house. Each room of the zamindar's house has inlaid doors and windows. There are hundreds of rare species of trees on the boundary of the zamindar's house.
Another zamindar house of Sadasadi is Bhunader. They are two brothers – Harichandra Bhunya and Ramkanai Bhunya. Their son-in-law Rishikaj Babu was also a zamindar. The last zamindar of this house is Jagbandhu Babu. However, his wife Binodini Saha took care of the zamindari. Everything in the three-house building is on the verge of destruction today. Parasites are born on the walls. Embracing the roots. In some places the walls have collapsed, the plaster has fallen off.
 Way To Go Home of Sodasodi Zamidar Bari
Route 1: Avilas Paribahan bus leaves from Sayedabad. Rent 65 Tks. It will go through Madanpur. Or from Gulistan to Doel / Sadesh Paribahan at Madanpur at Tk 45 and Araihazar's CNG at TK 50.
Route 2: Meghla Paribahan bus leaves from Kalabagan. Vulta / Gaussia. Rent 65 Tks. Go down to Gaussia and go a little further to the local CNG market at Araihazar. Rent 30 Tks.
Route 3: Gaussia by local taxi from the 300-foot crossing of the Kuril Flyover. The rent is 80 Tks. Go down Gaussia and go a little further to the local CNG market at Araihazar. Rent 30 Tks. From Araihazar Bazar to local CNG straight to Gopaldi Municipality's Sadasadi Road Zamindar Bari, rent 15 Taka. The locals know the house of Sadasadi Zamindar as "Bhuiyan Bari".
Where to Stay At Narayanganj
Due to being very close to Dhaka, you can visit the house of a member of zamindar in one day. In that case, you don't have to worry about staying the night. However, there are good arrangements for those who will stay away from Narayanganj Sadar. Notable among them are Hotel Mehran, Hotel Sonali, Hotel Narayanganj, Hotel Sugandha, Hotel Surma and Hotel Rupayan. Other places of interest are Sonargaon Folk Art Museum, Panam Nagar, Sonargaon Taj Mahal, Zinda Park, Loknath Brahmachari Ashram in Bardi, Murapara Zamindar Bari, Subarna Gram Park Resort, Bandarpara Mosque, Sonakanda Kella, Goalpara Hussain Shahar Mosque, etc.
Read More:
People Search More About: