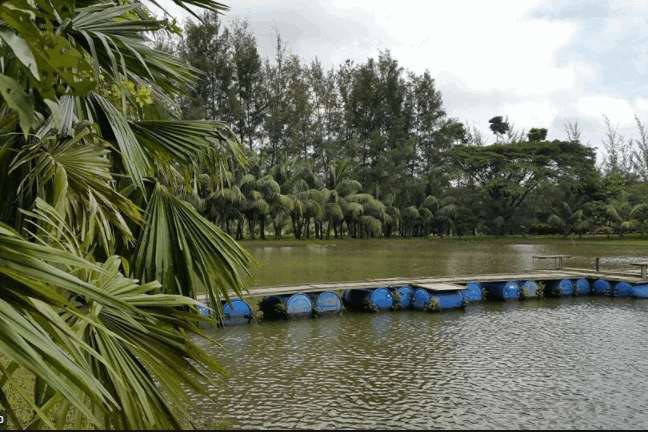 If the destination is a little far, and if you have it all day long, then you can come back from Zinda Park in Narayanganj. There are many parks to spend time in Dhaka, but now people are afraid to go to the parks because of the filth and obscenity. If you want to get rid of traffic and noise in Dhaka for a while, you should come back from Zinda Park. The use of extraordinary architectural style has been highlighted in the park The park is not the product of any government initiative. Again, not the construction of a commercial organization. The park has been created through the spontaneous participation of the locals and their active participation. The "Agrapathik Palli Samiti" started its journey in 1980 with 5,000 members in the area. This park is the result of long 35 years of tireless work and sacrifice. There are very few examples of such a great cause, the active participation of so many people and the acceptance of sacrifices. The park has 3 boards named Ops Cabinet, Ops Parliament, and Ops Commission. At present Zinda, the village is also called an ideal village.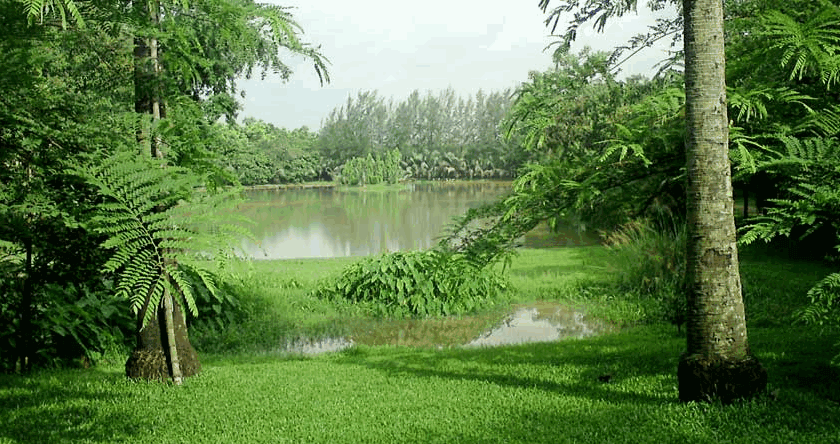 Zinda Park is located in Rupganj, Narayanganj. Zinda Park, spread over an area of ​​about 100 bighas, has a community school, community clinic, a library with aesthetic architectural style, mosque, Eidgah, cemetery, and a restaurant. There are more than 10,000 plants of 250 species in the park. This ceremony of the tree has made the environment peaceful, green, innumerable birds have come to sing. 5 vast lakes bring cool obsession. So no matter how hot the park environment will give you a touch of peace. Zinda Park is now a well-known place for family picnics. After crossing the wooden bridge, you will enjoy the time of sitting in the bamboo tea room made in the middle of the tank with your loved ones for a cup of tea or dipping your feet in the water. There is no problem with not having a car. You will get a car, CNG in front of the park to return home. And yes, if you want to have a picnic, contact us two or three days in advance. Picnic meals are provided by the park authorities.
Ticket price
The ticket price for entering Zinda Park is 100 rupees per adult. 50 Tk for small children. If you enter with food, the ticket price will be 125 Tk. In addition, the entrance fee to the library is 10 Tk and you can go for a boat ride in the pond, the cost will be 30 minutes 200 Tk.
Parking costs 50 / – to 100 Tk per car.
How to get to Zinda Park
The distance from Dhaka to Zinda Park is 36 km. Wherever you live in Dhaka, go to Kuril Biswaroad first. You have to buy a ticket for Kanchan Bridge from the BRTC bus counter in Kuril and get off at Kanchan Bridge. So far the rent will be 25 Tk. To get to Zinda Park Bypass from Kanchan Bridge, you have to pay 20-30 Tk for Laguna or Auto. You can reach the gate of the park by walking down the bypass according to the direction. However, if you go by rickshaw, the fare will be 80-100 Tk. You can go directly to the gate of the park by rickshaw.
On the way back, the Kanchan Bridge will be moved slowly by auto or rickshaw. From there take a BRTC bus to Kuril Biswaroad. You will get a bus from Kanchan Bridge after 15 minutes. You can also take CNG directly from Kuril Biswaroad to the park, the fare is 400 Tks.
Where To Eat
There are Mahua Snacks and Mahua Foods restaurants inside the park for eating. A variety of local food is available here, with a package price of Tk 220 to Tk 670 per person. Food can also be ordered here for picnics. In that case, the order has to be confirmed at least one day before the scheduled day. Contact: 01715025083, 01716260908 Food .
You can also get out of Zinda Park and eat at "Nahar Hotel & Restaurant" located in the street just in front of the park. 150 / – to 200 / – per person can have a very good quality lunch. However, it is better to come to 300 feet after playing in the park. It is better to eat at 300 feet and the cost will be less. However, if you want to go to the park with food from outside, you have to pay an extra 25 / – per person.
Accommodation
There is no reason to worry if you ever feel that it would not be bad to stay overnight while walking around Zinda Park. Because there is Mahua Guest House for staying the night.
Contact address of Zinda Park
Website: http://zindapark.com
E-mail: [email protected]
Phone: 01716260908, 01715025083, 01816070377
Read More: Tajmahal