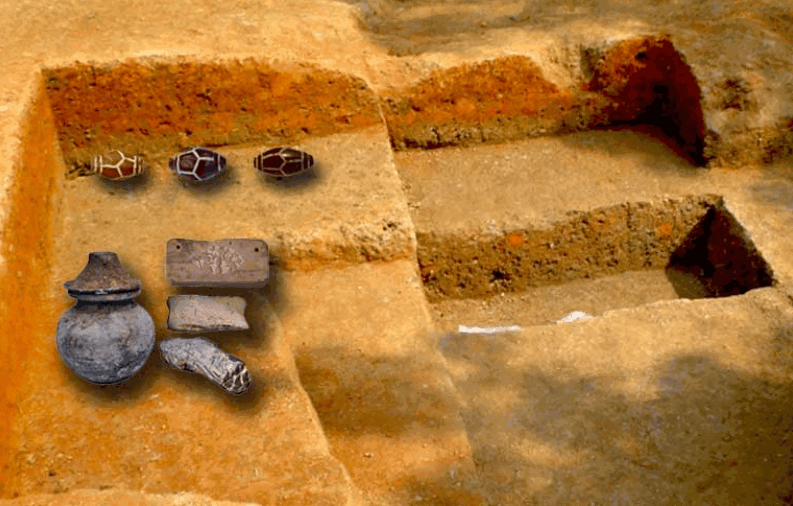 Wari and Bateshwar are two villages in Belabo Upazila, 35 km north of Narsingdi town. Wari Bateshwar has an early history. It is the oldest town in Bangladesh. It is better known as Assamese Raja Garh. Archaeologists and researchers believe that it is a relic of an ancient civilization dating back to about three thousand years ago. Excavation work is still going on under the supervision of the Bangladesh Archaeological Department. Rest houses are being built here for tourists. Traces of human civilization have been found in the Wari-Bateshwar region of Narsingdi district from the prehistoric period to the Copper Expansion, Early-Historic, Pre-Middle Ages, and Middle Ages. Archaeologists from the region have unearthed fossil-wood and stone tools, prehistoric tools, and copper-expansion holes.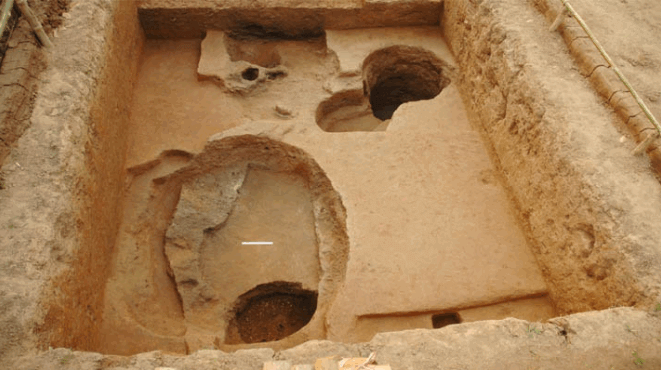 In addition, four fort walls measuring 600 m x 600 m, which are about two and a half thousand years old, have been discovered in this area. To the west-south of the Wari fort, there is an earthen dam called Garh of Assam Raja, about 6 km long and 20 m wide – 10 m high. Archaeological excavations have also uncovered a 160-meter-long road with alleys. Excavations at Wari Bateshwar Archaeologists claim that Wari-Bateshwar belonged to the ancient kingdom of Gangaridi. The second unique brick architecture discovered in Wari has amazed the people.
A large number of metallic, low-precious stones and glass bead ornaments bear witness to the richness of urban civilization. The Buddhist Padma Temple, discovered in the Vita of Dhupir Tech in the Kamrabo area during the eighth excavation of 2008-09, bears witness to the spread of Buddhist civilization in the early Brahmaputra valley of Madhupurgarh in the early Middle Ages.
Recent archaeological excavations have uncovered nails, iron ore, tiny balls as a result of melting iron, rusty iron objects, etc. From the terracotta obtained it can be inferred that the technology of smelting iron at high temperatures was prevalent and used here. The religious nature of the Wari-Bateshwar site is not known. However, the new pottery found at the site bears a hint of Buddhist culture in the area. Dilip Kumar Chakraborty (Professor, South Asian Archeology, Cambridge University) thinks that Wari-Bateshwar had connections with Southeast Asia and the Roman Empire. Because all the materials like roulette pottery, sandwich glass beads, gold-covered glass beads, tin mixed bronze, etc. obtained prove the veracity of this information. According to Gordon Child, the Wari-Bateshwar region is the 'Sonagarh' referred to by Ptolemy (a second-century geographer). Apart from Wari-Bateshwar, single-colored glass beads have been found in the Pacific Ocean, Mantai in Sri Lanka, Arikamedu in South India, Kien Thom in Thailand, and others. Archaeological excavations at Wari-Bateshwar have recently uncovered a brick installation that supports the features of Gordon Child's urbanization. Excavations have uncovered a 160-meter-long road with alleys. Experts agree that Wari Bateshwar was not only urbanized but also a river port and a trading city due to the presence of the Brahmaputra river.
Workers digging in the village of Wari in 1933 found some coins in a container. Local school teacher Mohammad Hanif Pathan collected 30-35 coins from there. These were the oldest silver coins of Bengal and India. That was the first attempt at archeological excavations at Wari-Bateshwar. From 1974-75 onwards, Habibullah collected many ancient relics of Wari-Bateshwar and deposited them in the museum. Hanif built an archeological museum on his own. After his death, the museum was guarded by his eldest son Habibullah Pathan.
How to get there
Take a bus from Dhaka to the collection hall at the Morjal bus stand on the Dhaka-Sylhet highway in Narsingdi's Raipura Upazila. If you send the rickshaw puller Hanif Bateshwar or Habibullah Pathan by name, he will take you there. Rickshaw fare will be 30 to 35 Tk.
How to get there
Wari Bateshwar crosses the Dhaka-Chittagong road and takes the Dhaka-Sylhet highway on the left to Narsingdi. The distance from Dhaka to Narsingdi is 54 kilometers. Buses are available from Gulistan, Saidabad. It takes an hour and a half to go. You can also go to Narsingdi by train. You will get a train from Kamalapur. It will take about 1 hour to go. Rent 30 Tk. Or take a BRTC-bound bus from Mohakhali or a Chalanbil / another super transport bus. Get off at the Morjal bus stand in Bhairab. It will take two hours of rent for 100 Tk. From there you can go to the excavation site by CNG. 30 per person, reserve 120-150 Tk.
Where to stay
There is a government guest house next to a huge paddy field at Wari Bateshwar in Narsingdi. It features a huge open roof in front of the huge room on the 2nd floor. A wonderful place. Booking at this guest house is very easy, the rent is low. The responsibility of marketing and cooking can be easily given to its caretaker. Go there one morning. Spend the day and visit the village in the afternoon. Take a look at the Wari Archaeological Site. Come back to the bungalow at night. Have dinner and sit in the open space in front of the room. You never know when the night will end. The rent of post bungalow is 500 Tk and 1200 Tk (AC room).
Caretaker Liton's phone number is 01933251242
Read More: Zinda Park