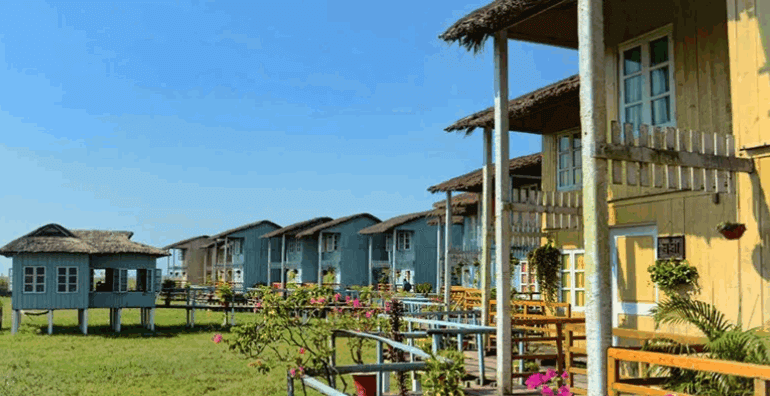 Padma Resort is a beautiful and beautiful resort built on the banks of the river Padma in the Munshiganj district of Dhaka division. It is an ideal place for those who want to get close to nature and rivers by crossing the boundaries of a busy city. In the midst of the hectic rules of mechanical life, noise, noise, and air pollution, and above all the hustle and bustle of city life, this Padma Resort, built on a raised chair in the middle of the Padma River, can bring a bit of serenity to the weekend.
Padma Resort may be the ideal place for you to hang out with family or friends. The distance from Dhaka to Padma Resort is only 50 km. If you have a car with you, it will take about 2 hours to go. The Padma Resort is located on the banks of the Padma River near Louhjong Police Station in Louhjong Upazila of Munshiganj District.
Padma Resort Louhajong Munshiganj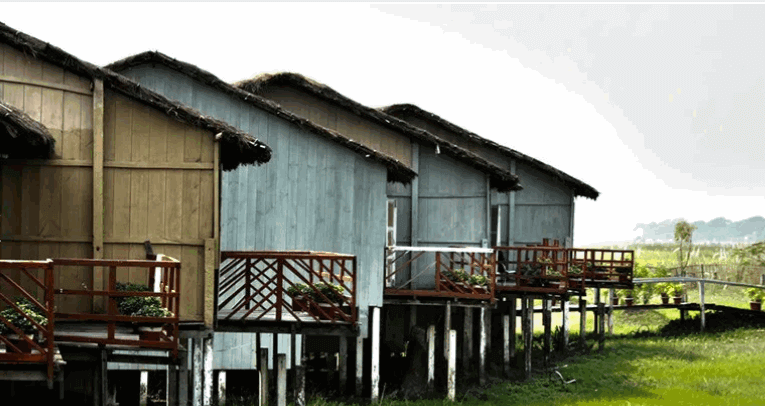 Padma Resort has been built with a total of 16 duplex cottages. Of these, 12 cottages have been named after the 12 months of Bengal and the remaining 4 have been named after the seasons. The cottages in the far west want to be a little more secluded and they start according to the name of the Bengali month. Each cottage has a large bedroom, two single bedrooms, a drawing-room. There are two balconies and a bathroom.
Each cottage can accommodate 6 people. As a special attraction, there is house rice made of beautiful leaves Bamboo and palm wood have been used perfectly on the walls and other places Duplex The cottage has a set of sofa, table, and a single bed on the ground floor, bathroom with commode, basin, looking glass, shower, etc. with state-of-the-art fittings on the ground floor and a spacious veranda for sitting. Center table and wardrobe in the middle.
In winter, the cottage is surrounded by colorful flowers and in the rainy season, it is a realm of water. You can count the night stars in an easy chair in the backyard of the resort. During the day you can travel to the Padma by local boat. You will find fresh hilsa at the resort restaurant. You will also find vegetables, beef, chicken and duck. Seasonal fruits will also match.
What is There In Padma Resort?
Outdoors – Outside there is the Levis Beach Chair where you can recline and enjoy the breathtaking beauty of the river. There are also horses, you can ride on these horses.
Restaurants – There are many well-appointed restaurants inside the resort. There is seating for about 120 people.
River Cruise Arrangements – For those who like to travel by boat, there are a variety of small and large boat arrangements. There are rubber boats here that can easily seat 2-6 people. Speed ​​boats are also available here. Another type of boat is the country boat, this boat is a little bigger, 20-25 people can get up here together.
And those who are fond of fishing in the river can also board a fishing boat. All boats have life jackets.
Sports – Here you can play with your friends in a variety of sports – football, beach volleyball, badminton, kite flying, frisbee, and even the local game Hadudu.
Ways To Booking
Cottages must be booked in advance before going on a public holiday. If you want to book in advance, you have to book at the Dhaka office of Padma Resort with booking money.
If you want to contact SM Nazrul Islam General Manager Mobile: 01712-170330, 01752-987688 Telephone: 87526187
Padma Resort Room & Others Cost
Cottage rent for the whole day is 2300 Tk (2000 Tk + 15% VAT) and 3450 Tk (3000 Tk + 15% VAT) for the whole night. You can take a bath in the cool water of the river or go around by speedboat (Tk 2500 per hour), sampan boat (Tk 1200 per hour), or trawler (Tk 600 per hour).
How To Go To Padma Resort
There are many ways to go to Padma Resort. You can go to Padma Resort. You can go by bus or private car. You can reach Louhjong Thana Masjid Ghat directly by transporting Gangchil or Hilsa from Gulistan in Dhaka. The fare will be 70 Tk per person. You can go from Mirpur 10, Farmgate, Shahbag to Swadhin Paribahan.On the other hand, you can go to Mawa Ghat by "Great Bikrampur Paribahan" (Mawa-Gulistan-Mawa) or "Godhuli Paribahan" (Mawa-Gazipur / Jatrabari-Mawa). In that case, before going to Mawa Ferry Ghat, you have to take a rickshaw or autorickshaw at the crossroads on the way to Louhjong Police Station and take a 15-minute drive.
Much like this: Mawa Ferry Ghat> Louhjong Crossroads> Louhjong Police Outpost> Padma Resort.
And if you have a car with you, there is no question. You don't have to get any speed to know the way. In that case, you have to pay a total toll of 60 rupees in two places on the journey.
There are many parking spaces in front of the Louhjong police station. There are engine-driven boats and speedboats at the mosque ghat next to the Louhjong police station. From Mawa Ferry Terminal to the resort by its own speedboat. If you contact the phone in advance, the resort's own motorboat will take you there. In that case, the rent will be 50 Tk per person. Of course, there are two crossings in this fare.
Where To Eat In Traveling Time
Padma Resort has a well-equipped restaurant equipped with 20 tables and chairs where 200 people can dine together and you can host any party including lunch or dinner if you want.
Before entering the restaurant, you have to collect food tokens from the resort office at Tk 350 per person (Tk 300 + 15% VAT). The lunch menu includes rice, pulses, hilsa fry (1 piece), chicken (1 large piece), vegetables, salad, but you have to buy mineral water separately, which costs 40 Tk per liter. Along with that, you will get soft drinks (cans: 40 Tk, Pepsi 1.5 liters: 100 Tk, Pepsi 2 liters: 150 Tk).
If you want to have breakfast in the morning, it will cost 100 Tk. Vegetables, eggs, and tea will be served as items. Of course, you have to buy a separate water bottle. The Padma Resort is overcrowded and food is not allowed from outside. However, tourists are not checked during the entry, so you can take food in your backpack if you want.
Read More:
People Also Search More About:
Mawa Resort

Padma Resort room price

মানিকগঞ্জ রিসোর্ট

পদ্মা রিসোর্ট লৌহজং মুন্সীগঞ্জ

Padma Resort

Chuti resort