Vaggokul Zamindar Bari is a historical beauty of Munshiganj. Here you can make a tour to know about the history of the zamindar of Bangladesh. There are many posts about this topic in our blog. Today we provide the information about Vaggokul Zamindar Bari At Munshiganj for your type of readers. Who searches for the destination on google.
Vaggokul Zamindar Bari At Munshiganj
Originally the only surviving house among the many houses of the zamindars of Bhagyakul was located at Bandura. This zamindar house of Bhagyakul was built by zamindar Jadunath Saha. There are eight huge pillars in front of the two-story house, which looks a lot like the Baliati zamindar house in Manikganj. This architectural structure with such pillars around the building is built in the house of Greek architecture.
Inside the building, there are various designs including snakes, peacocks, flowers, birds. Buildings across the courtyard of the whole zamindar house, the courtyard in the middle. The doors and windows of this zamindar house (Vaggokul Jamidar Palace) are the same size, meaning height. As a result, it is the responsibility to understand which door and which window is closed.
The stairs from the first floor to the second floor are made of wood. This zamindar house is located in Bandura. There is a "new factory" in front of the zamindar's house, which was originally a mattress. This zamindar house was built before 1920. Jadunath Saha had five children. They were built separately by Zamindar Jadunath, known as Bandik's Kokilpeyari Zamindar Bari, Ukil Bari, Judge Bari.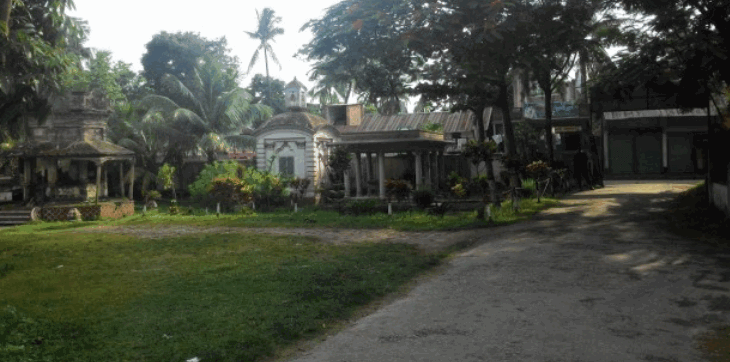 How to Go Vaggokul Zamindar Bari
Kalakopa-Bandura can be reached from Dhaka via Nawabganj. The distance is 35 kilometers. From Gulistan, on the Dhaka-Dohar route, you can take the buses of 'Mahanagar', 'Garibe Newaz', 'Seba', or 'Aram' to Balasur Bazar and take a rickshaw to Bhagyakul Zamindar's house. All the buildings stand side by side in just a few yards. The total rent is 60 Tks. This is a great place for you to go out on a vacation with your family, hope you like it.
Read More:
People Also Search More About:
vaggokul sweets
vaggokul bazar
vaggokul bazar munshiganj
munshiganj jomidar bari