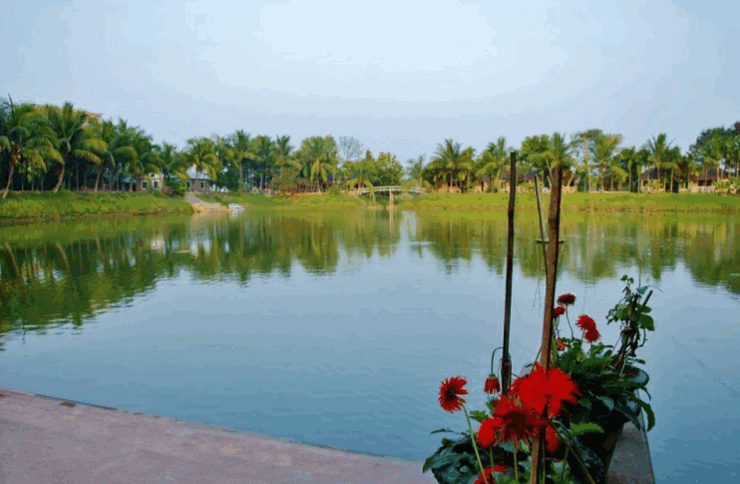 Mawa Resort, built at Kandipara village on the Mawa-Bhagyakul road, just 38 km south of Dhaka, just south of Mawa Ferry Ghat No. 1 in Louhjong Upazila of Bikrampur, seems to be another tourist attraction with its natural beauty. It can be one of the most attractive tourist destinations for traveling in a beautiful, safe, and secluded environment full of natural beauty.
It is built on the banks of the Padma. Filled with stunning beauty, this resort has already been able to attract domestic and foreign visitors and tourists. Travel-hungry people are flocking to Mawa Resort every day. The Mawa Resort, built at Kandipara on the Mawa-Bhagyakul road, just 500 yards from Mawa Ferry Ghat No. 1, seems to be a unique tourist attraction with its natural beauty.
Surrounded by a secluded environment and greenery, this place is different in many ways. As soon as you enter the main gate of the tourist center, you can see a huge lake.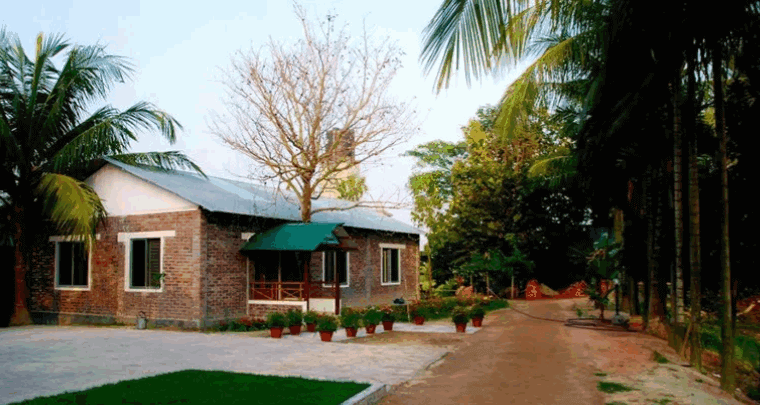 Rows of coconut and betel trees around the lake add to the natural beauty of the place. There are two paved ghats in the lake. There are modern boats for cruising in the lake. There is a cafeteria on the bank. It provides food on demand. There are 18 rows of cottages at the eastern end of the pond.
There are 5 singles, 4 doubles and one suite here. The red, white, and green wooden bridges add to the beauty of the cottage. At night, the colorful electric lights seem helpless in the dim light of the starry Jonak insects in the deserted village. It can also be an interesting center for picnics or photoshoots.
The cottages at the resort are built of brick walls. The roof is made of golpata. Ceilings made of bamboo mats with various alpana. The house also has modern furniture, a bathroom, and beautiful craftsmanship. So far it has been spread over 23 bighas.
Hundreds of people from Dhaka and surrounding areas come to visit this ghat in Padmapar every day. And thousands of people from different professions come here on holiday.
Cost Of Traveling At Mawa Resort Padma Bridge
The entrance fee of the resort is 30 Tk per person. Room rental for the day only starts from 3000 Tk. And if you want to stay the night, the rent will be from 3500 to 12000 Tk.
Mawa Resort Contact
How To Go Mawa Ghat Resort
It is located on the right side of the Mawa Roundabout from Dhaka, next to the old ferry wharf near Louhjong Police Ferry, 2 km away. You can go by bus service or by car. If you have a car with you, it will take about 2 hours to go. In that case on the way, you have to pay a total toll of 60 Tk in two places. There are many facilities on the premises of the Louhjong police station for parking.
You can reach Louhjong Thana Mosque Ghat directly by transporting Gangchil or Hilsa from Gulistan in Dhaka. The rent will be 70 Tk per person. You can go from Mirpur 10, Farmgate, Shahbag to Swadhin Paribahan. Or you can go to Mawa Ghat by "Great Bikrampur Paribahan" (Mawa-Gulistan-Mawa) or "Godhuli Paribahan" (Mawa-Gazipur / Jatrabari-Mawa). In that case, before going to Mawa Ferighat, you have to get off at the crossroads on the way to the Louhjong police station. After 15 minutes by rickshaw or autorickshaw.
More Traveling Places:
Frequently Asked Question:
Mawa resort room price
Mawa resort price
Padma resort mawa
Mawa ghat resort
Mawa resort list
Mawa resort contact number
Mawa ghat hotel
Best resort near mawa