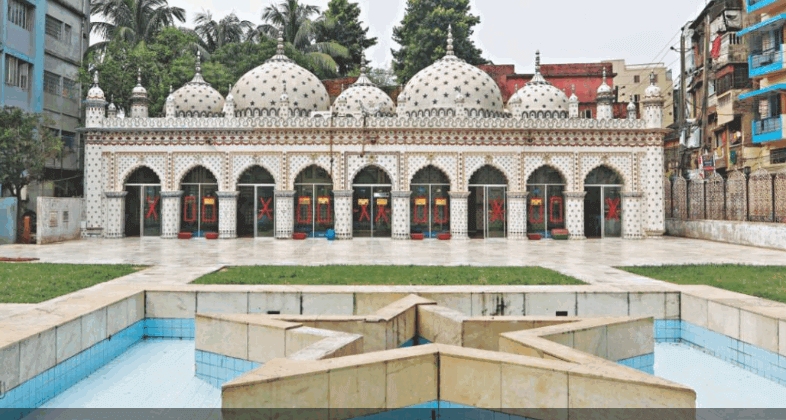 Tara Mosque is located on Abul Khairat Road in Armanitola, Old Dhaka, Bangladesh. The mosque was built in the 18th century by Mirza Ghulam Pir (Mirza Ahmad Jan), a zamindar of Dhaka. They are also known as Mirza Golam Pir Mosque or Sitara Mosque. The mosque was built in the seventeenth century following the Mughal architectural style of Delhi, Agra, and Lahore. Nowhere in the mosque is there any mention of the time of its construction, so no clear document has been found as to when this mosque was built. However, after the construction of the mosque, Mirza Ghulam Pir died in 160 AD. From the beginning the mosque was rectangular.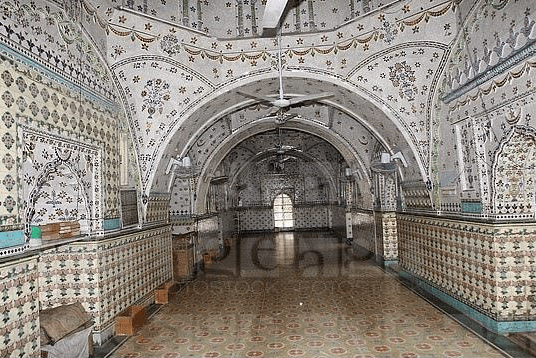 The original mosque built by Mirza Golam Pir measured 33 feet (10.06 m) in length and 12 feet (4.04 m) in width, with three domes. Inside, the middle dome was much larger. The blue marble stone dome had blue star designs attached to it. From then on, this mosque became known as Tara Mosque. It had three doors on the east, one on the north, and one on the south.
In 1926, the then local businessman of Dhaka, Ali Jan Bepari renovated the mosque. During this time the size of the mosque was increased. A verandah was added to the east of this time. During this time the floor of the mosque is mosaic. These mosaics of chinitikri technique are used pieces of Japanese colored Chinese clay and colored glass. The mosque was renovated in 1986. At this time an old arch was demolished and two domes and three new arches were built. In all, the number of domes now stands at five. As a result, the space of the mosque was expanded. The mosque is now 60 feet (21.34 m) long and 26 feet (6.98 m) wide. Besides, the walls of the mosque are inscribed with flowers, moon, stars, Arabic calligraphic inscriptions, etc.
How to get there
Armanitola in old Dhaka can be reached by rickshaw or CNG from any part of Dhaka.
Read More: Hatir Jeel