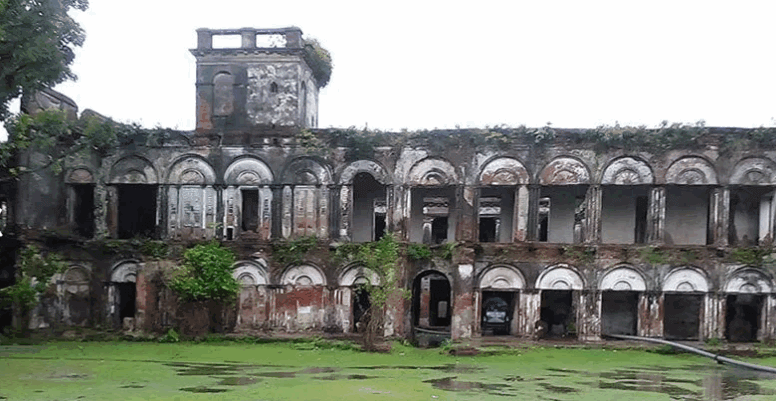 Teota Zamindar Bari is an important place in the memory of the rebellious poet Kazi Nazrul Islam and his beloved wife Pramila Devi. Kazi Nazrul Islam wrote in the form of Pramila Devi in ​​the house of Teota Zamindar of Shibalaya Upazila of Manikganj –
"You are beautiful so I want to be my favorite Seki my crime"
Due to the poet's friendship with Biren Sen, the nephew of Pramila Devi's father Basanta Sen, the poet was able to travel freely to their home. It is estimated that the Teota zamindar's house is about 300 years old. Tobacco merchant Panchanan Sen founded this beautiful 55-room house on an area of ​​about seven and a half acres in about 1800 AD. The 65-foot-high Navaratna temple, established in 1857 in front of the Teota zamindar house, is still intact.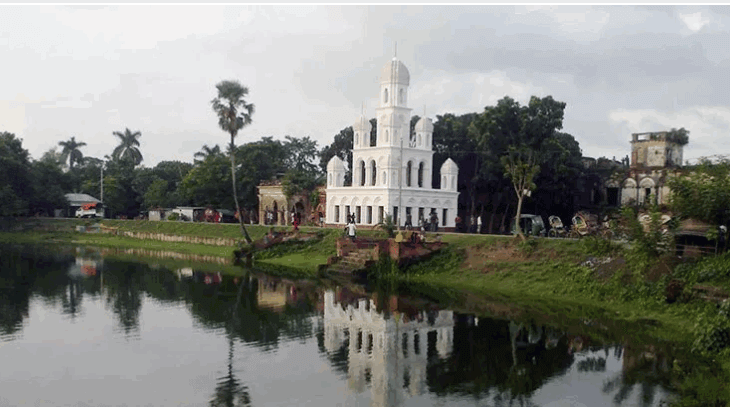 The northern buildings of the main building of the Teota zamindar house were taken by Hemshankar Estate and the southern buildings were taken by Jayashankar Estate. The Natmandir is located in front of each estate, the Laldighi house on the east side was used as the inner palace of the zamindars. The dighi has two paved ghats and a secret chamber on the south side. In front of the building on the north side, there is a 75 feet high 4 storey Navaratna Math. There are 4 more monasteries around the 1st and 2nd floor of Navaratna Math. Many tourists from home and abroad come to see the Teota zamindar house established on about 6.38 acres of land.
The way to Go Teota zamindar's house
About 90 kilometers from Dhaka. It will take about 3 hours to go by bus, the fare will be around 80 Tk. From Gabtali you can go to Arichaghat by Nahar Paribahan, BRTC, Padma Line, etc. Uthli will actually have to go down the Padma line. Aricha bus fare from there is 5 Tk. From Aricha Ghat, you can rent a rickshaw for 20/30 Tk and auto for 10 Tk.
Where To Stay
Being close to Dhaka, Teota sees the zamindar's house and returns to Dhaka day by day. Moreover, there is no arrangement to stay by his side. However, you will find some of the best quality residential hotels in Manikganj. There is very little to do with the family. If you want you can go directly to Manikganj Sadar by bus. From there take a bus to Uthila bus stand, it will take 20-30 minutes. From Uthila go to Aricha Ghat by CNG, fare 5 takas. From Aricha Ghat, take an auto-rickshaw across the banks of the river Padma to the Teota zamindar's house for 20-25 rupees. If you have time, you can come back from Teota Navaratna Math. On the way back go to Aricha Ghat again. You will get a bus back to Dhaka from Aricha Ghat. The last train from Aricha Ghat is probably at 5:30 p.m.
Where To Eat
There are a number of standard hotels and restaurants in Teota. However, there will be many food hotels at Aricha Ghat.
Read More: Betila Zamindar Bari