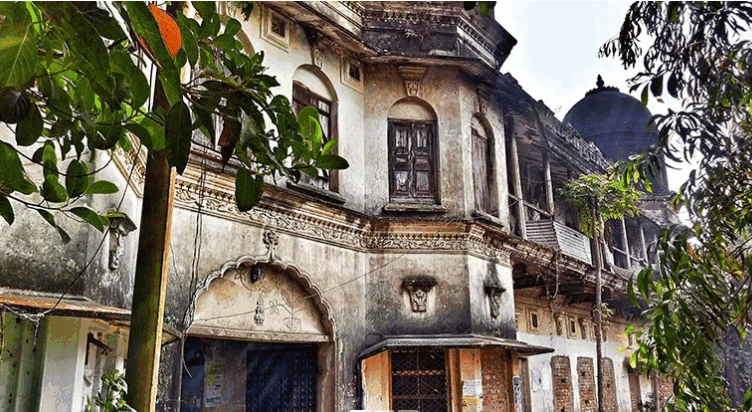 Today we talk about a historical Zaminder Bari Nandirhat Chittagong. Satya Saha, a national award-winning musician, composer, lyricist, and director is the son of this zamindar house. Satya Saha was born in 1934 in this zamindari dynasty. This house of zamindar Laxmicharan Saha was built in 1890. He and his two other brothers started zamindari in the area.
After the abolition of the zamindari system, this zamindari fell. At that time the people of the zamindari dynasty lived a luxurious life. They used horse-drawn carriages and well-equipped palanquins for going out and traveling. In that area, it is now known as Satya Saha's house. This zamindar bari covers a huge area.
Zamindar Bari Nandirhat Chittagong
Apart from Satya Saha's house, there is also a puja mandapa and a paved pond ghat. There is a family crematorium on the bank of the pond. In the middle of 1975, Satya Saha produced his Bengali film 'Ashikshit' – which was shot in this zamindar house and continued to shoot for 17 consecutive days.
This zamindar house with its history, heritage and monuments is currently on the verge of destruction due to carelessness, neglect, lack of necessary renovation, and preservation. Sri Sri Nistarini Kali Mandir of Hindus is located on the east side of the main road in Nandirhat Bazar. After visiting this zamindar house, Hindus can go there.
The Way to Get There
From Oxygen in Chittagong, you can go to Nandirhat Bazar by local CNG (fare-Tk. 20) and local bus (fare Tk. 8-10). Going down to the market, you will see a road on the left/west, which is a 10-minute walk away and you will see this zamindar house on the right side of the road.
Where To Stay In Nandirhat
There are various quality hotels in Chittagong. Below are the names and addresses of some budget hotels. These are all standard but low-budget hotels.
1. Hotel Paramount, Station Road, Chittagong: Just opposite the new train station. In our opinion, this is the best hotel on a budget. Nice location, wide corridor (not even a five-star hotel with such a large corridor). The rooms are good too. Rent for non-AC single 600 Tk, double 1300 Tk, AC 1400 Tk, and 1800 Tk. For booking: 031-26561, 0171-324654
2. Hotel Asian SR, Station Road, Chittagong: This is also a very beautiful hotel. Tidy, clean hotel. Rent: Non AC: Tk1000, Non AC Single. AC: Tk. For booking – 01711-69555
3. Hotel Safina, Enayet Bazar, Chittagong: A medium quality hotel with a family atmosphere. There is a beautiful restaurant on the roof. If you sit there at night, you will not want to come. Rent: Starting from 600 Tk. AC 1300 Tk. For booking -031-0614004
4. Hotel Naba Inn, Road 5, Plot-60, OR Nizam Road, Chittagong. A little more rented hotel. However, it is ideal for those who want to stay in Nasirabad / O and Nizam Road area. Rent: 2500/3000 Tk. For booking – 01755 574362
5. Hotel Landmark, 3072 Sheikh Mujib Road, Agrabad, Chittagong: Good hotel to stay in Agrabad. Rent – 2300/3400 Tk. For booking: 0172-0141995, 01731-6998
Visit Also:
People Also Search More About:
Zaminder Bari Nandirhat

জমিদার বাড়ির ছবি

মৌজা তালিকা হাটহাজারী

বাংলাদেশের বিখ্যাত জমিদার বাড়ি

শ্রীধরপুর জমিদার বাড়ি

হাটহাজারী কিসের জন্য বিখ্যাত

বাংলাদেশের সবচেয়ে সুন্দর জমিদার বাড়ি

হাটহাজারী উপজেলার ইউনিয়নের নাম

কার্তিকপুর জমিদার পরিবার