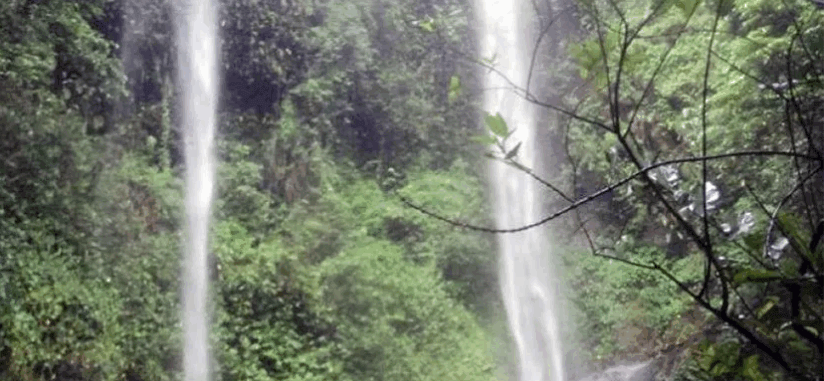 Tinam Waterfall is a beautiful waterfall located in Alikadam Upazila, Bandarban, a hill district of Bangladesh. Another wonder of nature is this fountain. At a short distance from the high mountains, two fountains continue to flow in the stream of Obiram. To see the Tinam waterfall, one has to walk at least 60/70 km from Alikadam Sadar on the Matamuhuri river. The water flow of this spring is very high in the rainy season, although it maintains the flow of water even in winter. Tinap Jharna is also known as Tainum Jharna to many. The waterfall is located at a distance of 30 minutes by boat from Poyamuhuri. The feature of this fountain is that there are two fountains side by side. The water of two springs is flowing down the hill at least one hundred and fifty feet high. There are reservoirs where the water of the two springs falls. There are two tunnels next to the pond!
In the endless silence of the green hills, Tinam Jharna seems to have spread the area to greet the tourists! Undoubtedly, the diversity of Tinam waterfalls in terms of other aesthetic waterfalls in the hilly region is fascinating. If you visit this waterfall, you can see the natural beauty of Matamuhuri river by boat.
Ways To Go At Tinam Jharna
Shyamoli and Hanif Paribahan have direct bus service from Dhaka to Alikadam. Or you can reach Alikadam by bus or jeep from Chakaria bus station in Cox's Bazar. From Alikadam bus station you have to go to Matamuhuri Bridge by rickshaw or auto. Rows upon rows of mechanical boats and speed boats are tied under the bridge. From there you have to take the Matamuhuri river to Poyamuhuri Bazar Ghat.
Where to stay
There are accommodation and food at Shailkuthi Resort in Alikadam Sadar. After visiting the spring in the morning, he returned to the Upazila Sadar in the afternoon and returned by night bus.
Cost
Engine boat rent is Tk. 350 per person in monsoon and speed boat rent is Tk. 4/500 in the dry season. Reserve engine boat or speed boat reserve rent 5 to six and a half thousand.
Caution
There may be leeches on the alert path, so be careful. It is better to keep it with salt. If leech bites, sprinkle salt on it. Cigarette tobacco can also be used. The road to the fountain is very inaccessible. Those who can't walk in the hilly environment should not go there. Consistent with not taking children, adults, or minors there. If you have an accident while walking, it is difficult to cross the inaccessible mountain path and come back. So if you don't have experience walking in the mountains, the decision not to go there is a good one.
Read More: Baklai Waterfall