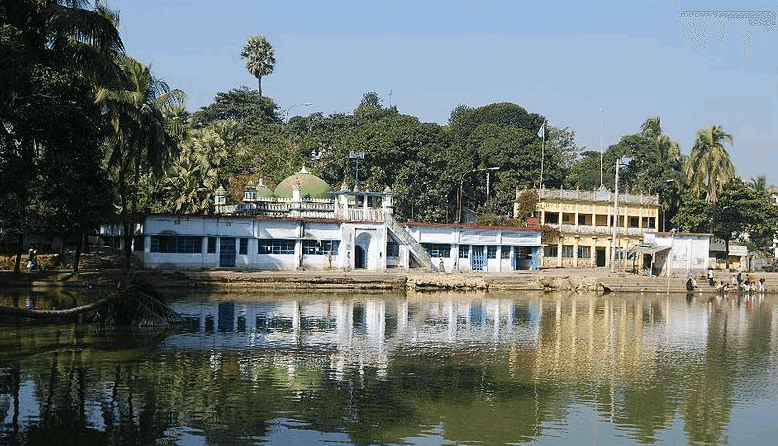 Bayazid Bostami's shrine is located on a hill in Nasirabad, Chittagong. Named after the famous Persian Sufi Bayazid Bostami of Iran, this shrine is a very attractive place for the devout people of Chittagong as well as the domestic and foreign tourists who come to Chittagong. The tomb was first discovered in 1831 in the middle of a walled courtyard on top of a hill. A coffin is located right in the middle of the courtyard. The cemetery was later replaced by a modern structure. At the foot of the Samadhi, the hill is a three-domed Mughal-style rectangular mosque and a giant lake. The architectural style suggests that the mosque was built during the reign of the Mughal emperor Aurangzeb.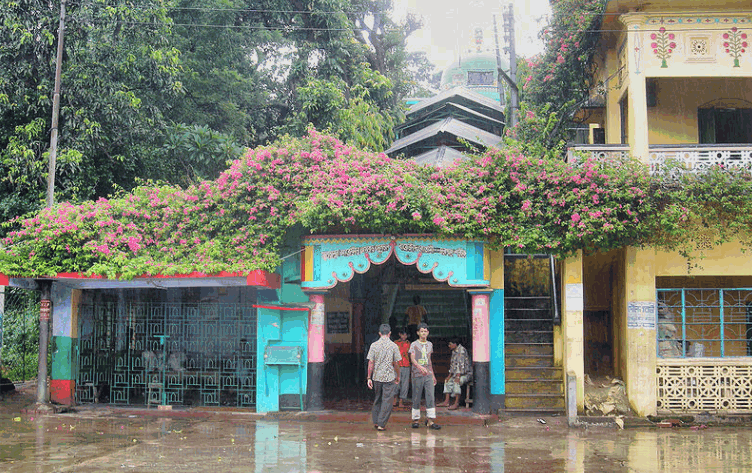 It is believed that Sufi saints and auliyas, during the propagation of Islam in Chittagong, usually settled on hills or in forested areas and established shrines or other such structures in these places. The tomb of Bayazid Bostami is also a replica of the shrine dedicated to him. However, according to local legends, the history of Bayazid Bostami's arrival in Chittagong can be heard. When the devotees requested him to stay after his stay in Chittagong, he was impressed by their love and devotion.
There is a huge lake at the foot of the shrine of Bayazid Bostami. The tortoise and carrot fish of Bostami are well known as its inhabitants. Regionally they are called Mazari and Gazari. The Bostami tortoise is an internationally recognized, extremely rare, and critically endangered species. At present they are not seen anywhere else in the world except the premises of Bayazid Bostami's shrine. They are taken care of by the people in charge of the shrine. At present, it is believed that there are between one and a half to three hundred and fifty turtles living in this lake adjacent to the shrine premises. During the breeding season, their eggs are laid in a place reserved for them behind the main hill of the shrine.
The way to go to Mazar
From Dhaka, Bangladesh Biman (02-9560151-10), GMG Airlines (02-6922247) and United Air (02-695740), Regent Air (02-6953003) can be reached directly from Chittagong. Besides, there is a way to go to Chittagong from any district of the country. You will come to Chittagong by bus/steamer/train of your choice from your city and get off at AK Khan. From there go by autorickshaw or city area bus.
Where to stay
There are various quality hotels in Chittagong. Below are the names and addresses of some budget hotels. These are all standard but low budget hotels.
1. Hotel Paramount, Station Road, Chittagong: Just opposite the new train station. In our opinion, this is the best hotel on a budget. Nice location, spacious corridor (not even a five-star hotel with such a large corridor). The rooms are good too. Rent for non AC single 800 Tk, double 1300 Tk, AC 1400 Tk, and 1800 Tk. For booking: 031-26561, 0171-324654
2. Hotel Asian SR, Station Road, Chittagong: This is also a very beautiful hotel. Tidy, clean hotel. Rent: Non AC: Tk1000, Non AC Single. AC: Tk For booking – 01711-69555
3. Hotel Safina, Enayet Bazar, Chittagong: A medium quality hotel with a family atmosphere. There is a beautiful restaurant on the roof. If you sit there at night, you will not want to come. Rent: Starting from 600 Tk. AC 1300 Tk. For booking -031-0614004
4. Hotel Naba Inn, Road 5, Plot-60, OR Nizam Road, Chittagong. A little more rented hotel. However, it is ideal for those who want to stay in Nasirabad / O and Nizam Road area. Rent: 2500/3000 Tk. For booking – 01755 574362
5. Hotel Landmark, 3072 Sheikh Mujib Road, Agrabad, Chittagong: Good hotel to stay in Agrabad. Rent – 2300/3400 Tk. For booking: 0172-0141995, 01731-6998
Read More: Hazarikhil Wildlife