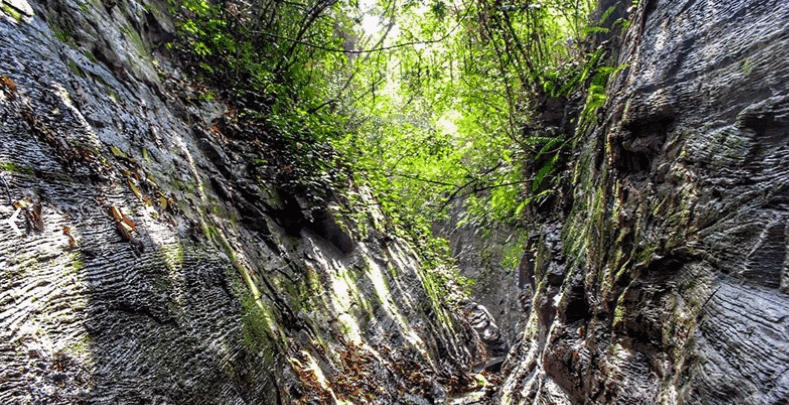 Chalanda Giripath, full of natural beauty, is located in the area of ​​1753 acres of Chittagong University. Chalanda Pass is now a new name in the travel collection of adventure and travel-loving people. That is why every day different groups are flocking to this natural pass. Somewhere wet, somewhere dry. As soon as you enter the pass, your body will become cold. You have to go between the two hills with your hands and feet together. Mountain grooves on both sides. Somewhere along the steep slope of the mountain, the sun seemed to set.
Colorful image of the sun in the groove. Somewhere faint darkness like fog. But even in the midst of all this, the chirping of birds will be heard. About half a kilometer of the pass can proceed without risk. Going a little further inwards, it may seem that you have come to a haunted environment. Walking will also become difficult. The risk will gradually increase. A little carelessness can cause great danger. So we have to be very careful.
How to get there
From Battali Station / Sholashahar Station in Chittagong by Chittagong University Train to Chittagong University. Just a short walk from the varsity station at Zero Point. Walk from Zero Point to the collar hut. The rent will be 5 rupees. Start walking smoothly along the road behind the hut for 1 hour. After 6/7 minutes walk from the banana hut you will get water rhyme. Keep walking straight along the water for the purpose of the pass.
Caution
Some caution needs to be exercised.
Since the whole tie is trekking in the waterway, you have to be careful about the shoes first.
Do not trek barefoot, there are wild thorns.
It is better to keep drinking water and some dry food with it
 And don't make a mistake and leave dirt or water bottles at the end of the meal like others.
Read More: Banskhali