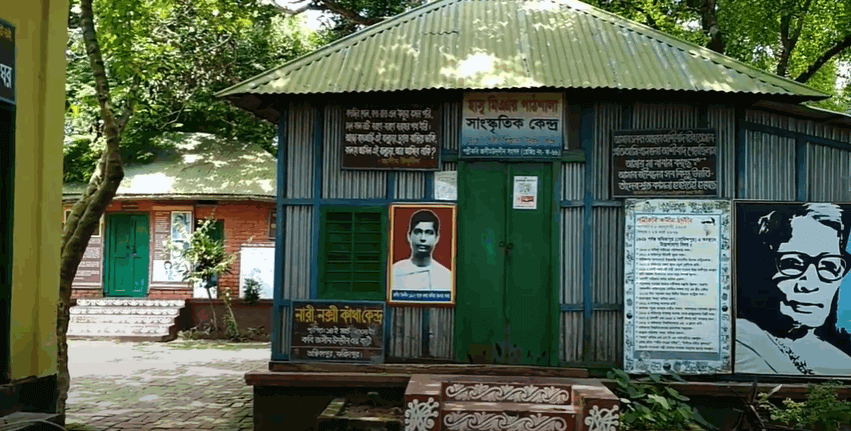 Jasim Uddin's house in Gobindpur village, south of Kumar river, north of Ambikapur railway station in Faridpur Sadar Upazila. The house has four old tin sheds. The various items used by the poet are preserved in the houses. Various writings of the poet are displayed in the courtyard of the house. To the east and west of the house are the neighbors' houses and to the south is a small pond. To the north of the house is the grave of the poet. Paved roads and Kumar rivers are next to the graveyard.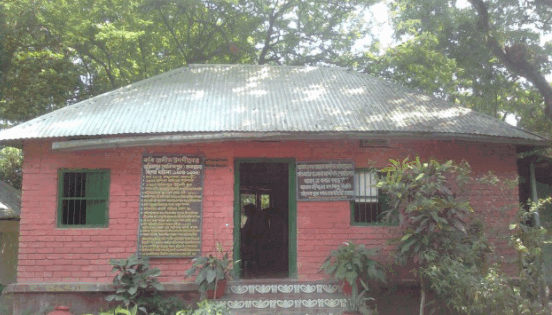 The poet has been lying under the pomegranate tree since 14-03-1976. The tomb of the poet is erected by a paved elevation and surrounded by a gill. Next to the grave of the poet is the father of the poet – Mauh Anshar Uddin Mollah, mother – Amena Khatun (Ranga Chhotu), wife of the poet – Begum Mamtaz Jasim Uddin, eldest son – Kamal Anwar (smiling), wife of the eldest son – Zarina, elder brother of the poet Alhaj Mofiz Uddin Mollah, Kabir Sejo's brother – Saeed Iddan Ahmed Mollah, Kabir's younger brother – Professor Nuruddin Ahmed, Kabir's younger sister – Nurun Nahar (Saju) grave.
How to Get to Kabi's House Jasim Uddin
First, you have to go from Dhaka to Faridpur. The buses plying from Dhaka to Faridpur include Goldline and Ajmeri Enterprise (Air Conditioned, Phone: 0631-66988, Mobile: 01755522200, 0173320887), Zacker Enterprise (Phone: 01712424134). Golden Line and South Line transport buses are available from Gabtali in Dhaka. Rent of AC Tk600 and non-AC Tk300. Both are bus chair coaches. Besides, the rest is normal. Mobile number of South Line counter – 01713285400 (Gabtali counter) Kabir Bari, 2 km away from Faridpur bus stand. You can go by rickshaw, autorickshaw or private car.
Where to Stay Faridpur
After going to Faridpur, there are various residential hotels for travelers to stay. The distance from the Faridpur bus stand to residential hotels is 1 km, rickshaw fare is 10 Tk. The minimum rent of a residential hotel is 80 Tk and the maximum rent is 900 Tk. Residential hotels have both single and double beds. There are circuit houses for government officials and employees.
Hotel Name Mobile Number Rental:
Hotel Raffle Ins + 0631-61106 AC-900 / – NonAC-340 / –
Hotel Luxury + 0631-62623 AC-900 / – NonAC-340 / –
Hotel Padma + 0631-62623 AC-400 / – NonAC-160 / –
Hotel Park Palace 01556327067 AC-350 / – NonAC-150 / –
Hotel Shyamoli + 0631-64538 AC-350 / – NonAC-150 / –
Hotel Jonak i10631-64168 NonAC-60 / –
Raj Boarding 01725068788 NonAC-80 / –
Regional Paddy Research Institute + 06-323-56329 100 / – NonAC
Read More:
People Also Search More About House Of Palli Kabi Jasim Uddin:
palli kabi jasimuddin kobita
jasim uddin songs
md jasim uddin
why is jasimuddin called 'palli kabi'?
jasimuddin biography in bengali
jasimuddin pdf
jashim uddin facebook
jasimuddin poems in bengali pdf