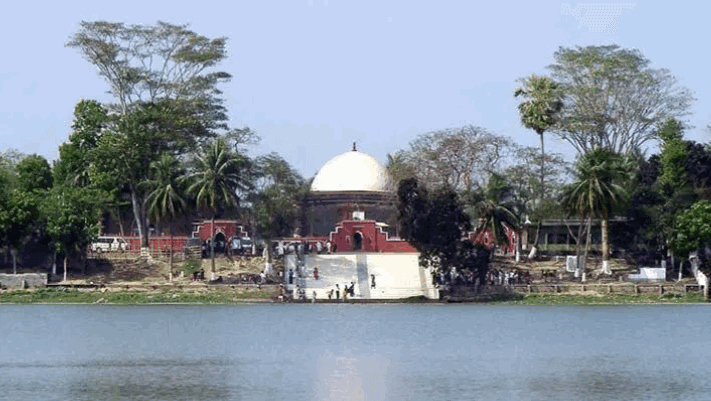 Khanjeli Dighi is located on the south side of the shrine of Hazrat Khan Jahan Ali (RA) covering an area of ​​about 200 bighas. Hazrat Khan Jahan Ali (RA) left some crocodiles named Kalapahar and Dhalapahar in this tank. Two huge crocodiles named 'Kala Pahar' and 'Dhala Pahar', which later died In the mountains, some freshwater crocodiles are released into the lake. The people who came for the purpose of visiting the shrine offered various kinds of vows including ducks, chickens, sheep, and khasi to the crocodiles of John Dighi. Mummies have been kept in the museum of the sixty-domed mosque after the death of Kala Pahar. The main ghat of the lake is wide and beautiful. There are separate ghats for women. The water in this lake is sweet. This dighi is called Thakur dighi.
There are various legends about the naming of Khanjeli Dighi. Some people say that it is called "Tagore Dighi" to get a statue of Buddha Tagore. According to another, Khanjahan was called "Tagore" by the native Hindus out of devotion and the dighi was excavated under his special supervision and hence it was called Tagore Dighi after the name of their devotional Tagore. Some say that Pir Ali Mohammad Taher was Khajahan's best friend. He was formerly a Brahmin and his name was Sri Govinda Lal Roy. Khanjahan affectionately called him "Thakur". He named this lake "Thakur Dighi" to protect his memory. His shrine is located to the west adjacent to the shrine of Khanjahan (RA).
How to get there
You can go directly to Bagerhat from Dhaka. Many vehicles leave from Saidabad in Dhaka every day from 6 am to 10 am and from 7 pm to 10 pm – Meghna (0171717388553), Banful, Parjatak (01711131078), Falguni, Ara, Baleshwar, Hamim, and Dola. Besides, Sohag (01718679302), Shakura (01711010450), Hanif, and Eagle Paribahan left Gabtali. Rent 300 to 400 Tk.
The journey takes about 7 hours. You can also go to Khulna by train from Dhaka. You can take the intercity train Sundarban Express and Chitra Express to Khulna and then take a bus to Bagerhat. It takes about 40 minutes to reach Bagerhat from Rupsha.
Khanjahan Ali (Rah.) The mausoleum is located 3 km south-west of Bagerhat city and 22 km south-east of Khulna city. Its location is 300 yards away from Khulna-Bagerhat highway. You have to walk this way to get off the bus.
Where to stay
There are various hotels in Bagerhat Sadar. There are also government guesthouses. Here you can stay at the Mumtaz Hotel on Rail Road. The hotel has fewer facilities but the quality of the service is quite good and the cost is a bit high. There are also a few more hotels to stay in the vicinity of this hotel. Moreover, you can stay at Hotel Avi on the main highway in front of Khan Jahan Ali's shrine. Rent 400 Tk. Phone: 01833742623. Apart from this, for staying in Bagerhat, Hotel Al Amin (0468-63168, 01718692737, AC dual room Tk. 1000, non-AC room 100 to 400 Tk) and Hotel Mohana (0468-63075, 0172285313 in Karmakar Patti) adjacent to the central bus station. There are non-AC rooms for Tk 100 to Tk 400. It takes 1 hour to reach Bagerhat from Khulna, so you can stay in Khulna.
Read More: Bagerhat Museum