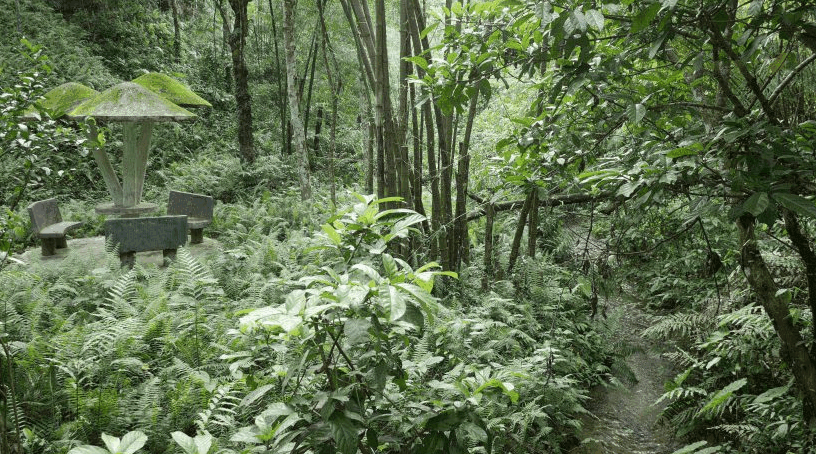 Khadim Chaumuhana is about 10 km from Sylhet city along Jaflong Road after crossing the gate of Shahparan Mazar. The road has gone to the right-hand side from Khadim Chaumuhana. Khadimnagar Chabagan starts when you go ahead by road. A little further along the garden road is a culvert. If you continue to cross the culvert and take the road without taking the road on the left, there will be more tea gardens, tea gardens, and natural forests. The Khadimnagar Rainforest begins after a five-kilometer paved, unpaved, and brick-paved road to the north of the main road.Chharagang and Habibnagar in the east, Barjan, and Kalagul in the west, Gulni in the north, and Khadimnagar in the south in the middle of these six tea gardens, a 1673-acre mountain and natural forest, the rainforest is officially recognized as a national park and is being managed with the help of USAID.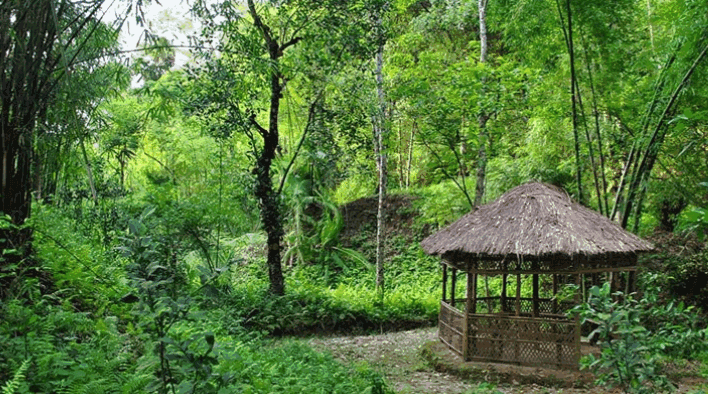 Khadimnagar National Park has two trails of 45 minutes and two hours for walking. There are maps of the two trails in front of the bit office of the forest department, besides a local can be taken as a guide. Going north along the road in front of the rainforest, you can take the Airport-Haripur road, from where you can easily reach Ratargul Swampforest again. If a tourist wants to visit Sylhet for one day, he can use this route to see Chabagan, Rainforest, Swamforest. Most of the raw and bricks of this road can be taken by car if it is laid, but if it is raining, it is better to take CNG. Rental CNG is available at Khadim Chaumuhana.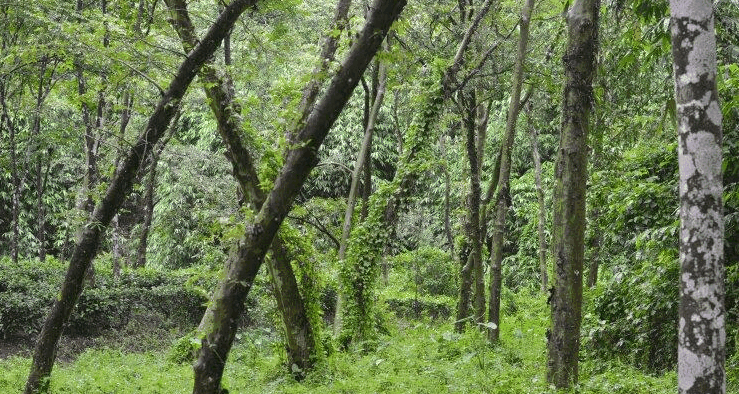 How to get there
By bus
From Sylhet to Sylhet The bus leaves from Gabtali and Sayedabad bus terminals. The buses leave at regular intervals from morning till 12.45 pm. The buses leave from Fakirapul, Saidabad, and Mohakhali bus stations in Dhaka. AC buses of Green Line Paribahan, Saudia S Alam Paribahan, Shyamli Paribahan, and ENA Paribahan run on this route. The rent is 800 to 1,100 Tk. Besides, non-AC buses of Shyamoli Paribahan, Hanif Enterprise, Unique Service, ENA Paribahan go to Sylhet. Rent from Tk 400 to Tk450. The buses of ENA Paribahan leave Mohakhali and go to Sylhet via Tongi Ghorashal.
Dhaka To Shylet By Train
The intercity train Parabat Express departs from Dhaka at 8:40 am every day of the week except Tuesday from Dhaka's Kamalapur railway station. The Jayantika Express leaves at 2 pm every day of the week and the Upban Express leaves at 9.50 pm every day of the week except Wednesdays. The Kalni Express leaves at 4 pm every day except Friday. Rent from 150 to 1 thousand 18 Tk. If you go by train, it is best to take the Upban Express at 9.50 pm because it will be early in the morning and if you sleep on the train at night, you can get off the train in the morning and start your journey and it will take 7-8 hours.
Trains from Chittagong to Sylhet
Paharika Express from Chittagong every day except Monday at 8:15 am and Udayan Express at 9:45 pm every day except Saturday. The fare from 145 to 1 thousand 191 rupees. Train ticket price: AC berth 698 Tk, AC seat 460 Tk, first-class berth 425 Tk, first-class seat 270 Tk. Snigdha 460 Tk, elegant chair 180 Tk, elegant 150 Tk, cheap 95 Tk.
Sylhet by Air / Plane
Biman Bangladesh, United Air, Regent Air, Novo Air, and US Bangla Air flies daily from Sylhet Shahjalal International Airport in Sylhet to Osmani Airport in Sylhet. From Sylhet, you can take a bus, microbus, CNG autorickshaw, or Laguna to Khadimnagar National Park. Khadim Chaumuhana is about 10 km from Sylhet city along Jaflong Road after crossing the gate of Shahparan Mazar.
Where To Stay
You don't have to worry about staying because you don't have time to come and go. There are many hotels to stay in in Sylhet, you can find any type of hotel according to your needs and affordability. Some of the well-known hotels are – Hotel Hill Town, Gulshan, Dargah Gate, Surma, Kaikobad, etc. There are many quality rest houses at low rent in the Lala Bazar area Hotel Anurag – A single room 400 Tk (two people can stay comfortably), three-bed room 500 Tk (normally 4 people can stay).
There are various quality residential hotels on Dargah Road for overnight stays. Room rent from Tk500 / – to Tk5000 / -.
Hotel Rose View (0821-721439) in Shahjalal suburb of the city.
Hotel Star Pacific at Dargah Gate (0821-727945).
Hotel Hilltown on VIP Road (0821-716077).
Hotel Metro International (0821-721143) in Bandarbazar.
Hotel Fortune Garden (0821-715590) in Nairobi.
Hotel Dallas on Jail Road (0821-720945).
Hotel Garden Inn on Link Road (0821-814507).
Hotel Palash in Amber Khana (0821-718309).
Hotel Dargahgate in the Dargah area (0821-717066).
Hotel Urmi (0821-714563).
Hotel Moon Light in Zindabazar (0821-714850).
Gulshan Center at Taltala (0821-710018) etc.
There are several resorts towards Tamabil / Jaintapur. If your accommodation is somewhere this way, then you have to come to Goainghat from Hadarpar as before. You have to go from Goain Ghat to Sari Ghat. You can go by CNG / Laguna. The rent is 60 Tk per person.
Read More: Kamola Rani Dighi
Shuktara Prakritik nibas Resort