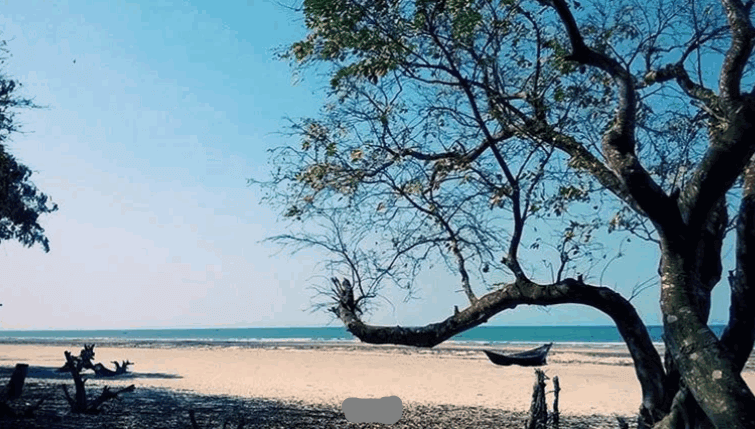 Lebur Char is located in Kuakata. Lemur Char, also known as Lebur Char or Nembur Char to the locals, is located 5 km east of Kuakata beach. There are different species of trees in the 1000 acre lemon grove such as Keora, Gewa, Goran, Kadai, Golpata, etc. Located at the eastern end of Kuakata, this char is easily accessible from Kuakata. Surrounded by natural beauty, this char is an attractive place for tourists. Formerly it was a part of the Sundarbans but now it is isolated from the Sundarbans.
How to get there
From Kuakata beach you can go to Lemon Char by motorcycle or van.
Where to stay
There are two post bungalows in Kuakata and Sagar Kanya Tourism Holiday Homes. LGED has two, one on roads and highways, two in the district council, and one in the rest house of the Rakhine Culture Academy. If you want to stay in these places, you have to get the prior permission of the concerned department. Besides, more than 50 residential hotels and motels have been set up in the tourist city on private initiative. Modern standard hotels include Hotel Nilanjana, Hotel B-View, Hotel Golden Perez, Hotel Beach-Valley, Hotel Family Homes, Kuakata Guest House, Hotel Sagar Kanya, Hotel Al Hera, Hotel Akon, Hotel C-Hotel Several more hotels and motels with memories.
1. Holiday Homes (Tourism Corporation), Kuakata Phone: 01715-0011463 Rent: Non AC Twin: 1100 Taka and Economy: 800 Taka
2. Youth Inn (Tourism Corporation), Kuakata Phone: 04428-56207 Rent: Non AC Twin: Tk. 1500 and AC Twin: Tk2500
3.Hotel Sky Palace, Tourist Area, Kuakata Phone: 01727-507479, 01727-030248, 01716-749027 Rent: Non AC Couple: 1200 Taka and Non AC Twin: 1400 Taka
4. Hotel Banani Palace, Tourist Area, Kuakata Phone: 0171-3674192, 01911-672135, 01712-849373 Rent: Non AC Twin / Couple: Tk. 1250(Downstairs), upstairs 1650 Tk
5.Hotel Nilanjana, Rakhine Market, Kuakata Phone: 01712-926904 Rent: Non AC Single: Tk. 850, Non AC Twin: Tk. 1450
6. Biswas C Palace Hotel, Beri Badh, Kuakata Phone: 0173-0093356 Rent: Non AC Twin: Tk 1800, 3 Bedded Room: Tk2000.
7.Sagar Kanya Resort Limited, West Kuakata, Kuakata Phone: 01711-181798 Rent: Non AC Couple: Tk. 1200 (Ground Floor), Tk. 1500 (Upstairs), Non-S Twin: Tk. 1800
8.Hotel Kuakata Inn, Sadar Road, Kuakata Phone: 0175-0008177 Rent: Economy Twin / Couple: 1500 Taka, Economy Family Room: 1850 Taka (1 Double, 1 Single)
9.Kings Hotel, Sagar Par, Kuakata Phone: 01713-277630 Rent: Economy Double: Tk. 600, Non AC Deluxe: Tk. 800
Where to eat
You can eat fried fish, fried crab, and coconut in lemon char. In addition, for safe food in a home environment, Hotel Shepherd in Kuakata, Dining Room-1, Dining Room-2, these food hotels provide food in your residential hotel. Besides, there are many small food hotels in the tourist area – Kalapara Hotel, Hotel Mannan, Hotel Barisal, etc. These hotels offer and provide quality food at a low cost.
Read More: Fatrar Chor