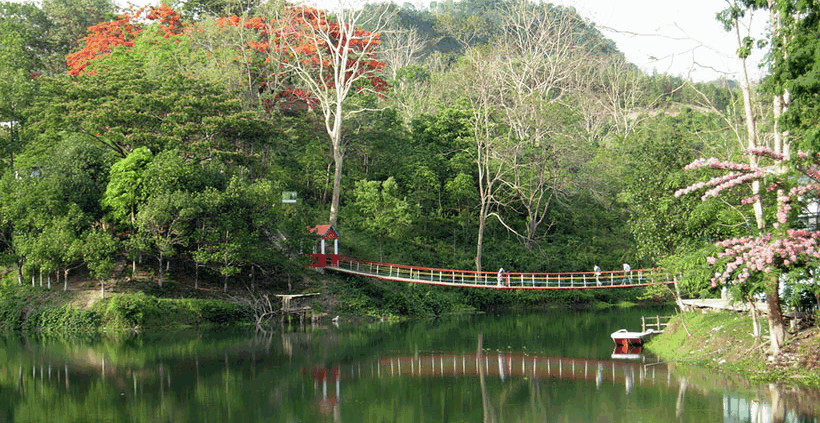 The Meghla Tourist Center is located on the Bandarban-Keranihat road at the entrance of Bandarban town. The Meghla tourist area is located 5 km before entering the Bandarban district town. Meghla has a variety of recreational facilities – zoo, children's park, safari park, paddle boat, cable car, open stage, and tea garden. Here you can see the green nature, the clear water of the lake, and the breathtaking view of Bandarban playing with the waves on the top of the hill. A cloudy tourist center has developed around a lake surrounded by several high and low hills. Dense green trees and the clear water of the lake are constantly drawing tourists closer to nature.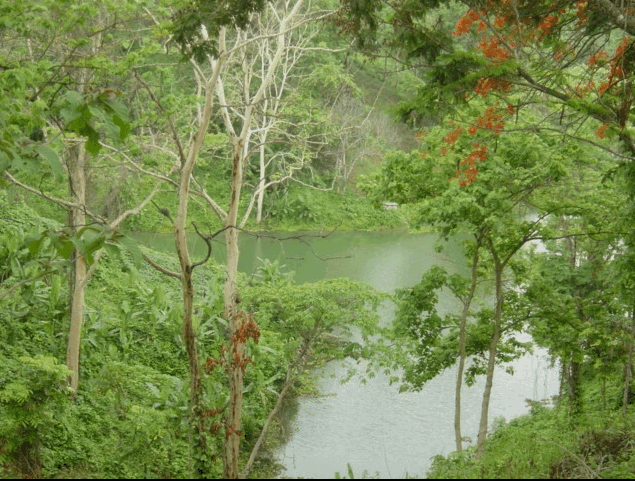 Entrance fee
Meghla Tourist Complex entrance fee is 20Tk per person and 150-200 Tk for car parking.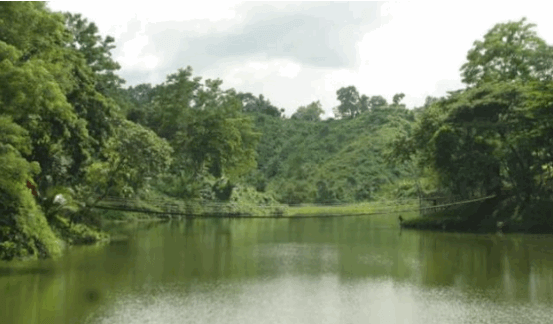 How to get there
First, you have to go to Bandarban. Vehicles of several transport companies leave for Bandarban every day from different parts of Dhaka. You can go to Bandarban by taking any one of the buses like Shyamli, Hanif, Unique, S Alam, Dolphin. These buses leave from Kalabagan, Sayedabad, or Fakirapul for Bandarban at 10 pm or 11:30 pm. Non-AC bus fare is 550 Tk per person. AC 950 Tk. You can go to Bandarban from Chittagong. Pubali and Purbani Paribahan buses run from Baddarhat to Bandarban. These buses are rented at Tk 220 per person.
From Bandarban bus station to Meghla Tourist Complex, local buses take 10-12 Tk per person and taxi reserves 100-120 Tk per person, and Land Cruiser, Land Rover and Moon car take up to 450-500 Tk.
Transport fare
By train from Dhaka to Chittagong: AC – 365-460Tk. Non-AC-150 -175 Tk.
By bus from Dhaka to Chittagong: AC – 580-690 Tk. Non-AC-200 -250 Tk.
Direct bus from Dhaka to Chittagong: 350 Tk from Chittagong to Bandarban: 70 Tk.
Meghla auto-rickshaw from Bandarban city: 150 Tk.
Where To Stay
Bandarban has numerous resorts, hotels, motels, and resthouses. Where you can spend the night for 600 to 3 thousand Tk.
Hotel Hill View: The rent of this hotel near the city is 1000-4000 Tk per room. Phone: 0361-63045.
Tourist Motel: Rent between Tk 850 to Tk 2000 per room. Phone: 0361-62741 and 0361-62742.
Holy Day Inn: Rent up to Tk 1500-3000 per room. Phone: 0361-62896
Venus Resort: Phone: 0361-63400, 01552808060.
Hotel Plaza: Phone: 0361-63252.
Hillside Resort: Tk 1500-4000 per rented room. Phone: 01556539022, 01730045083.
Sakura Hill Resort: Rent up to Tk 1500-3000 per room.
Hotel Four Star: It is located in Bandarban Bazaar. The rent per room is 300-1200 Tk. Phone: -0361-63566, 01813278731, 01553421089.
Hotel Three Star: It is located next to the Bandarban bus stand. It is a flat with 4 beds for 8/10 people. Each non-AC flat – 2500 Tk, AC – 3000 Tk. Phone: – 01553421089.
Read More: Nilachol