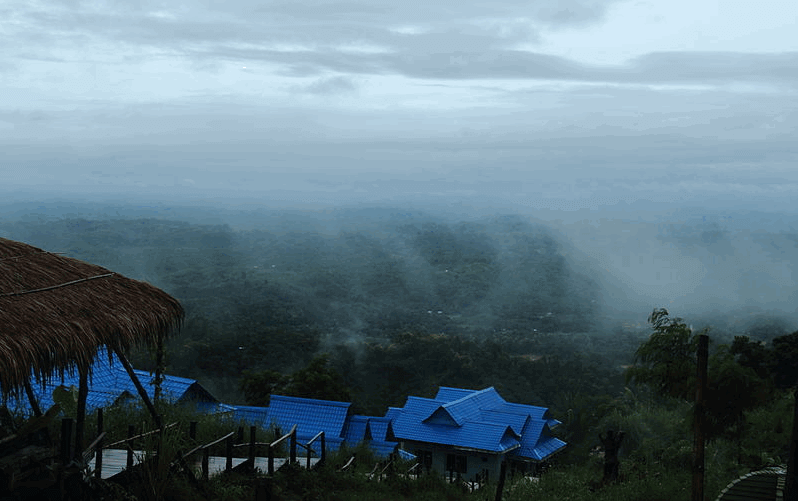 Nilachal is a tourist center located on a hill about two thousand feet high near the city of Bandarban. Nilachal is located in the Tiger Para area, just 5 km away from the city. The winding roads, the hilly neighborhoods, and the silver rivers are painted on the slopes of the hills. The whole city of Bandarban can be seen at a glance from this hill. Sunrise and sunset can be seen from here too. Many people call the Nilachal hill area a paradise. Tourists can enjoy the magnificent view of Cox's Bazar beach from Nilachal in the cloudless sky. Especially the sunset scene in Nilachal brings a heavenly feeling to our minds. In this place rain, autumn or autumn — clouds can be touched in three seasons.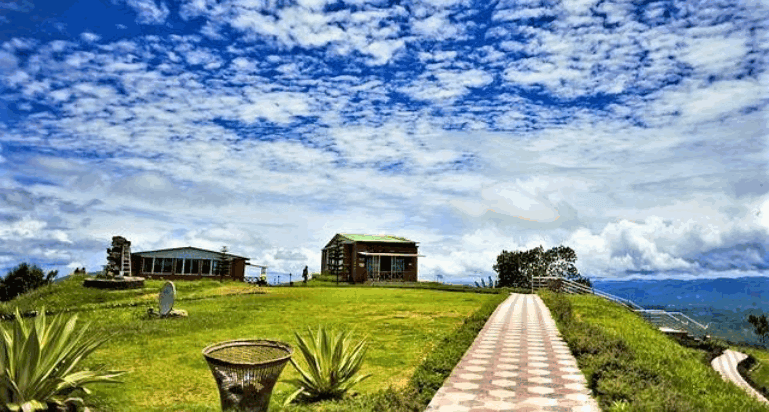 After leaving the city and walking for about three kilometers on the way to Chittagong, a small road on the left-hand side turned into Nilachal. In this way, you have to reach about two kilometers up the hill. Sometimes a small neighborhood on both sides of the road can be seen living in a small ethnic group. A few new places have recently been created in Nilachal for tourists. A few more lounges have been built at the bottom, starting from the 'hanging sapphire' next to the ticket house here. Notable among these are the 'Nebula' and 'Valentine' points. These places are arranged on the slopes of the hills. One is completely different from the other. The view of the hill in front is also different from one place to another. However, the beauty of the original Nilachal is much more. The beauty of the mountains can be enjoyed better from here.
An additional attraction of Nilachal is the resort here. Name Nilachal Scape Resort. General tourists are allowed in this place till sunset. However, this place is always open to the guests of the resort.
The entrance fee
Nilachal Tourist Complex is 30 Tk per person. You have to pay a road toll to go to Nilachal. Auto rickshaw 30 Tk, jeep 60 Tk. Tourists can stay in Nilachal from morning till sunset.
How to get there
First, you have to go to Bandarban town. Vehicles of several transport companies leave for Bandarban every day from different parts of Dhaka. You can go to Bandarban by taking any one of the buses like Shyamli, Hanif, Unique, S Alam, Dolphin. These buses leave from Kalabagan, Sayedabad, or Fakirapul for Bandarban at 10 pm or 11:30 pm. Non-AC bus fare is 550 Tk per person. AC 950 Tk.
You can go to Bandarban from Chittagong. Pubali and Purbani Paribahan buses run from Baddarhat to Bandarban. These buses are rented at Tk 220 per person. After that, the fare of auto-rickshaw from Bandarban bus station to Nilachal tourist complex will be 500 to 1000 Tk depending on the location. The rent for a lunar car or a jeep will be 1,200 to 3,000 Tk.
Transport fare
By train from Dhaka to Chittagong: AC – 365-460 Tk. Non-AC-150 -175 Tk.
By bus from Dhaka to Chittagong: AC – 580-790 Tk. Non-AC-200 -250 Tk.
Direct bus from Dhaka to Chittagong: 350 Tk
From Chittagong to Bandarban: 70 Tk.
Where To Stay
Bandarban has numerous resorts, hotels, motels, and resthouses. Where you can spend the night for 600 to 3 thousand Tk.
Hotel Hill View: The rent of this hotel near the city is 1000-4000 Tk per room. Phone: 0361-63045.
Tourist Motel: Rent between Tk 850 to Tk 2000 per room. Phone: 0361-62741 and 0361-62742.
Holy Day Inn: Rent up to Tk 1500-3000 per room. Phone: 0361-62896
Venus Resort: Phone: 0361-63400, 01552808060.
Hotel Plaza: Phone: 0361-63252.
Hillside Resort: Tk 1500-4000 per rented room. Phone: 01556539022, 01730045083.
Sakura Hill Resort: Rent up to Tk 1500-3000 per room.
Hotel Four Star: It is located in Bandarban Bazaar. The rent per room is 300-1200 Tk. Phone: -0361-63566, 01813278731, 01553421089.
Hotel Three Star: It is located next to the Bandarban bus stand. It is a flat with 4 beds for 8/10 people. Each non-AC flat – 2500 Tk, AC – 3000 Tk. Phone: – 01553421089.
Read More: Shailo Propat