Shail Prapat has located 8 km from Bandarban Ruma Road. It is a marvelous creation of natural beauty. The icy water of the fountain is flowing here all the time. The water in this fountain is very clear. Although the view of this waterfall can be seen during the rainy season, it is very difficult to get down to the waterfall. Most of the year is full of domestic and foreign tourists. Due to the location of the cliff on the side of the road, a large number of tourists can be seen here. Here one can witness the struggling life of the indigenous Bom community adjacent to the remote hills.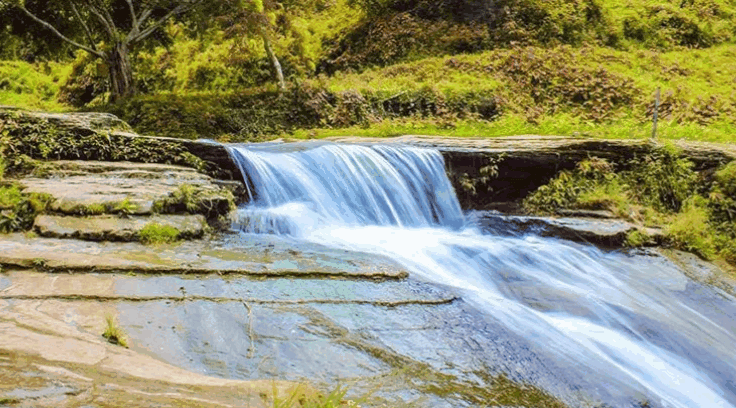 How to get there
First, you have to go to Bandarban town. Vehicles of several transport companies leave for Bandarban every day from different parts of Dhaka. You can go to Bandarban by taking any one of the buses like Shyamli, Hanif, Unique, S Alam, Dolphin. These buses leave from Kalabagan, Sayedabad, or Fakirapul for Bandarban at 10 pm or 11:30 pm. Non-AC bus fare is 550 Tk per person. AC 950 Tk. You can go to Bandarban from Chittagong. Pubali and Purbani Paribahan buses run from Baddarhat to Bandarban. These buses are rented at Tk 220 per person.
From Bandarban city you can take a taxi, moon car or private car or jeep to reach the cliff. Jeeps from the city will cost 600-700 Tk and lunar cars 450-500 Tk. Although there is no need to go here in a different way for the purpose of the cliff. Because when you go to Chimbuk or Nilgiri, there will be a cliff on the way. So you can stop the rented car on the side of the road.
Where to stay
Bandarban has numerous resorts, hotels, motels, and resthouses. Where you can spend the night for 600 to 3 thousand Tk.
Hotel Hill View: The rent of this hotel near the city is 1000-4000 Tk per room. Phone: 0361-63045.
Tourist Motel: Rent between Tk 850 to Tk 2000 per room. Phone: 0361-62741 and 0361-62742.
Holy Day Inn: Rent up to Tk 1500-3000 per room. Phone: 0361-62896
Venus Resort: Phone: 0361-63400, 01552808060.
Hotel Plaza: Phone: 0361-63252.
Hillside Resort: Tk 1500-4000 per rented room. Phone: 01556539022, 01730045083.
Sakura Hill Resort: Rent up to Tk 1500-3000 per room.
Hotel Four Star: It is located in Bandarban Bazaar. The rent per room is 300-1200 Tk. Phone: -0361-63566, 01813278731, 01553421089.
Hotel Three Star: It is located next to the Bandarban bus stand. It is a flat with 4 beds for 8/10 people. Each non-AC flat – 2500 Tk, AC – 3000 Tk. Phone: – 01553421089.
Read More: Amiakhum A Beautiful Place