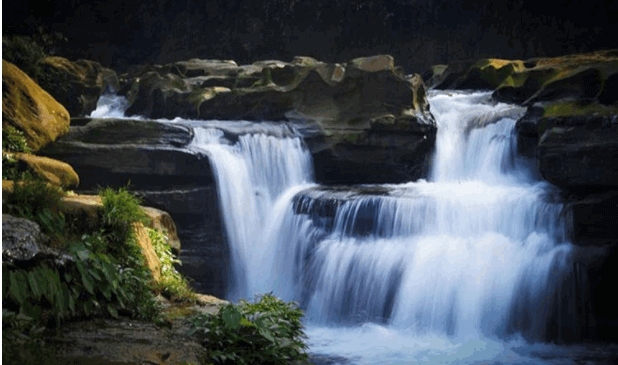 Nafakhum Waterfall is located in Thanchi Upazila of Bandarban district. 79 km from Bandarban. Thanchi in the distance. It is an Upazila. Thanchi Bazar is located on the banks of the river Sangu. The boat has to be slowly ascended towards Remakri along this Sangu river. It is unthinkable that nature can be so beautiful and pure here. High hills on both sides of the river. Every mountain wrapped in green seems to be lying in the lap of the clouds. Some mountains are so high that their tops are covered with clouds. Remakri place in Thanchi Upazila is a Marma settlement upstream of the Sangu River. Khum in Marma means waterfall. This Nafakhum waterfall is a three-hour walk from Remakri. The water flow of Remakri canal came to this Nafakhum and took a turn and suddenly went down to about 25-30 feet, a wonderful waterfall has been created due to nature!
A colorful rainbow that always plays in the sunlight! The flow of the Remakri canal is not very low in the rainy season. Almost like the Sangu river upstream. To go this way you have to give Tindu and big stones. There is a BGB camp in Tindu. Tindu is a place of extraordinary beauty. Many come to Tindu from Thanchi Na on the way to Nafakhum and spend the night. Nafakhum is probably the largest waterfall in Bangladesh in terms of water flow. Dense fog is created around the fountain due to the impact of water falling from above. The flying water droplets float with the steam and fall on the body. That feeling is thrilling. It would not be wrong to call it Niagara of Bengal.
It is very difficult to come back to Thanchi from Nafakhum spring day by day. So if you want, you can spend the night in Remakri and come back to see the surroundings well. And those who want to go back day by day have to start the journey from Thanchi by 6/7 in the morning. It takes about 2 hours to walk from Remakri Bazaar and 3 hours to reach Nafakhum Jharna on foot.
When to go
The size of the shower is bigger during the rainy season. And in winter it becomes weak. However, the real beauty of Nafakhum can be seen in September-October.
How to get there
First, you have to go to Bandarban town. Vehicles of several transport companies leave for Bandarban every day from different parts of Dhaka. You can go to Bandarban by taking any one of the buses like Shyamli, Hanif, Unique, S Alam, Dolphin. These buses leave from Kalabagan, Sayedabad, or Fakirapul for Bandarban at 10 pm or 11:30 pm. Non-AC bus fare is 550 Tk per person. AC 950 Tk. You can go to Bandarban from Chittagong. Pubali and Purbani Paribahan buses run from Baddarhat to Bandarban. These buses are rented at Rs 220 per person. From Bandarban, you have to go to Thanchi by public bus or jeep or moon car.
However, there is more opportunity to enjoy the beautiful scenery of the road by jeep or moon car than by public bus. Thanchi Bazar is located on the banks of the river Sangu. After reaching Thanchi, you have to go from there to Kremakri Bazaar.
The only resort from the Remakri market to the Nafakhum waterfall is the Sangu riverboat. Up-down motorboats are available here. To rent this boat, tourists have to talk to the boatmen's association at Thanchi Ghat. There is no transportation from Remakri to Nafakhum Jharna. Tourists have to cross the rest of the path on foot.
Guide
It is mandatory to take a guide from Thanchi. There is a list of guides at the Thanchi BGB camp. You have to take a guide from there. All the tourists have to get permission to go to Nafakhum by submitting the name, address, father's name, phone number, middleman's name, etc. in the paper.
Accommodation
There is a state rest house in Thanchi for tourists. Besides, there are some guest houses in Thanchi Bazaar where you can spend the night for around Tk 150-200 per person. Apart from this, there is an arrangement for the tribals to stay at their homes in Remakri Bazaar and they can spend the night at 120-150 Tk per person. Also, those who want to camp can camp somewhere around the market but there is no good place for camping. If it is winter, you can camp in a dry place at the market place. Tindu has tribal houses for tourists. The tribals rent these houses to tourists for a fixed rent. There is also a rest house in Remakri Bazaar.
The estimated cost of travel Bandarban-
Bharatpara moon car: Tk 3000 Bandarban-Thanchi public bus fare: Tk 190 Bharatpara – Thanchi Public Bus Rent: Tk 65 Thanchi – Remakri Boat Rent: 4500 Remakri Boat extra per night: Tk 1500 Tk
 Stay And Eat
To stay and eat to go to Tindu, Remakri. You will be able to eat comfortably in the bamboo-wooden house of the Marmas. Almost every Marma house has the facility to stay and eat for very little money. The cost of three meals will be 200 rupees per person.
Thanchi Rest House: 60 Tk per person
Remakri Rest House: 60 Tk per person and stay are free. But stay free in that house. You have to eat while sitting on his Dawa.
Thanchi Bazar: Approximate food cost 90-100 Tk per hour
Remakri Bazar: Approximate food cost 90-100 Tk per day
Guide
Thanchi Remakri: 500 Tk
Remakri to Nafakhum: 600 Tk
Read More: Amiakhum Waterfall