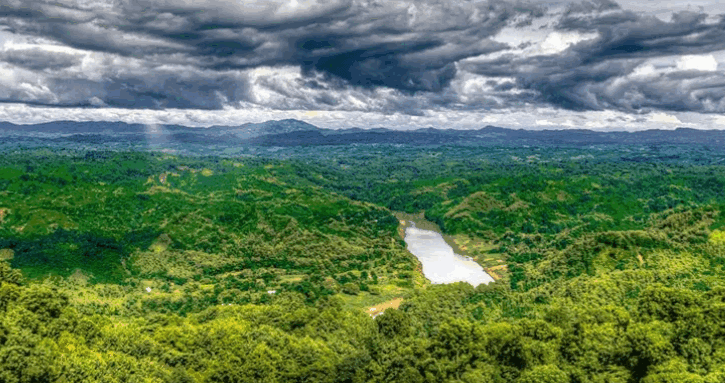 Milnachhari falls 3 km south-east of Bandarban town on the way to Shailprapat or Chimbuk. There is a police outpost here. Standing on the side of the road at the very top of the hill, you can see the unobstructed green play at the eastern end and the enchanting river called Sangu flowing in a spiraling motion through the green nature.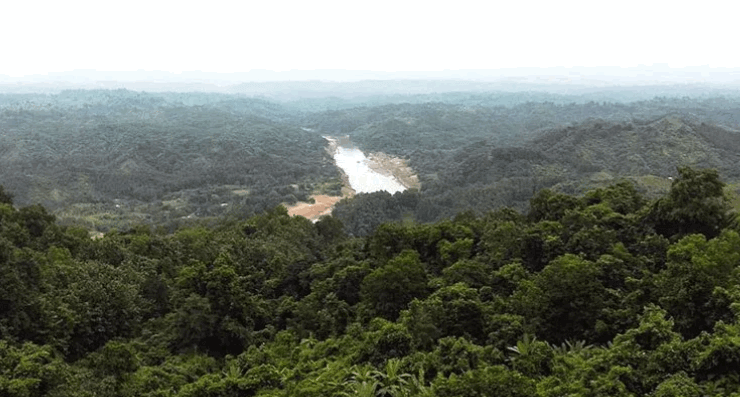 How to get there
First, you have to go to Bandarban town. Vehicles of several transport companies leave for Bandarban every day from different parts of Dhaka. You can go to Bandarban by taking any one of the buses like Shyamli, Hanif, Unique, S Alam, Dolphin. These buses leave from Kalabagan, Sayedabad, or Fakirapul for Bandarban at 10 pm or 11:30 pm. Non-AC bus fare is 550 Tk per person. AC 950 Tk.
You can go to Bandarban from Chittagong. Pubali and Purbani Paribahan buses run from Baddarhat to Bandarban. These buses are rented at Tk 220 per person. From Bandarban city, you can go to Milnachhari by renting a taxi, moon car or private car or jeep. Jeeps from the city will cost 600-700 Tk and lunar cars 450-500 Tk. Although there is no need to go here separately for the purpose of Milanchari. Because when you go to the cliffs or Chimbuk or Nilgiris, on the way there will be Milanchari. So you can stop the rented car on the side of the road.
Where to stay
The hillside resort built in the hills of the Milnachhari area is known as one of the most beautiful resorts in Bandarban. Where you can easily enjoy the view of mountains, rivers, and clouds. Whose rent is within 1500-4000 Tk per room. Phone: 01556539022, 01730045083.
Besides, there are numerous resorts, hotels, motels, and rest houses in Bandarban. Where you can spend the night for 600 to 3 thousand Tk.
Holiday Inn Resort: Holiday Inn Resort on a small hilltop opposite the Meghla Tourist Complex. There are many small cottages here. Phone-0361-62896.
Hillside Resort: Milnachhari is located at a distance of 5 km from Bandarban-Chimbuk road. There is a good arrangement for spending the night in an improved environment. Mobile-1556539022.
Hotel Four Star: Hotel Forster is located in Bandarban city. There are two types of rooms, AC and non-AC. There is a television in every room of the hotel. Phone-0361-62466.
Hotel Three Star: It is located next to the Bandarban bus stop. The Nilgiri car is released from the front of the hotel. It is a flat with 4 beds that can accommodate 8/10 people. Each non-AC flat – 2500 Tk, AC – 3000 Tk. Booking Phone: Three Star and Four Star Hotel Owner, Manik Chowdhury – 01553421089/01813278731.
Hotel River View: Hotel River View has developed in the natural environment around the Sangu river in the district town. It also has its own restaurant. Phone-0361-62707.
You can stay at Nilachal Scape Resort if you want. The Nilachal Scape Resort has six rooms in three cottages. The rent for each room is 3 thousand Tk. The authorities also provide good quality food for the guests of the resort. Contact: 01777765789.
Read More: Boroitoli Trail