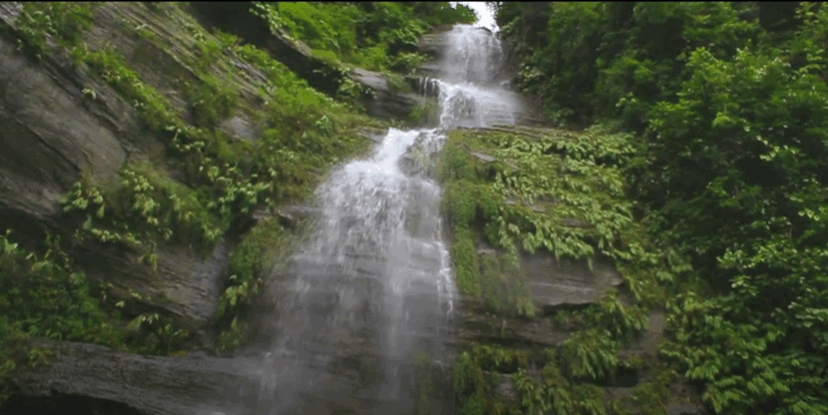 Three natural waterfalls have been found about 5 km east of Baraitali-Manjoy Para village in Ghumdhum union of Naikhyangchhari Upazila of Bandarban district. This trail is called Boroitoli Trail which is also known to many as Baraitali Fatrajhiri Jharna. At the eastern end of Baraitali, Manjoy Para village is Fairangdhang hills, Tulatuli hills, and Jamali hills. And from the base of these hills, innumerable springs and springs have been created. A mesmerizing landscape with winding canyons, waterfalls, sedimentary rocks, high and low hills, and green vegetation is what makes the Baritali Trail fascinating and thrilling. There are three main springs on the Baraitali Trail.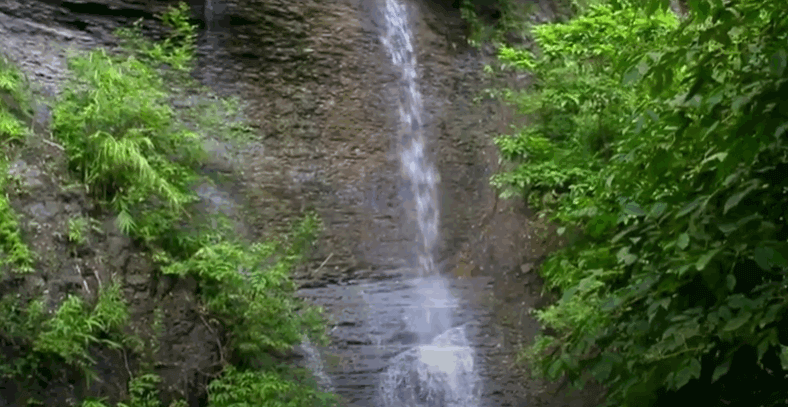 At first, there are two separate small fountains (silent fountains) and the next one is a big fountain. However, the big waterfall is the main attraction for travelers. It is also known as Murang Jharna to many and Trimukhi Jharna to others. After the fountain, life is covered in freezing cold. Being a three-way fountain, its attractiveness and beauty have increased many times.
The best time to travel 
when the springs come back to life in the rainy season. So the rainy season is the best time to visit the fountain. But at this time some things become unfavorable. These include slippery trails, the possibility of flash floods in the waterways, and an increased risk of landslides in mountainous areas.
The Way To Go To Boroitoli
Being close to Cox's Bazar, it is easy to travel from Cox's Bazar. You will get a minibus from Cox's Bazar bus terminal. Take a minibus to Ukhia and get off at Maricha (if you ask the bus helper, you can drop it off)The fare is 30 Tk or you can go with CNG for 60 Tk per person. Go to the Maricha market and buy the necessary food, water, detox, bandages. On the left side of Marichya Bazar Road, you will see a big baby tree (in the local language it will show Ghumgachatala). The paved road has gone past the child tree. You will find easy bikes and CNG at the mouth of the road. Talk to the driver and get off in front of Baraitali-Manjoy Para-Lebu Bagan Bhabna Kendra. The bargain will be fixed. It will cost 150-200 Tk per easy bike and 150-250 Tk per CNG. Ask the guide to wait in front of the thought center. Easy bikes will drop you in front of the thought center.
The dirt road has gone past the center of thought. At first, there was a very muddy path and lemon groves on both sides of the path. Leaving the lemon orchard, you will leave the hilly path and go down to Jhiripath. You have to walk against the current through Jhiripath for about 2 hours. Along the way, you will see zoom cultivation, grapefruit orchard, guava orchard, banana orchard, mango orchard. After walking for 2 hours, you will see that the Jhiripath is divided into two parts. If you go to the right side of the hand, you will see the first fountain. Another way to see the largest waterfall. The specialty of the Baraitali trail is that there are three waterfalls coming down from the other three sides except the one from which you will enter the waterfall. Left, right, and front. According to locals, there are approximately more than 10 small and large fountains throughout the surrounding area.
You can take it with you
it is better to take it with a local as a tour guide. Dry food, water, sticks, clothes, etc. as required.
Hotel rent and contact number for some accommodation in Bandarban:
Hotel Hill View: The rent of this hotel near the city is 1000-4000 Tk per room. Phone: 0361-63045.
Tourist Motel: Rent between Tk 850 to Tk 2000 per room. Phone: 0361-62741 and 0361-62742.
Holy Day Inn: Rent up to Tk 1500-3000 per room. Phone: 0361-62896
Venus Resort: Phone: 0361-63400, 01552808060.
Hotel Plaza: Phone: 0361-63252.
Hillside Resort: Tk 1500-4000 per rented room. Phone: 01556539022, 01730045083.
Sakura Hill Resort: Rent up to Tk 1500-3000 per room.
Hotel Four Star: It is located in Bandarban Bazaar. The rent per room is 300-1200 Tk. Phone: -0361-63566, 01813278731, 01553421089.
Hotel Three Star: It is located next to the Bandarban bus stand. It is a flat with 4 beds for 8/10 people. Each non-AC flat – 2500 Tk, AC – 3000 Tk. Phone: – 01553421089.
Read More: Risang Waterfall