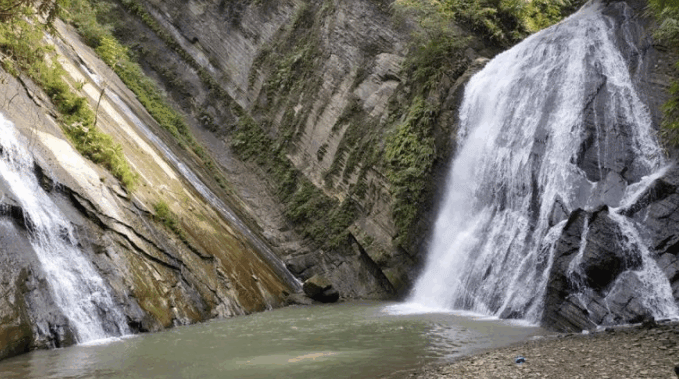 Damtua Waterfall is located at Alikadam in Bandarban Hill District which is also known as Damtua / Tuk A / Lamonai Jharna to many. The name of the fountain is usually after the name of Jhiri. The name of the spring in which the spring is Jhiri is Frog Jhiri. Since it is located in the Murang area, in their language the frog is called "Tuk" and the jhiri is called "A". Damtua means that frogs or fish cannot climb over its walls due to its steep shape. And vajnaparag means water falling from hills / high places. So in a word, they say a few more names in their language, including Tuk a Damtua Wajnaparag. However, most of us call it Jharna, Jharna (because of mother tongue), and Saitar (because of more Anagona in the Bam area). So we can say "Tuk A" fountain in their name. It is called "lamonai" spring (lamo = moon and noi = light) in the local Murong language due to the landing of water in the open space with the fountain due to water falling from two directions.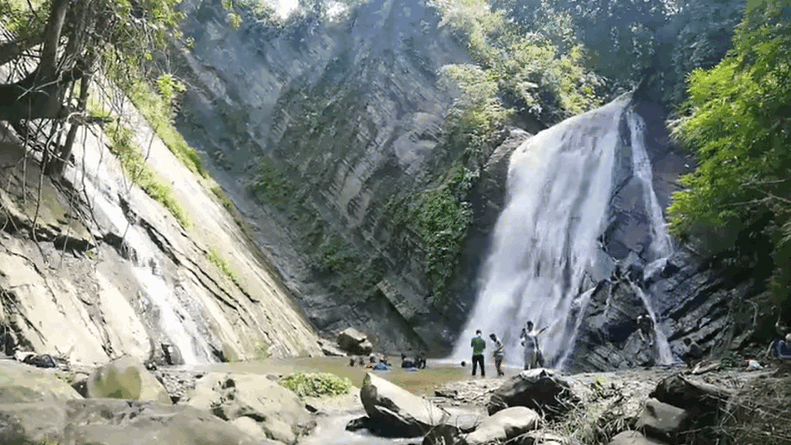 The best time to visit is at any time of the year. However, since there is more water in the spring during the monsoon and after the monsoon, it is better to go at this time. However, when it rains a lot, the way to go becomes very difficult. That fact must be taken into account.
How to get there
There is a direct Alikadam bus from Dhaka, fare: 750 rupees non AC. Hanif is the best of all types of buses. You will reach Alikadam from 8-30 in the morning to 9-00 in the morning. Besides, on the way from Dhaka-Chittagong to Cox's Bazar, you can get off at Chakoria Municipal Bus Terminal and go to Alikadam Bus Station by bus or moon car. Chakaria bus fare from Dhaka is 650 to 1500 rupees depending on the category. If you ask the bus supervisor to drop you off at Chakaria Bazaar, you will be dropped off. Local buses to Alikadam are available from the new bus terminal at Chakaria. If you go by the local bus, the fare will be 80 rupees. From the station, you can go to Panbazar by rickshaw or tomtom. Rental bikes and Chad cars will be available from Panbazar.
From Alikadam to Damtua Jharna
Alikadam, you have to rent a bike from Panbazar of Alikadam to Adupara, a 16 km point of Alikadam-Thanchi road. One bike can seat 2 people, the rent will be 250-300 Tk per person. You have to bargain for the rent. Or if you have more people together, you can rent a car/jeep from Alikadam. After reaching 10 km on the way from Alikadam, you have to report to the army camp there. Everyone must enter there with their national ID card and phone number and get permission to go ahead. And remember, you must finish the trek on the same day and return to this 10 kg army camp before 5 pm and report. So time should be taken care of. There is a village called Adupara at a distance of 16 km and you have to get down there and start trekking. It will take about 8 hours to come back from Adupara. But before you start trekking you can buy a small local shop if you need anything you need. And for lunch, you have to take dry food with you beforehand. You will need a guide to get to the fountain. From Adupara you can pick up a guide for the whole day. You have to pay a guide fee of Tk 1,000 to come back again. When you come back after seeing Damtua Jharna, you will wear a neighborhood called Member Para. Leaving this neighborhood, a narrow road on the right-hand side descends to the bottom of the hill and as soon as you take this road, you will see the Wang-Pa waterfall. Talk to the guide beforehand about what you will see.
All you need to have
Voter ID Card (1st priority) Otherwise photocopy of College / Varsity ID, Card or Birth Certificate / Passport
Use good grip sandals / shoes for sufficient polythene trekking
Accommodation
There are three hotels in Alikadam Bazaar. Alikadam Guest House, Hotel Damtua, Hotel Alikadam. The rent is between 800-2000 Tk. Be sure to talk about rent before taking the room. You can also go straight back to Alikadam to the resort of Shailkuthi. Contact Number – 01820403355 (Hasan Mahmud Bhai, Owner, Shailkuthi Resort)
Where To eat
There are several hotels of fair quality to eat and drink at Alikadam or Alibakadam Panbazar. There are local food arrangements, you can eat at a low cost. Eat-in the morning and leave with dry food. There are no hotels or shops around Damtuar. When you come back, you can eat from Alikadam Bazaar or from Shailkuthi (although the price of food is relatively high, the quality of food is quite good).
Guide
There is a guide association in Guide Adupara. The guide will cost 1000 rupees. No matter the team member, but the guide has to pay 1000 rupees, it is fixed. You can also take a guide from Dokangulo, an area of ​​16 km. The cost is the same. Nedui Da – 01557398635
Necessary Precautions and Travel Tips
The road to the fountain is very inaccessible.
Those who can't walk in the mountain environment should not go there.
Since it is a very large trekking trail, it is better to keep the weight of your backpack as low as possible.
Be sure to bring dry food, saline, water, and some first aid with you.
There may be leeches on the way, so be careful.
If you wear long socks, you will catch less leech.
It is better not to take children, adults or minors there.
Bargain for any rent.
Be careful when walking on hilly paths or jhiri.
Keep track of time. Get along well with the indigenous people.
Traveling in groups can greatly reduce travel costs
Read More: Tinam Jharna