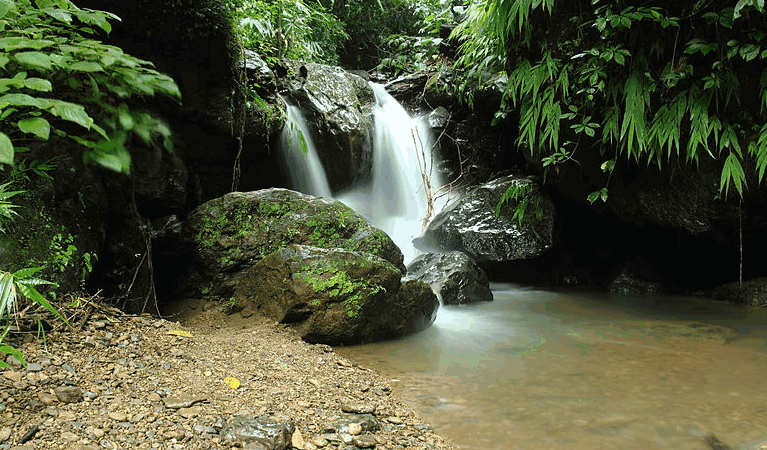 Bandarban means the land of mountains, Bandarban means the land of green, Bandarban means the land of springs. And the sound of the fountain is like Rinijhini's rhythmic and joyful atmosphere awakens the body and mind. I want to wash away all the blackness of life in the beauty and coolness of its water. An hour's walk up the hill from Bagalek to Keokradong, you will find this beautiful waterfall, but it is not as shrimp as the first waterfall. If you want to see the real piece, you have to cross the huge slippery rocks and go inside a little and turn 90 degrees to the right. You will see a wonderful fountain as if a wonderful current is coming down from the very top of the head of the bash garden.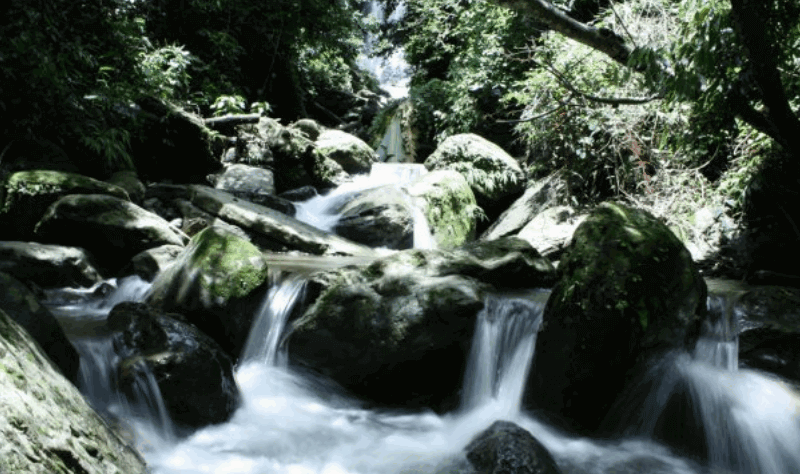 How to get there
If you want to go to Keokradong, you have to go to Bandarban first. Vehicles of several transport companies leave for Bandarban every day from different parts of Dhaka. You can go to Bandarban by taking any one of the buses like Shyamli, Hanif, Unique, S Alam, Dolphin. These buses leave from Kalabagan, Sayedabad, or Fakirapul for Bandarban at 10 pm or 11:30 pm. Non-AC bus fare is 550 Tk per person. AC 950 Tk.
You can go to Bandarban from Chittagong. Pubali and Purbani Paribahan buses run from Baddarhat to Bandarban. These buses are rented at Tk 220 per person. This time you have to drive from Bandarban to Ruma Bazar. There are some hotels to stay in in Ruma Bazaar, but you should leave Bagalek within a day. Ruma Bazaar must be reached by 4 pm, after 4 pm the army will not allow any new moon vehicles to leave for Boga Lake. It takes 4 hours by car from Ruma Bazar to Boga Lake.
According to the rules, if you want to go somewhere in the mountains from Ruma Bazaar, you have to take a guide, the guide service charge is 500 Tk per day. There is a guide association in the market and you can get a guide only if you go to them.
You have to go to the army camp with the guide and register your name, address, phone number, etc. as per the rules. If you go to a large group, you can prepare a list in advance with everyone's name, address, occupation, phone number, and home contact number on a piece of paper.
The cost to go from Bandarban to RumaUpazila Sadar will be 60 / – per person or 2200-2500 / – if rented a whole jeep and 80-100 / – per person to go from Ruma to Bagalek or 2200-2500 / – if rented a whole jeep. From Ruma Bazar, you have to take a service car or a reserve moon car as far as Boga Lake or Boga Lake. In winter, the moon cargoes to Bagalek, in the rainy season, the last destination of the moon car is to Kamala Bazar. After traveling for about an hour and a half by car, you will reach Kamala Bazar. After that, you have to walk (trek) to get to Bagalek. This climb is a little difficult for those who are climbing the mountain first. You can trek for half an hour (1 hour if you walk slowly) to reach the immaculately beautiful Bagalek at the top of the hill. Tourists usually spend the night in Bagale on this trip.
He will wake up very early the next morning and leave with a guide for Keokradong. Half an hour after starting the journey for the purpose of Keokdang, you will find the immaculately beautiful shrimp fountain.
Where to stay
Boga Lake Rest House Reservation – You can contact this number (Laram Bom-0155236551). However, due to lack of network, most of the time it is not possible to connect to the number. A state-of-the-art rest house of the Hill Development Board is under construction here. In a few days, tourists may have the opportunity to spend the night there.
The guide will also fix the cottage for you. The rent is 120-150 Tk per person. There are different cottages, one storey, and two storey. However, Siam Didi's cottage has a good name. And if you want to spend the night in Keokkradong, you will find a restaurant before you get to the top of Keokkradong. The rent calculation is the same as Bagalek's.
Where to eat
You can eat in the cottage where you live. Or if you ask the guide to arrange the chicken, you can cook it yourself. They do not have 100-120 Tk per person for food. However, Muslims do not want to eat any meat called cow or khasi. In my opinion, it is best to eat vegetarian food or bring chicken and cook it yourself. In addition to Bagalek, you can have lunch at Keokradong. The standard of food is the same as Bagalek. You will also find some food stalls on the way from Bagalek to Keokradong where you will also find some food shops like tea, banana, bread, and mountain fruit papaya, you can eat oranges.
Read More: Damtua/ Lamonoi Waterfall