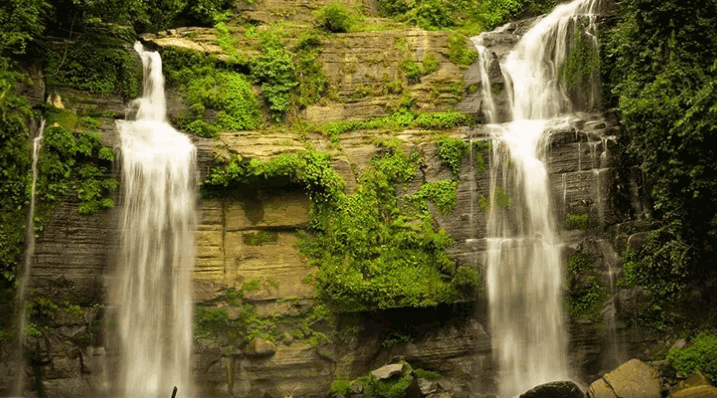 Double Falls or Tlabong Jharna is one of the most attractive waterfalls in Bandarban district which is also known as Dual Jharna or Jora Jharna or Klibung Kham. It is the starting point of the Rimakri canal. The two streams Pransha or Prangsha (left) and Pankhiang or Pangkhiang (right) Jhiri combine to form two interesting waterfalls. It is called Double Falls because the two fountains are together. It is located just 2.5 km southeast of Bam village and 1-2 hours from Keokradong. To be precise, Tlabong Waterfall is located at the bottom of Sungsang Para. This spring is located very deep in the forest between Sungsang Para and Thaikshang Para.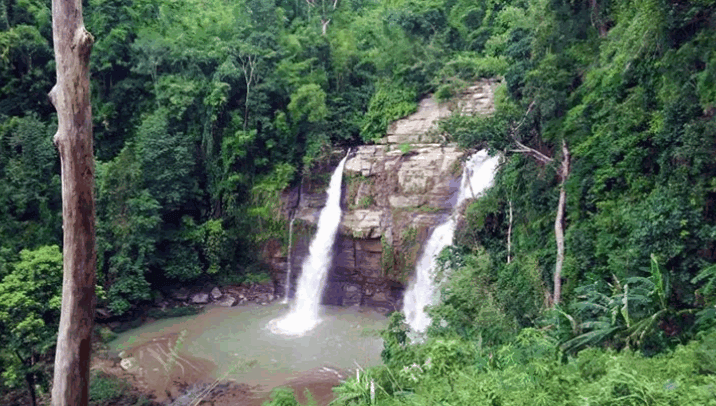 It is known from the bombs in Sungsang Para that about 30-40 years ago, mountain terrorists killed people and threw them down from the top of this fountain. Mizoram was a terrorist base in the early 1990s on the site of the Sungsang Para Army Camp. They said that many such incidents took place at that time.
It is known from the business in Sunsanpara that "Tlabong" is a bomb word. It means "water basin". From Sungsang Para a simple trail of red soil extends towards Thaikang Para. If you walk for an hour along that path, you will see Talabang.And on this whole journey, if you turn your eyes to the right, there is always an impeccable Kapital hill to accompany you. And there are all the eye-catching Jumghars. The locals call it Talabang. The origin of the rocky canal Remakri is from this spring.
Trekking Route or Trail
Ruma – Bagalek – Keokradong – Passing Para – Sungsang Para -Tlabong Jharna
How to get to Tlabong Jharna
If you want to see Tlabong Jharna, you have to take a night bus from Dhaka to Bandarban. Several transport buses including Dolphin, Shyamoli, S Alam service ply on this route. Rent 700-800 Tk. From Bandarban, you have to go by bus or moon car to Ruma Sadar Upazila. The bus fare is 100 Tk. One bus leaves Bandarban every one hour for Ruma Bazar. It takes two to two and a half hours. From there the next destination is Boga Lake.
You can reach Boga Lake in two ways. It takes four to five hours to reach Boga on foot. And it takes two and a half to three hours to reach Boga by moon car. To reach Boga Lake by car from Ruma Bazar, you have to pay 1800-2500 Tk. From Boga Lake, you have to trek to the next path. After walking for three hours, you will reach Darjeelingpara, the fifth highest peak in Bangladesh, Keokradong. Keokradong mountain peak mingled with the clouds sholokala! After a short walk, Pasingpara is the highest village in Bangladesh.
Clouds and rain underfoot. Suddenly the body is covered with clouds in the air, oh! No one can explain to others without seeing with their eyes. Now it's your turn to go down, Sungsangpara about a thousand feet down. You will come to Sungsang Para to observe the rocky roads, the trees that touch the horizon, the snakes, and frogs hiding in the forest. You have to leave Sungsangpara surrounded by hills and walk through the deep forest and Jhiri and proceed with heroism. Mama will never know when two or four leeches will suck the blood. After about two hours of walking, you will hear the rustling of water. Understand, now is the time to soak your tired body in the clear crystal clear water of Double Falls.
Stay-eat
You can spend the first night on the way to Boga Lake. There are accommodation facilities for tourists. Siam Didi or Laram's two-story wooden houses cost 200 rupees per person. Here you can get khichuri with fried eggs and mashed potatoes for 100 rupees. The next day you can spend the next night at Robert Bam's house in Sungsangpara after seeing the Tlabong fountain. We have to collect rice and curry from the neighborhood and cook it ourselves. Arrangements will be made to stay here for only 200 rupees. You can eat smoked zoom rice with mountain chicken broth for hundreds of rupees. No matter where you are, getting up in the morning and seeing the sea of ​​clouds under your feet with wide eyes is but one thing for sure.
Cost:
It will cost three to three and a half thousand rupees per person for a group of four or five people from Dhaka to come and go, stay and eat, and guide.
Read More: Damtua Waterfall