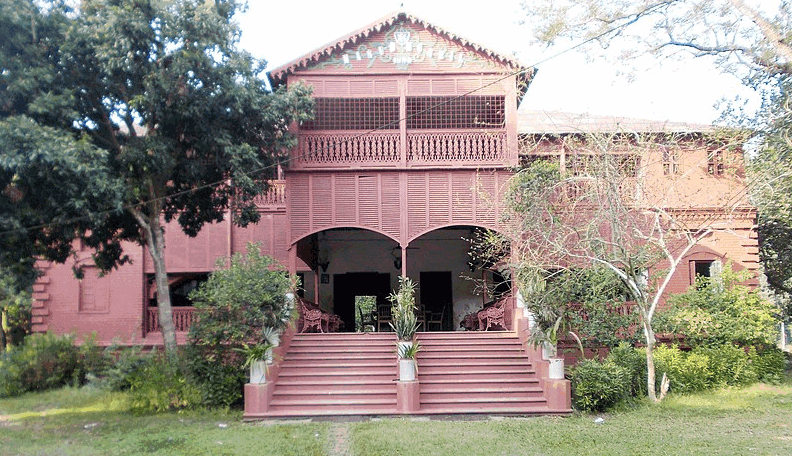 Kortia Zamindar Bari is one of the few zamindar houses in Bangladesh that are rich and stand with history. There are several zamindar houses in the Tangail district. But above all, the Kortia zamindar's house has taken a special place in history and tradition.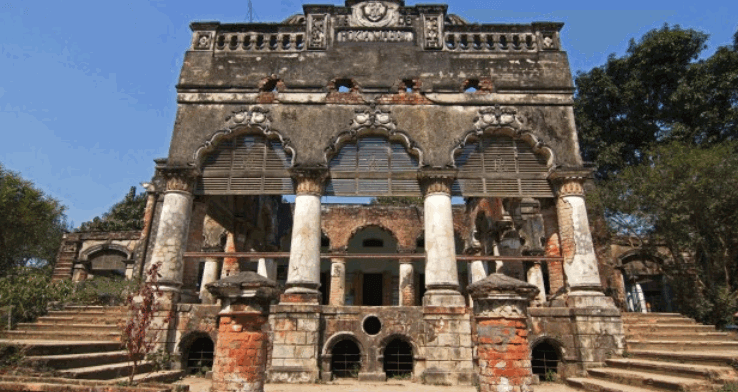 10 km from Tangail city. In the distance is the house of Zamindar Wazed Ali Khan Panni, the famous zamindar of Atiyarchand, near the bank of Putia. This zamindar house in a natural and secluded environment is about 1 km long and 0.5 km wide with walls, iron house, Rokeya Mahal, Rani's Pukurghat, small side Dawood Mahal and the mosque built in the style of Mughal architecture adjacent to the house is a historical architecture. The zamindar house built in a mixture of Mughal and Chinese architecture will captivate your mind at the first sight. Rokeya Mahal, a monument of Mughal architecture located inside the boundary wall, claims to have the status of an archeological monument. But today it is being used as an educational institution.
How to get there:
Several transport buses leave Dhaka's Mohakhali for Tangail. Riding on them, you get off at the Kortia bypass and take a rickshaw to the Kortia zamindar's house. The bus fare will be 150-160 rupees, and the rickshaw fare will be 15-20 rupees. If you go on a day tour, you can go to this traditional zamindar house to see the traditional Atia Mosque, the same way is the Delduar zamindar house. You can see the tomb and museum of Maulana Bhasani, as well as the campus of Maulana Bhasani University of Science and Technology.
Where to stay:
There are several hotels and guest houses in Tangail. Notable among these are
1. Palash House / Night Gandha Residential Hotel, Masjid Road, Tangail. Phone: 0921-53154
2.Al Faisal Hotel Residential, Masjid Road, Tangail. Phone: 0921-53918
3. Hotel Sagar Residential, New Market Road, Tangail. Phone: 0921-54308
4. Afrin Hotel, Masjid Road, Tangail. Mobile: 01916782389
5. SS Rest House, Akuratakur Para, Tangail. Phone: 0921-55180
6. Palli Bidyut Rest House, Tangail. Phone: 0921-53390
7. LGED Rest House (Government), Tangail. Phone: 0921-54261
8. Sugandha Hotel, Old Bus Stand, Tangail. Mobile: 01674346815
9. Nirala Hotel, Nirala Mor, Tangail. Phone: 0921-61363
10. Piasi Hotel, Nirala Mor, Tangail. Mobile: 01711-352493
11. Hotel Kichukkhon, Nirala Mor, Tangail. Phone: 0921-55219
12. Hotel Aditya (Residential), Madhupur, Tangail. Mobile: 01716-796065
13. Hotel Dream Touch (Residential), Madhupur, Tangail. Mobile: 0171621799
14. Shalban Residential Hotel, Madhupur, Tangail. Mobile: 01713462103
15. Islamia Guest House, Madhupur, Tangail. Mobile: 01917566234
16. Bhai Bhai Guest House, Madhupur, Tangail. Mobile: 01190975539
17. Jamuna Resort Limited, Kalihati, Tangail. Phone: 09239-76032-4
18. Elenga Resort Limited Residential Hotels, Elenga, Kalihati, Tangail. Phone: 02-9884322
Read More: Nagorpur Zaminder bari