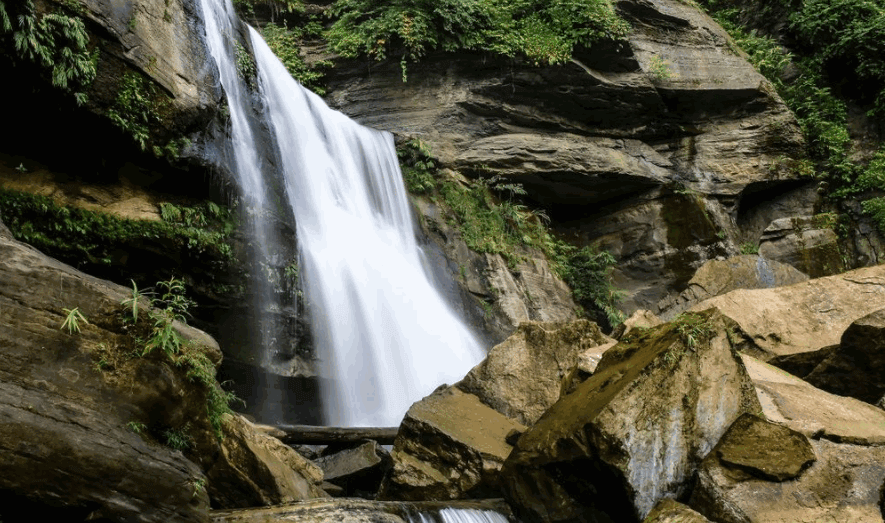 Tinap Saitar is located in Roangchhari, Bandarban, which is now the largest waterfall in Bangladesh. To many, it is also known as Paindu Saitara. If you want to go to Tinap Saitar, you have to walk 40 kilometers. We have to come back that way again. In Bam, the word Saitara means spring. After reaching Bandarban, you have to get off the bus and go to Roangchhari by local bus from the Roangchhari bus stand. From there you have to walk 23 km to Ronin Para with a guide.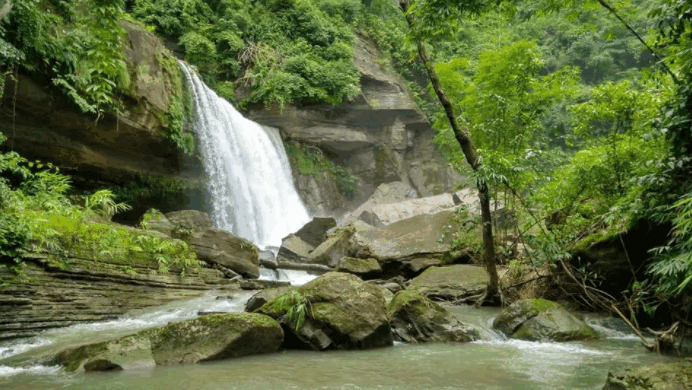 The next day 4/5 hours walk from Ronin Para at night (walking time may be more or less depending on the speed and stamina) when you suddenly cross the Paindu canal and huge mountain and suddenly it appears in front of your eyes, Yes, in a strange love, in a strange intoxicating intoxication.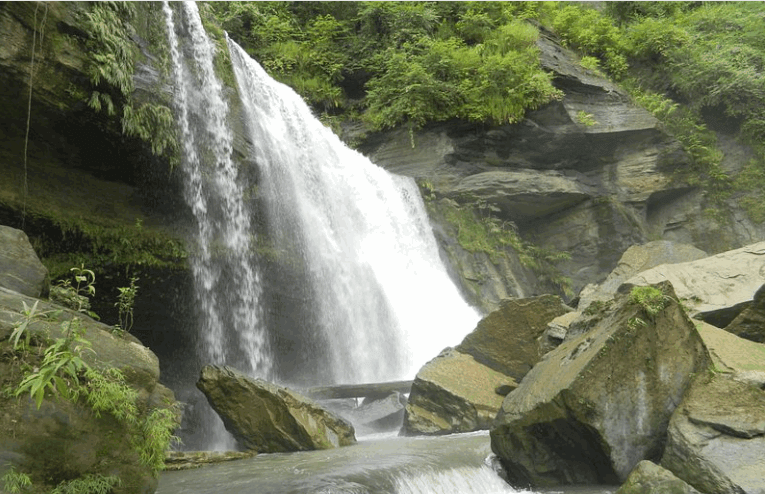 How to get there
First, you have to go to Bandarban town. Vehicles of several transport companies leave for Bandarban every day from different parts of Dhaka. You can go to Bandarban by taking any one of the buses like Shyamli, Hanif, Unique, S Alam, Dolphin. These buses leave from Kalabagan, Sayedabad, or Fakirapul for Bandarban at 10 pm or 11:30 pm. Non-AC bus fare is 550 Tk per person. AC 950 Tk.
You can go to Bandarban from Chittagong. Pubali and Purbani Paribahan buses run from Baddarhat to Bandarban. These buses are rented at Tk 220 per person. Tomtom fare from the bus stop to Roangchhari bus stand is 10 Tk. The bus from Roangchhari leaves for one hour in a row, so you will get a chance to freshen up by washing your hands and face in Bandarban. After that, he went to Roangchhari with a rent of 60 rupees per person. It will take an hour and a half to reach.
However, if you want, you can also reserve Mahendra from the front of Hotel Hillview. The cost will be between 1000-1200. If it is a team of 12 to 14 people, Mahendra is a very nice vehicle. It will take about an hour. After landing in Roangchhari, you can stay with the guide for a few days and buy useful rice, pulses, spices, chicken, eggs, and cereals for whatever you want. That said, the guide can market himself in advance. Good grip sandals are available in the Roangchhari market.
The price will be around 150 Tk per pair. There is a hotel called Radhaman here, you can rest for an hour if you feel tired. At the end of the rest, your next destination will be 'Roninpara'. There are two ways to reach Roninpara. You can go to the moon car or you can walk. If you reserve a moon car, the cost will be around 5500 rupees. In two to two and a half hours it will take you down a steep hill.
You have to walk for an hour from there. And if you are very tolerant and if your mind is happy to see the mountains, then get down from Roangchhari on the road. You have to walk along with the hill rhyme next to Roangchhari town for a while. After that, it will take at least six / seven hours to reach Roninpara after going up and down. If you are a nature lover, you will enjoy it in the beginning. Sometimes you will see the steep hills on the side rising far away, sometimes you will see rows of hills playing with wide waves from both sides, and sometimes you will have to walk along the narrow road in the middle of the forest of Thasbunot. Arrive at Roninpara and rest. The guide is everything here. She will arrange your stay, bath, and food. Most of the people of Roninpara are of the Bam caste. Besides, several Thanchangyas also live here. There is also a tea shop, there is a water supply. Roninpara is a paradise compared to the surrounding remote areas. From here you can take a mobile or camera charge.
Some houses have a lighting system for the benefit of solar power. After reaching Roninpara, one has to go to the army camp and report. However, if you guide your guide in advance, this problem may not occur. We have to start our journey on the way to Tinap very early the next day. So it is better to try to fall asleep as soon as possible after reaching Roninpara. If you want to go from Roninpara to Tinap Saitar, try to start the journey as early as possible in the morning. Tinap Saitar is located at a distance of 13 km from Roninpara. It will take about four hours to go. It is very difficult to walk in the mountains on a full stomach. So it is better to eat something light. Keep away from carrying bag-tags! Take only water and other necessities. You can reach Debachharapara after walking for an hour and a half from Roninpara. If you want, you can bring noodles or something like soup and cook here.
From Debachhara Para you have to go down to the hills. This road is nice. Forested hills on both sides, occasionally you will see lizards. These are hybrids of wild cows (Gaur) and domesticated cows. If you keep your eyes open, snakes or crabs can also fall in your eyes. But be careful. The rocks you walk on are very slippery for the sake of water and algae. It is not strange to break arms and legs while playing Bekayada Achar. You have to climb a lot of hills to get out of the rhyme. The roads here are difficult, but not dangerous. As you walk, you will see the huge Paindu canal from the top of the hill. There is a steep hill road before the Paindu canal, it is better to go down a little careful while descending through it.
You can also go through the Paindu canal of Tinap Saita, and you can also go through the hills in a detour. The road of Paindu canal is more beautiful and the danger is a bit higher. In some places of the canal, there are strong currents, it is the responsibility to keep one's feet. If the guide is skilled, of course, you will easily get through these. However, it is better not to go through Paindu canal during monsoon season. Of course not if you don't know how to swim. But whichever way you go, the roar of the water will come to your ears as soon as you reach near Tinap. Then what, you will see the huge waterfall in front. There are huge stones all around and trees floating in the current. And the steep wooded hills on both sides have risen hundreds of feet. Climb up any rock, or go to the bottom of the waterfall and take a cold bath. The body will cover the mind. There is no greater tonic to forget all the fatigue of the journey.
If you see it with your own eyes, you will understand why Tinap is called the biggest waterfall in Bangladesh even though there is no official announcement! Take a bath in the water of the waterfall, rest, and take the road back. After seeing such a beautiful waterfall, there should be no more physical pain to return.
Another route is – Bandarban-Roangchhari-Keplangpara-Pankhiangpara-Ranipara-Debachharapara-Tinap Saitar-Attapara-Ruma-Bandarban.
In this case, walking is more but the trail is extraordinary. From Bandarban, take a Mahindra (rent 700-800 Tk) or a moon car (rent 800-1000 Tk) to Roangchhari. With a guide from Roangchhari Bazar, permission has to be taken from the army camp and police station. Walking from Roangchhari to Keplangpara, Ranipara via Pankhiangpara, permission has to be taken at Ranipara Army Camp, you have to stay at Ranipara at night (100-150 Tk per person staying, 100 Tk per person eating).
The next day from Ranipara to Debachharapara to Tinap Saitar, from there to New Para to Attapara, at night Attapara will be exhausting (100 Tk per person staying, 60 Tk per person eating). The next day from Attapara to Chander car (rent 4000-6000 Tk) to Ruma Bandarban.
Where to stay
There is a hotel called Radhaman in Roangchhari. The room will be rented for 150-200 Tk per hour. You can also spend the night here if you want. AC room will cost 1500 Tk and non AC room will cost 500 Tk. In addition to Radhaman, you will find several hotels with the same facilities at almost the same cost. Apart from this, there are arrangements to stay in the houses of the tribals of Ronin Para which will be arranged by the guide.
Guide
The guide has to talk to the guide from Dhaka. The cost of the guide is at least 500 Tk per day, the rest depends on the situation. Along with this, you have to pay 150 Tk per night for staying in Roninpara and also for cooking, wood cost, etc. You can also take the guide with you to the market, or the guide himself can do it in advance. This place is not yet popular as a tourist spot. So the guide will not try to cut your throat, you can be sure about that. As human beings, everyone here is very hospitable and honest. So it is better not to go for bargaining. One such guide is Jameson. He is a well-known person in Roninpara. His mobile number (01879515082/01532457220).
Read More: Lung Pher Va Saiter