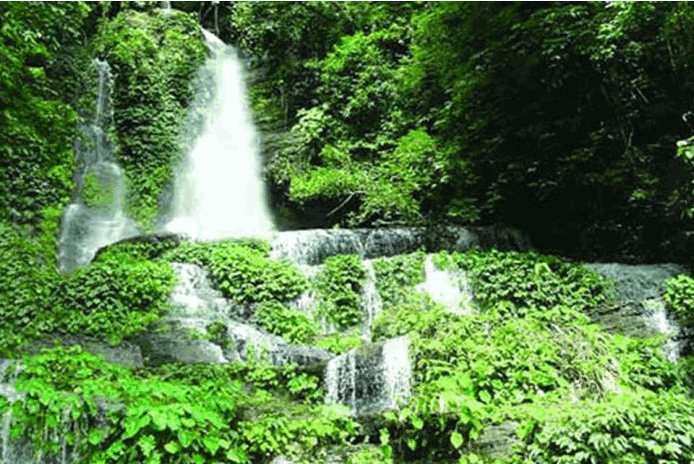 Lung Pher Va Saitar is the name of a huge waterfall located in Bandarban. The trail to this waterfall is relatively difficult. So far only a handful of people have fallen into this fountain. At the same time, you will be able to see his 'P' Falls from Thingdaule Para. But remember it is a very dangerous trial.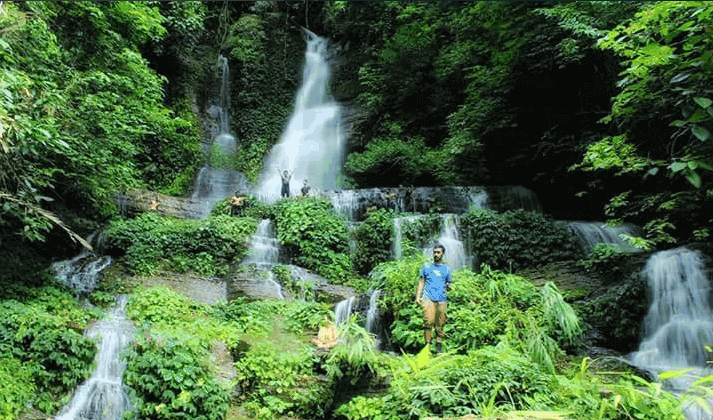 The Trail To Lung Fer Va Saitar Fountain
Bandarban – Ruma – Bagalek – Keokradong – Thaikong Para – Thingdaulte Para – Silopi Para – Lung Fer Va Saitar.
Or,
Bandarban – Ruma – Bagalek – Keokradang – Passing Para – Sungsang Para – Double Falls – Tarpi Saitar – Thing Daulat Para – Silopi Para – Lung Fer Va Saitar.
The neighborhoods, fountains, lakes, and hills that can be found on this route
Bagalek
Darjeeling Para
Keokradong
Passing Para (Bangladesh's tallest village)
Tlabong (Double Falls)
Tarpi Saitar
Tarti Saitar
Lung Fer Va Saitar
Jadipai Falls (called the Queen of Jharna Fountains)
The best time to visit the Shrimp Fountain In the rainy season.
Ways To Go To Lung Fer Va Saita Jharna
First, you have to go to Bandarban town. Vehicles of several transport companies leave for Bandarban every day from different parts of Dhaka. You can go to Bandarban by taking any one of the buses like Shyamli, Hanif, Unique, S Alam, Dolphin. These buses leave Kalabagan, Sayedabad, or Fakirapul for Bandarban at 10 pm or 11:30 pm. Non-AC bus fare is 550 Tk per person. AC 950 Tk.
You can go to Bandarban from Chittagong. Pubali and Purbani Paribahan buses run from Baddarhat to Bandarban. These buses are rented at Tk 220 per person. Now you have to go to Bandarban by moon car Ruma. There are some hotels to stay in at Ruma Bazaar, but you should leave Bagalek within the day, you must reach Ruma Bazaar by 4 pm, after 4 pm the army will not allow any new moon vehicles to leave for Baga Lake.
The cost to go from Bandarban to Ruma Upazila Sadar will be 60 / – per person or 2200-2500 / – if rented a whole jeep and 60-100 / – per person to go from Ruma to Bagalek or 2200-2500 / – if rented a whole jeep. After spending the night at Boga Lake, set off for Keokradong. This is followed by Thaikong Para, Thingdaule Para, Silopi Para, and finally Lung Fer Va Saita Jharna.
Tour Plan / Itinerary:
Day 0: Leaving Dhaka by night bus.
Day 1: Bandarban> Ruma> Bagalek> Darjeeling Para.
Day 2: Darjeeling Para> Keokradong> Passing Para> Sungsang Para> Tlabong> Sungsang Par
Day 3: Sungsang Para> Tarpi Falls> Tarti Falls> Thingdaule Par
Day 4: Thingdaulat Para> Silopi Para> Lung Fer Bha Saitar> Sail>
Day 5: Thingdaule Para> Thaikong Para> Jadipai Para> Jadipai Jharna> Passing Para
Day 6: Passing Para> Keokradong> Bagalek> Ruma> Bandarban> Dhaka.
Where to Stay At Boga Lake
Rest House Reservation – You can contact this number (Laram Bom-0155236551). However, due to a lack of network, most of the time it is not possible to connect to Nambati. A state-of-the-art rest house of the Hill Development Board is under construction here. In a few days, tourists may have the opportunity to spend the night there. Apart from this, there are arrangements for the indigenous people to stay and eat at home in the neighborhoods.
More Traveling Place:
Frequently Asked Question:
লুং ফের ভা সাইতার ঝর্ণা, বান্দরবান
Lung Pher Va Saitar Bandarban
Lung Pher Va Saitar 2