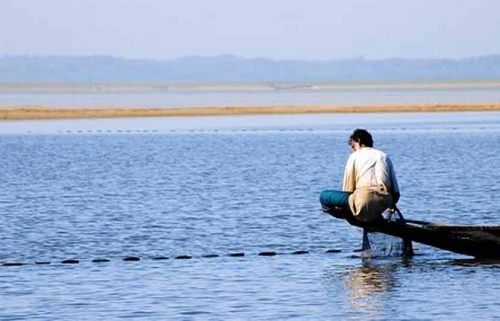 Kishoreganj is famous for its varied landscape Haor, River, And wetlands of freshwater. A perfect district for traveling. Wherever eyes go, everywhere is water and water. A full of water surrounded here with the greenery of nature.  If you want to see the beauty of nature in very closely then you should go Kishoreganj.
There are many types of haor in kishoreganj like Nikli Haor, Mithamoin Haor, etc. ostogram Haor is such of Them. It is located in the south-east of Kishoreganj. It is surrounded by water all around and that's why it separated from the Upazila of kishoreganj.
The Distance from district headquarters to Ashtagram is about 5 km. Mithamain and Itna in Kishoreganj district to the north of ostogram upazila, Nasir Nagar in Brahmanbaria district to the south, Nashirnagar upazila of Brahmanbaria district and Lakhai upazila of Habiganj district, Bajitpur and Nicol of Kishoreganj district on the west.
During the monsoon, these villages are considered to be small islands under the full of water. During the monsoon, its beauty is radiant. About three hours way back to the state of untouched water in Ostogram. Family and social festivals spread throughout this Upazila because of the rainy season, because communication is very easy with other places. With the vast waters of the horizon, the abundance of life in the fishery, and the sight of people coming in small boats, one can easily fall in love with nature.
If you want you made a camp on a moonlit night at a convenient location on the edge of the village. Then its beauty will be captured in another way. Besides, if you want to rent a boat, you can spend the night in Haver Chest.
Suddenly, a flash of light will appear from the village that is drenched in smoke. Waking up early in the morning, the glowing ray of the blood-red sun makes life on the chest more volatile. If you want you can come here in winter. Then you will see a completely different picture.
In addition, you will come to Austria to see the three-year traditions and traditions of the Qutub Shah Mosque. Signs of Sultana and Mughal architectural styles can be found in this mosque. The five-domed mosque is named after Darbesh Qutb Shah. The shrine of Qutub Shah is located beside the mosque.
Besides, a boat race is organized every year at Nikli in Kishoreganj. Then the festive spirit spread throughout the region. You can also check out the festival if you search.
How To Go Ostogram Haor?
The best way to go kishoreganj is train. Agarosindhur train leaves for kishoreganj from kamlapur at every day 7am except Wednesday. You can go by train. The fare of the train is 120tk. You can also go by bus. From Gulistan-Fulbaria, BRTC bus travels to Kulichar in Kishoreganj. In this case, the rent will have to be calculated at Tk 200.
You can also become a Bhairab. Kuliachar will go down to Bhairab to exchange CNG for rent of 40 tk per person.
Launchghat will join the rickshaw down Kuliachor. Every morning, launch go from 6 am, 8 am, 9 am, 11 am to 3 pm. Rent 100 Taka. The three-hour launch will take place in Austogram. One of the fun things about this trip is this launch tour.
Where to stay:
One of the places to stay in Kishoreganj is Dakbanglo of Zilla Parishad. The cost will be 300 to 1500 taka. Besides, there are some more residential non-residential hotels in Kishoreganj.
More Articles:
Also Read: