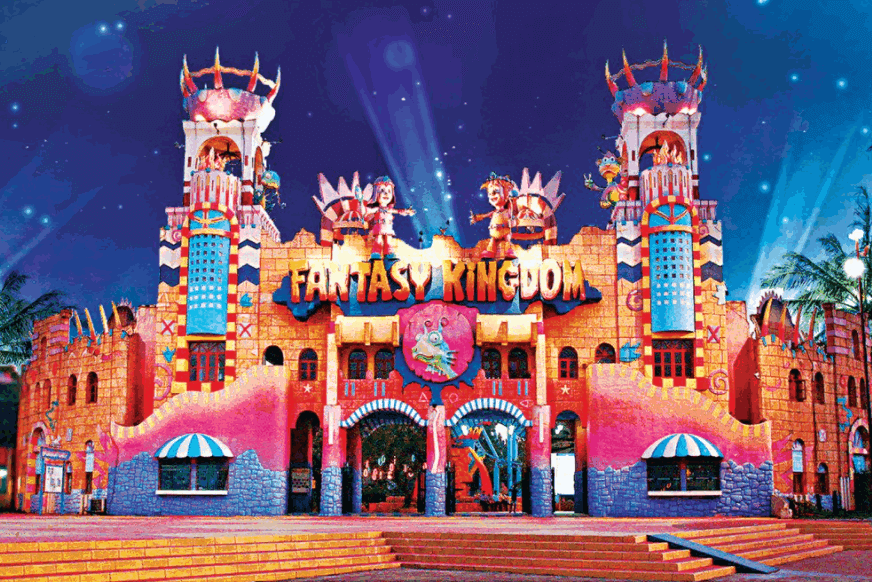 It would not be an exaggeration to call the Fantasy Kingdom, built on an area of ​​about 20 acres in Jamgarh, Ashulia, the Disneyland of Bangladesh. Built with all the modern rides in the world, this recreation center has a number of fun and exciting rides including roller coasters, Santa Maria, magic carpets. But the latest addition here is the Water Kingdom with all the fun and thrilling rides to the water kingdom. In addition to the 11 fun rides, there are many places to visit.
Artificial beach web pool, slide world, tube slide, the family pool can be enjoyed by the whole family by crossing the winding path from the huge high place to the pool filled with water. There are also fun rides like Lazy River, Waterfall, Doom Slide, Lost Kingdom, Play Zone, Dancing Zone. You can find out more about the rides here.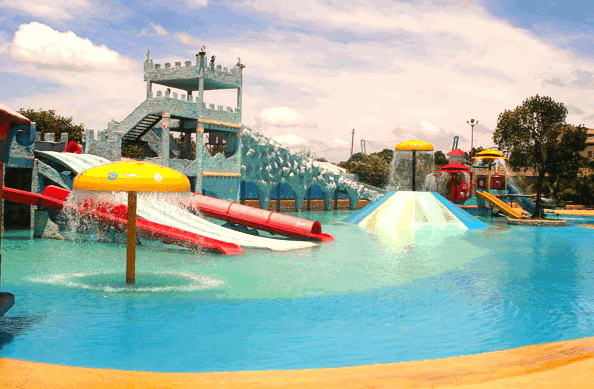 For visitors to the park, there are 4-star hotels with 200 rooms, halls, restaurants, and resort cities. Since its inception, Fantasy Kingdom has become a standout destination for foreign rides, world-class service, and pure entertainment. Concerts are regularly organized here on the occasion of special days including various festival days.
There is a huge crowd here on special days of the year, public and weekly holidays.
Opening and Closing Schedules Of Fantasy Kingdom
The park is open 7 days a week. It is open from 11 a.m. to 8 p.m. on normal days and from 10 a.m. to 10 p.m. on public holidays.
Ticket Prices and The Packages
The Fantasy Kingdom has a variety of packages, including entry prices and rides. All but one of Cole's children have to collect tickets. Details of tickets and packages can be found here.
Regular Tickets Entry Tickets for Adults Tk 400
Entry Tickets for Children Below Four Feet Height Tk 300
Entry Tickets for Adults and Tickets for All Rides (8) Including 800Taka )
Entry Tickets for Children Below Four Feet Height All Rides (8) Including Tickets will cost Tk 500 (package immediately)
Adult entry ticket and Lia package = Tk 600.
Entry tickets for children below four feet in height and Tk. 500 (package Lia)
Family Package (For 4 People)
Entry and All Rides (Package Immediate) and Lunch / Dinner Includes = Tk 3600
Combo Package Fantasy Kingdom & Water Kingdom + All Rides + Extreme Racing + Lunch / Dinner = Tk 1500 / –
The Water Kingdom Regular Tickets Money Kids Entry Tickets and All Rides = Tk.600Water Kingdom Entry Tickets include Fantasy Kingdom Entry Tickets.
Family Package (4 people) Fantasy Kingdom Entry + Water Kingdom Entry + the Water Kingdom All Rides (Unlimited) + Lunch / Dinner = 4000 Taka
Special Arrangement For School Students Fantasy Kingdom
There is a heritage park here for groups of students from different schools in the country. Students can learn a lot about the heritage of Bangladesh by exhibiting Heritage Park. By displaying a copy of the Kirti Stambh of Bangladesh, all these students get an opportunity to know various information.
They can also get a good idea about handicrafts by visiting different small villages. They can also learn about the architecture of the Fantasy Kingdom. Students can concentrate on various fun games and enjoy the interesting rides right after their education. Here they can meet Ashu and Lear and take pictures with them as a memento.
The Way To Go the Fantasy Kingdom
From Motijheel via Manzil Paribahan, Wheel Lines the Water Kingdom via Magbazar, Mohakhali, Uttara, Abdullahpur, and Ashulia. The Hanif Metro service leaves Motijheel via Shahbag, Shukrabad, Asadgate, Shyamoli, Gabtali, Savar, and Nabinagar. Rent 40-50 Tks.
Where to Eat At Dhaka Savar
The Fantasy Kingdom has several great restaurants to choose from.
Some of the notable:
Ones are Ashulia Castle Restaurant: Meals are served on Thai and international menus. Water Tower Cafe: Barbecue food and pizza are available. Roller Coaster Station: Spicy fried chicken, burgers, etc. Fast food is available.
Where To Stay At Savar
If you want to stay in the Fantasy Kingdom, there is a 70-room motel Atlantis Resort Hotel. Authorities also organize corporate picnics, post-wedding receptions, birthday parties, company meetings/seminars, school/college/university reunions. It can accommodate 6,000 people at a time.
General visitors are not allowed on the day of the event. Which was earlier informed through advertisements in newspapers. The theme park has a restaurant / fast food shop inside and ample car parking outside. There is no hawker nuisance inside the park due to private management.
Contact Of Fantasy Kingdom
Fantasy Kingdom Corporate Office Dhaka Ashulia Highway, Jamgarh, Ashulia.
Phone: 9896472, 6337, 801944-52, 814028
Cell: 0191353131/38/38, 01913-531526
Fax: 80-2-9896472
Email: fantasykingdom@concrogmail. kingdom.net.bd
Facebook page: http://www.facebook.com/pages/Fantasy-Kingdom-Complex/292621427428721
Let's Know About This Awesome Park Wiki.
Read More:
Frequently Asked Question About:
fantasy kingdom restaurant
is fantasy kingdom open today in Bangladesh
is fantasy kingdom open tomorrow
ফ্যান্টাসি কিংডম অফার 2021
fantasy kingdom location
fantasy kingdom opening time
fantasy kingdom game
fantasy kingdom offer