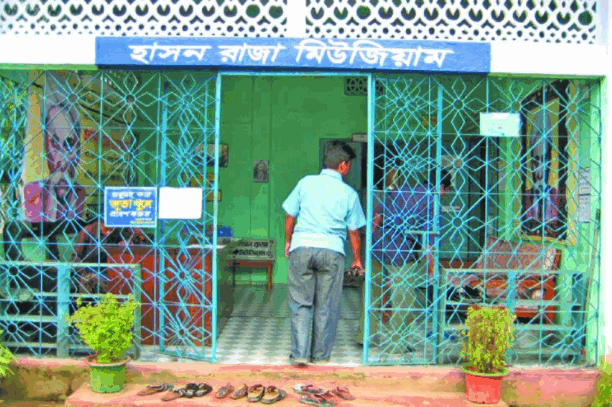 Hasan Raja's house is situated on the banks of the Surma river in Sunamganj town. Hasan Raja was born in this house in 1854. All the outstanding songs have been composed in this house. Reaching the house, it seems that the devotee will meet the lyricist, the singer.
That doesn't happen anymore. But the memory of Hasan Raja is kept alive in the museum named after him. At the entrance of the museum, first a picture of Lalon. Then the picture of Hassan Raja. Only one photograph of Hassan Raja in the museum.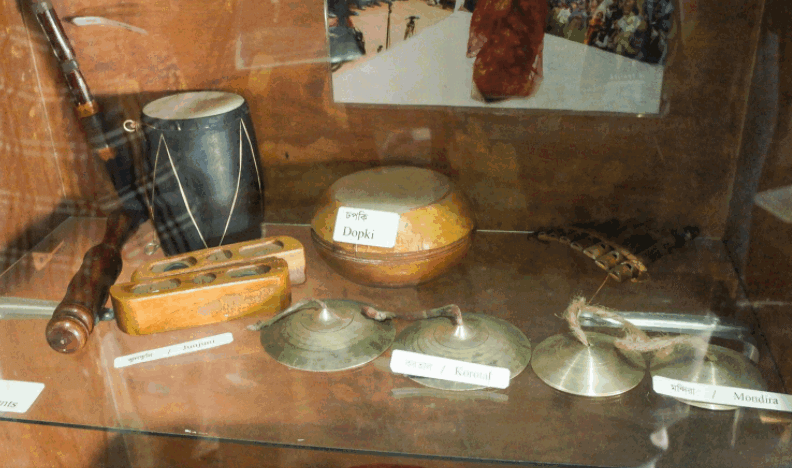 Collected from a studio in Calcutta in 1982. In addition, there are eight or nine paintings by different artists at different times. But not the pictures, the museum is kept alive by various items related to the memory of Hasan Raja.
In December 1982, a fair called 'Hasan Fakir's Fair' was organized in this house. From then on, people used to flock to see Hasan Raja's house and his used items. Then in 1974 Bangabandhu gave a grant of Rs 25,000 for Hasan Academy. And today's museum is a continuation of all this.
What's in the museum:
Table-chair – It is heard that Hasan Raja used to compose songs while sitting in this chair.
Colorful cloak – Hassan used to wear simple clothes. People say that he always wore a white dhoti like a lungi. He used to wrap another dhoti like a sheet over a white vest. However, he used to wear this cloak as a special dress when meeting any other king or English gentleman.
Water purifier – Hassan got this filter from one of his deputies to look like a water purifier – a small jug. It was brought as a gift from Austria in 1902 by William Little, an English naib.
Sword – This was the family sword of Hasan Raja. The sword came into his hands from generation to generation.
Earthenware Pot – There is a rumor that Hasan Raja used to fill this pot with money and scatter it among the children. Ninety-year-old Maqbool Hossain, who saw Hassan Raja as a child, spoke in favor of this rumor. Hassan even collected the money scattered by the king.
In addition to the above items, you can see Hasan Raja's tea table, milk bowl, bowl, milking pot, pandani, wooden clog used by Hasan Raja, stick used in old age, candlestick, brass water jug, copy of the handwritten song. There are also some musical instruments drums, percussion, temples, etc. There is also a cash box used for zamindari work.
How To Go There (Hason Raja Museum)
First, you have to go to the Sunamganj district town. Sunamganj can be reached by road from Dhaka. Non-AC buses of Shyamoli Paribahan, Hanif Enterprise, ENA Paribahan, Mamun Paribahan go to Sunamganj from Saidabad. Rent AC 500 to 500 rupees. By rickshaw from Sunamganj bus stand to Sahebbazar Ghat. You will see Hasan Raja's museum next to the ghat of Saheb's house.
Where to stay In Sunamganj (Traveling Time)
You can rent a hotel in Sunamganj for accommodation ranging from Tk. 200 to Tk. 1000.
Hotel Nur-Purbazar Station Road Sunamganj
Hotel Sarpinia-Jagannathbari Road, Sunamganj.
Hotel Noorani, Old Bus Stand, Sunamganj.
Hotel Mizan, East Bazar-Sunamganj.
Hotel Palace, Old Bus Stand, Station Road
Surma Valley Residential Resort
Read More:
Frequently Asked Question:
Hassan Raja Museum (Sunamganj) All You Need to Know
Hason raja family tree
Hason raja life story
Paragraph on hason raja
Hason raja poems
Hason raja pic
Hason raja song list
Hason raja book
Explain why hason raja gave left all his wealth
Museum of Rajas'