Likkhyang Waterfall is one of the most unknown trails and unseen beauties of Bandarban. Despite being close to Remakri, very few people have walked this trail, which is relatively unfamiliar and full of wild beauty. The location of this fountain in a village, just before the small Madak Ghat, far from Remakri. Likhiang is ranked 4th in the list of the highest waterfalls in Bangladesh. The height of Likhiang is close to 300 feet and is also known by many as Lixiang. Likhiang is one of the most beautiful seasonal waterfalls in Bandarban with relatively little time and moderate hardship. In the local language, Mro Ra also calls it Lip A Ra. Lip means tortoise, non means jhiri and ra means hill.
Likhiang's trail is quite beautiful. On either side, two large boulders of stone come down and meet in a small khum-like place in the middle. The way to Lakshyang spring is a bit inaccessible. But, if you have the morale, the journey to this fountain can be completed very easily.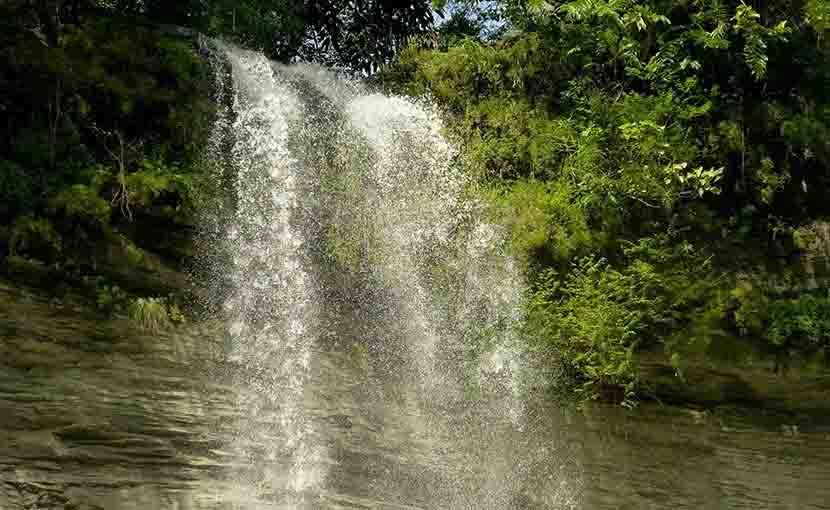 Whatever You Have to Take With You(Likkhiyang Jharna )
Let's see what you need to carry in your traveling time in Likkhiyang Jharna or Waterfall.
Photocopy of National Identity Card (if any) or Photocopy of ID Card of the educational institution.
3 days light cloth
polythene
towel
torch / candle
toothbrush, toothpaste
camera (personal wish)
water bottle
essential medicine
umbrella, sunglasses, cap
first aid This is a medium-quality trek.
Lots of walking here every day. So do not take anything except the most necessary things because excess weight is the main obstacle to your trekking. In the case of clothes, it is enough to take 2-3 three-quarter pants and 2-3 t-shirts. In most cases, you have to stay out of the mobile network. You have to walk 5-6 hours on this tour so you may not have lunch then. So keep some dry food (dates, raisins, nuts, biscuits, instant noodles) in your bag.
Visit Also:
Frequently Asked Quesion:
লিক্ষ্যং ঝর্ণা – বান্দরবান
আলীকদম ঝর্ণা
তিনাম ঝর্ণা
বান্দরবানের ঝর্ণা সমূহ