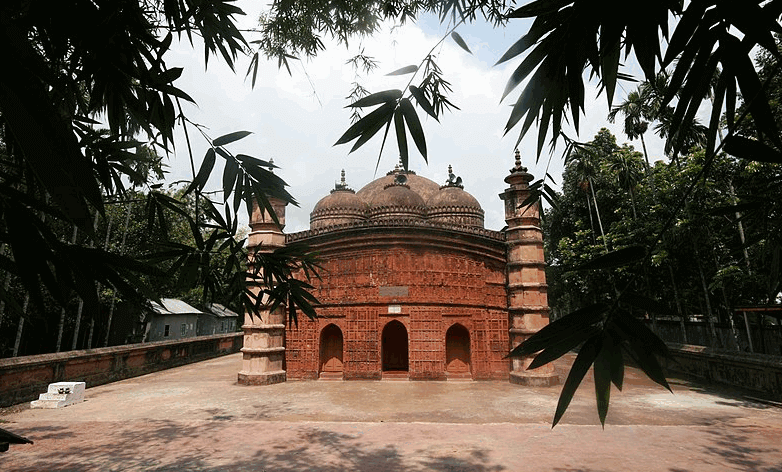 Atiya Mosque is an ancient historical mosque located in Delduar Upazila of Tangail district in Bangladesh which is one of the archeological monuments of Bangladesh. Atia village of Delduar Upazila, about six kilometers south of Tangail town. The Atia Mosque is located on the east bank of the Lohajang River in this village. The architectural style of this red-brick mosque is very nice. The mosque is basically a square dome. There is also a relatively small rectangular verandah with three domes on the east side. There are three entrances to the mosque from the verandah. There are three ornate arches on the qibla wall of the mosque. The east and north walls of the Atiya Mosque have all the nice terracotta designs.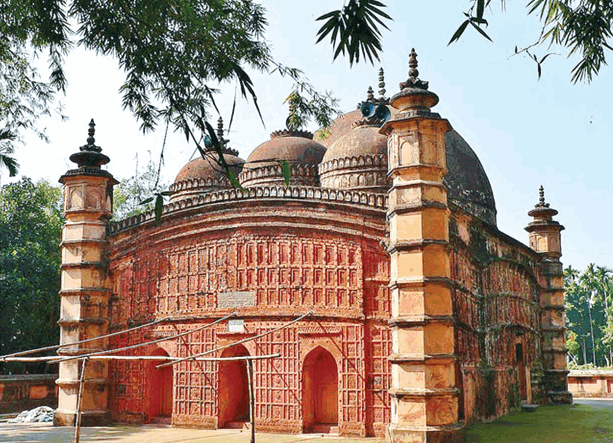 Built of red brick, the mosque is quite small in size, measuring only 18.29 m (59 ft) x 12.19 m (40 ft) and with a wall thickness of 2.23 m (7ft). The part has the shape of a small dome. The architectural style of this mosque is a clear indication of the architectural style of both the Sultanate and Mughal periods. Atiya Mosque is quite a sight to behold due to its design and innumerable floral ornaments.
Such ornaments were observed in the Jahania Mosque and Kadam Rasool building in Gaur, built in the sixteenth century. The most striking feature of the Atiya Mosque is its bow-shaped cornice, like the cornice of a slum house, which is considered a rural tradition of Bengal. In fact, such innovations in the construction of bricks from bamboo huts are considered to be interesting in the industry.
At one time, there was a picture of Atiya Masjid on one side of the 10 (ten) taka note printed by Bangladesh Bank.
How to get there
First, you have to reach Tangail town. From Dhaka's Mohakhali bus terminal various buses such as Jhatika service, Dhaleshwari service run directly to Tangail. These buses will cost around Tk 120 / – and will take two and a half to three and a half hours. You have to get off at the old bus stand in Tangail. Now you have to walk 1 minute from the old bus stand to the baby stand and rent a CNG autorickshaw to Pathrail Battala. It will cost about 15 / – and will take 15 minutes to 20 minutes. You can reach Atia Mosque in about 10 minutes by renting a CNG autorickshaw from the bottom of the boat. You can also go by private car or rent a CNG autorickshaw.
Where to stay
There are several hotels and guest houses in Tangail. Notable among these are
1. Palash House / Night Gandha Residential Hotel, Masjid Road, Tangail. Phone: 0921-53154
2.Al Faisal Hotel Residential, Masjid Road, Tangail. Phone: 0921-53918
3. Hotel Sagar Residential, New Market Road, Tangail. Phone: 0921-54308
4. Afrin Hotel, Masjid Road, Tangail. Mobile: 01916782389
5. SS Rest House, Akuratakur Para, Tangail. Phone: 0921-55180
6. Palli Bidyut Rest House, Tangail. Phone: 0921-53390
7. LGED Rest House (Government), Tangail. Phone: 0921-54261
8. Sugandha Hotel, Old Bus Stand, Tangail. Mobile: 01674-346815
9. Nirala Hotel, Nirala Mor, Tangail. Phone: 0921-61363
10. Piasi Hotel, Nirala Mor, Tangail. Mobile: 01711-352493
11. Hotel for a while, Nirala Mor, Tangail. Phone: 0921-55219
12. Hotel Aditya (Residential), Madhupur, Tangail. Mobile: 01716-796065
13. Hotel Dream Touch (Residential), Madhupur, Tangail. Mobile: 01717218799
14. Shalban Residential Hotel, Madhupur, Tangail. Mobile: 01713462103
15. Islamia Guest House, Madhupur, Tangail. Mobile: 01917566234
16. Bhai Bhai Guest House, Madhupur, Tangail. Mobile: 01190975539
17. Jamuna Resort Limited, Kalihati, Tangail. Phone: 09239-76032-4
18. Elenga Resort Limited Residential Hotels, Elenga, Kalihati, Tangail. Phone: 02-9884322
Read More: Korotia Zamider Bari