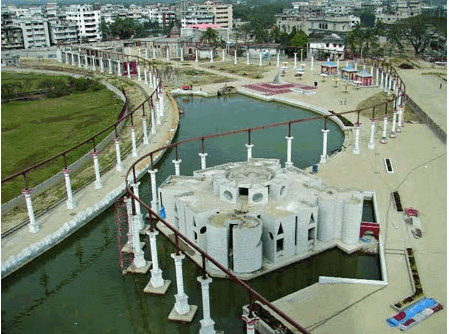 If you want to see all the installations of Bangladesh in one place, you must go to Mini Bangladesh or Shaheed Zia Memorial Complex located at Kalur Ghat in Chittagong. What's not here? Starting from Sangsad Bhaban, Kantjir Mandir, Ahsan Manzil, Supreme Court, Shat Gumbaj Mosque, etc. Mini Bangladesh has a variety of installations as well as aesthetic representations of the culture of Chittagong.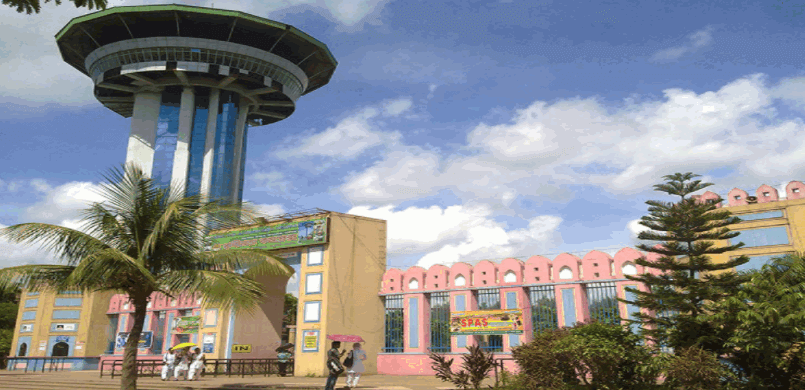 How to get there
If you want to go to War Cemetery from Dhaka, you have to go to Chittagong first. You can go to Chittagong by BRTC from Kamalapur Terminal and by Saudia, Greenline, Silk Line, Sohag, Baghdad Express, Unique, etc. from Saidabad Bus Station. AC buses of Greenline (02-7100301), Sohag (02-934447), Saudia (01197015610), TR (02-8031189), Hanif (01713402671), etc. go to Chittagong. Rent 650-1100 Tk.RS Alam, Saudia, Unique, Shyamoli, Hanif, Eagle, etc. The fare for ordinary bus transport is 400-500 Tk.
Chittagong can be reached by road and rail from Sylhet. Greenline transport AC, non AC buses go to Chittagong by road. Apart from this, the Intercity Paharika Express leaves Sylhet Railway Station at 10:15 am every day except Saturday of the week, the Intercity Udayan Express at 9:20 pm every day except Sunday of the week, and the Jalalabad Express leaves the Chittagong Express at 10:30 pm every week of the week. Rent 175 to 1200 Tk.
By train or rail, on the Dhaka-
Chittagong route, the metropolis leaves Dhaka at 8:40 am, the Chattala Express leaves at 9:20 am, the metropolitan twilight leaves Dhaka at 3 pm, the Subarna Express leaves Dhaka at 4:20 pm, and the tornado leaves Dhaka at 11 am. Rent 180 to 1100 Tk. Chittagong Biman (02-9560151-10), GMG Airlines (02-8922248) and United Air (02-8957640), Regent Air (02-8953003) can be reached directly from Chittagong to Chittagong by air or by air. You have to ask the CNG auto-rickshaw driver from any part of Chittagong city to take you to Kalurghat Mini Bangladesh Park. It will take 150 to 200 depending on the rent. If you want to go by a city bus, you can get on the bus at Kalurghat from any part of the city and get off in front of the park. The rent is 8 to 20 Tk depending on the location. The entrance fee for the park is 150 Tks. The park is open all day except for any public holiday.
Where to stay
There are various quality hotels in Chittagong. Below are the names and addresses of some budget hotels. These are all standard but low budget hotels.
1. Hotel Paramount, Station Road, Chittagong: Just opposite the new train station. In our opinion, this is the best hotel on a budget. Nice location, wide corridor (not even a five-star hotel with such a large corridor). The rooms are good too. Rent for non-AC single 800 Tk, double 1300 Tk, AC 1400 Tk, and 1800 Tk. For booking: 031-2856771, 0171-3248754
2. Hotel Asian SR, Station Road, Chittagong: This is also a very beautiful hotel. Tidy, clean hotel. Rent: Non AC: Tk1000, Non AC Single. AC: 1725Tk For booking – 01711-889555
3. Hotel Safina, Enayet Bazar, Chittagong: A medium quality hotel with a family atmosphere. There is a beautiful restaurant on the roof. If you sit there at night, you will not want to come. Rent: Starting from 700 Tk. AC 1300 Tk. For booking -031-0614004
4. Hotel Naba Inn, Road 5, Plot-60, OR Nizam Road, Chittagong. A little more rented hotel. However, it is ideal for those who want to stay in Nasirabad / O and Nizam Road area. Rent: 2500/3000 Tk. For booking – 01755 564382
5. Hotel Landmark, 3072 Sheikh Mujib Road, Agrabad, Chittagong: Good hotel to stay in Agrabad. Rent – 2300/3400 Tk. For booking: 0182-0141995, 01731-886997
Read More: Sandwip Island